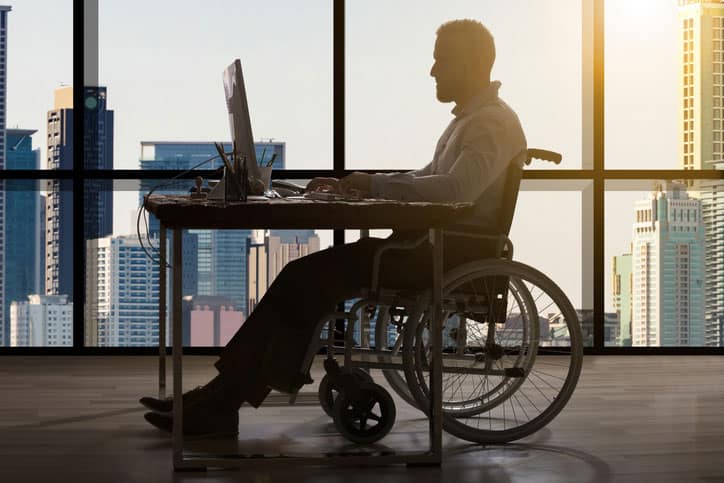 ---
Table of Contents
---
Introduction
This article is for anyone who is living with a disability and interested in exploring work-from-home job opportunities, even stay-at-home parents.
Before looking closely at your job options, we'll look at how additional income can affect your disability benefits, and we'll set you up with some useful resources to help you know exactly where you stand.
Then we'll look at the kinds of employment you can pursue from home, focusing on a few companies that have an excellent track record for inclusive hiring and remote work positions.
Having a job you care about is, of course, a huge help financially.
More than that, though, it's emotionally rewarding to feel busy; to experience an acknowledgment of your skills-base and experience; and to be surrounded by a community of people working to achieve the same goal.
Research has found a clear and significant correlation between unemployment and reduced overall happiness.
For many people, work is simply an essential part of life.
By the time you've finished this article, we hope that you'll have all the knowledge you need to find work from home opportunities that contribute to your financial well-being, and just as importantly, that add to your happiness.
---
Concerns When Making Money as a Person With a Disability
Before delving into work-from-home opportunities and how to find them, you should be aware of how additional income may affect your current income.
If you receive Social Security Disability Insurance (SSDI) or veteran's disability compensation, your benefits may decrease if your additional income goes above a certain threshold.
It's nuanced, though!
Only some kinds of income affect your SSDI and veteran disability compensation payments.
Moreover, everyone's situation is going to be a little bit different.
The key is to find your disability benefits income threshold and to understand the consequences of earning above that threshold.
For customized advice, seek the guidance of an employment network that specializes in providing support for disabled people seeking work.
One excellent option is the advisory organization, My Employment Options.
This organization offers job placement and advisory services, and you can access them for free.
It'd also be prudent to check out the Social Security Administration's (SSA) Disability Benefits resource, or the Department of Veteran Affairs (VA) Disability Compensation page.
These sites will tell you where your income thresholds lie.
With that intel, you're in a strong position to make some smart choices about how much additional income is optimal for your situation.
---
Types of Work-From-Home Jobs for People With Disabilities
If you're living with a disability, the demands of a daily commute can be problematic.
On top of that, some people with mobility issues may find it challenging and exhausting to operate effectively in a conventional office environment.
Others, such as those with hearing impairments, may face significant sensory challenges in the hustle-bustle of a busy office.
The short and the long of it is that, for many disabled people, leaving home to work can be an Everest to climb.
But disability needn't preclude you or your loved ones from gainful employment.
Work-from-home jobs offer a way for people dealing with physical limitations to bring their unique talents and experiences to bear, and in a way that they find both rewarding and sustainable.
A recent study by the ADA (Americans with Disabilities Act) found that companies that embrace the inclusion of people with disabilities consistently outperform their competition, with revenues close to 30 percent higher than companies that had not embraced inclusive disability hiring.
In other words, finding work-from-home can be a win-win for everyone!
Many jobs are ideally suited to telecommute positions.
Here's a simple (and by no means exhaustive) cross-section of the kinds of opportunities you'll find out there.
Administrative Implementation Positions
Your average company team environment these days is remarkably complex — particularly in the new normal of COVID-19 where more people work at home.
Team members are likely to be geographically dispersed and reliant on multiple communication and task management platforms to stay on track.
The Administrative Assistant maintains a smooth flow of team-wide communication through regular meetings, managing delegation strategies, and fostering a steady stream of information between a team and its external customer base.
• Education and skill requirements – Experience is vital. Applicants would need to demonstrate a strong proficiency in working in a virtual environment.
• Earnings potential – Typically, a role like this can fetch from $18 to $20 per hour.
• Accessibility Concerns – This is a role that can be carried out at home.
It'll typically require comfort with voice and text-based communication platforms.
Customer Service and Client Care
Encompassing a broad spectrum of communication-oriented tasks, these positions provide a friendly and approachable point of contact for customers seeking guidance on a product or service.
Examples might include handling product inquiries in text chat sessions or dealing with complex troubleshooting procedures over the phone.
These roles are often ideal for job seekers who excel at communicating with patience and empathy.
• Education and skill requirements – These roles require excellent written, verbal, and listening skills along with substantial computing proficiency. Fluency in a language other than English is often highly sought after.
• Earnings potential – Compensation varies widely. Entry-level positions start at around $15 per hour, but employers typically reward experience with significantly increased remuneration.
• Accessibility Concerns – Customer care workers usually work from home. You'll likely require a moderate typing speed for chat-based positions (around 30 wpm) and comfort with voice communications for phone-based customer care.
Sales
Virtual sales agents can successfully implement a company's selling strategy to convince a prospect to make a buying decision.
While an outgoing personality helps in any sales position, as crucial is the ability to listen attentively and communicate with authenticity.
• Education requirements – High school graduates are typically eligible for entry-level sales positions. More technically oriented sales roles may require college-level certification. The most crucial qualifying skill, however, is effective and dynamic verbal communication.
• Earnings potential – Entry level rates start at about $14 per hour. Many sales roles incorporate commission-based revenue.
• Accessibility Concerns – Most sales positions are available on a work-at-home basis. The ability to deliver a high volume of calls in a day is critical for most sales roles. Upward of 80 calls per day are frequently required.
IT Management
A vast spectrum of jobs falls within the broad category of IT management.
Some lean more toward generic project management skills with a technical dimension, while other positions also require a combination of coding and human resource management skills.
IT managers coordinate, plan, and oversee computer-related activities within a company.
While fewer remote jobs are available than in-office positions, employers do offer such work remotely — particularly for analysts of cloud-based systems.
• Education requirements – A Bachelor's degree in Information Technology or Business is usually preferred. These roles typically also require two or more years of experience in an IT-related field.
• Earnings potential – An IT Manager can earn from $50 to $90 per hour. Often these roles are as salaried positions with benefits.
• Accessibility Concerns – Home-based roles aren't quite so common, but they are available. Comfort with prolonged workstation sessions is usually a requirement.
Tech Support
Technical support roles are similar in scope and requirements to customer care positions but typically involve a more specialized and specialized set of product data.
Technical support staff help customers troubleshoot product issues, advise on products that can help meet specialized requirements, and coordinate inputs across multiple departments to maximize customer satisfaction.
• Education requirements – Education requirements will depend significantly on the company. Scientific or industrial products or services may require college-level qualifications in a related science field. More generalized products may be looking for well-developed communication skills and an evident aptitude for the subject area.
• Earnings potential – Entry-level roles earn between $15 and $20 per hour. More specialized forms of technical support attract rates of up to $40 per hour.
• Accessibility Concerns – Many tech support roles are 100 percent work-from-home roles, operating through a virtual call center. These positions rely on the capability to communicate effectively using both a handset and a computer workstation.
Data Entry
Data entry work consists of tabulating numeric data, transcribing voice communication as typewritten text, and manually entering database data.
These roles require close attention to detail and are often good career options for people who have been out of the workforce for a while because they typically impose low barriers to entry.
• Education requirements – A high school diploma, good numeracy and literacy, and a demonstrable ability to apply attention to detail are the typical prerequisites for data entry work.
• Earnings potential – Data entry typically offers around $15 to $20 per hour.
• Accessibility Concerns – A wide variety of at-home data entry work is available. These roles require an ability to maintain attention to detail while operating a workstation. Employers frequently specify a typing speed of 40 wpm or higher as a prerequisite.
Health Care Scribing
Medical scribes support the work of health care practitioners by accurately and efficiently recording patient consultation data.
Advanced soft skills are usually required, such as clear communication and receptiveness to nuances of communication.
Scribing roles also require swift and accurate data entry skills, often using dedicated scribing platforms.
• Education requirements – A high school diploma is expected at a minimum. However, to advance in the field, college-level accreditation, whether in humanities or a science field, is a big plus. The Americas Healthcare Documentation Professionals Group also offers a medical scribe certification exam.
• Earnings potential – Health care scribes earn from $14 to $20 per hour.
• Accessibility Concerns – Most medical scribing positions are offered onsite. However, virtual scribes are becoming an increasingly common fixture in medical practices throughout the US.
Writing Positions
Writing positions encompass a wide range of situations, from copywriting jobs demanding a keen sense of persuasion, to technical writing roles that lean heavily on a deep attentiveness to detail.
While some writers work exclusively for one company, a growing number of writers are developing content through digital content agencies.
These writers may routinely develop written content for a handful of clients, from small startups to gov agencies.
• Education requirements – The chief requirement for most writing positions is a deep and agile command of language. However, it's important to note that there are numerous styles of writing, each with its niche demand — from detailed and technical language styles through to more flexible and pop culture-friendly forms of expression.
• Earnings potential – Entry-level writing work pays around $10 per hour, while advanced and experienced writers routinely fetch upward of $100 per hour.
• Accessibility Concerns – Most writing work happens remotely. Writers rely on an ability to work at a computer workstation comfortably, and a long attention span and a fast typing speed both help significantly.
---
Employers With Remote Policies and Jobs for People With Disabilities
These employers stand out for having both a solid history of offering remote work positions and an excellent track record for inclusive employment practices.
They're a great starting point for your job search.
Accenture
This company helps clients grow by offering a wide range of business strategies and consulting services.
Operating via a network of "innovation hubs," Accenture places a strong focus on fostering vibrant teams who work closely together via communication technology and independently of an office environment.
• Remote work opportunities – Owing to its dispersed and eclectic employee base, Accenture offers a variety of flexible working arrangements. These include freelance work, job-sharing schemes, flex-time, part-time, and remote or location-negotiable options.
• Policy and track record – Accenture has established itself as a leading innovator in employing people of diverse abilities and actively fostering vocational rehabilitation. The company articulates a four-part strategy for disability employment built around flexible recruitment processes, funding research and development to better-equip people living with disabilities, increasing organizational awareness, and empowering all employees to grow within the company.
Aetna
Aetna provides individuals, employers, and health care professionals with insurance products and services.
Their goal is to support better health within the communities they support by building a clear and accessible link between insurance plans and health care services.
• Remote work opportunities – Accessibility-friendly working options appear to be offered by Aetna for the majority of positions they advertise. These options comprise a combination of flexible hours, job-sharing schemes, and telecommuting. Additionally, they span both full-time and part-time jobs.
• Policy and track record – Aetna's approach to inclusivity is, in large part, built around the idea that a diverse workforce better positions the company to meet the needs of an equally diverse customer base. Their diversity and inclusion policy offers a clear set of targeted strategies for leveraging creativity and insight from employing people from all walks of life.
Comcast
This company is a provider of electronic entertainment and Internet connectivity to commercial and residential customers across the US.
Comcast is among the nation's leading telecommunications companies.
• Remote work opportunities – Comcast has a history of advertising a steady intake of remote positions. It is commonplace for Comcast jobs to feature part-time and flexible scheduling combined with both partially and fully remote working arrangements. These positions tend to converge around customer-facing work, though some technical and programming roles are also offered from time to time.
• Policy and track record – Comcast has a strong stated commitment to disability inclusion. The company adopts a three-stage approach consisting of the following: working with external partners in the disability community to identify appropriate opportunities; cultivating an inclusive workforce through education and infrastructural investment; and ensuring employees with disabilities have the tools they need to flourish in their roles.
Deloitte
Deloitte offers a broad spectrum of consulting services, predominantly in business finance.
The company specializes in audit and assurance services, regulatory advice, risk assessment, and tax services.
Consisting of a network of member firms, Deloitte is active across more than 150 countries and recruits more than 300,000 people.
• Remote work opportunities – Deloitte places a heavy emphasis on internal training. As such, the company is well-positioned to offer remote jobs across the spectrum of roles it has to offer. Deloitte has a track record of flexible employment offerings, including freelance remote work, flexible scheduling, and both partially and fully remote work that employees can perform from any location within the US.
• Policy and track record – Deloitte systematizes its strategy for inclusion of people with disabilities through an innovative job placement program called Explore Your Fit. The program allows job seekers to provide their background, and Deloitte then develops a custom guide to assist applicants in navigating potential career opportunities. Deloitte also uses Inclusion Councils across its local offices to ensure that all its workers are empowered to perform well in their respective positions.
Ernst & Young
Ernst and Young is a global financial services company.
It specializes in assurance, federal government taxation advice, and a wide range of business advisory services targeting medium to large businesses.
The company recruits over 200,000 employees with a strong presence in both the US and across Europe.
• Remote work opportunities – In the recent past, Ernst and Young has advertised many positions that are either fully remote or which offer a substantial remote work component. Moreover, these positions recruit from across the world, indicating that they're well-positioned to provide ongoing remote work options for people within the company.
• Policy and track record – Ernst and Young is routinely named as one of the 100 Best Companies to Work For by Fortune Magazine. A significant contributing factor is the company's ongoing effort to integrate disability inclusion across the company, both at a daily operational and at a broad strategic level. Their strategy emphasizes building a strong business case for disability inclusion, drawing from insights from the disabilities community, and investing in tools that ensure a level playing field for all employees.
Kaiser Permanente
Kaiser Permanente is a conglomerate of health enterprises encompassing medical groups, hospitals, and insurance health plans.
Combined, Kaiser Permanente is one of the largest nonprofit organization healthcare systems within the US.
Owing to the broadness of its mission, the company recruits a diversely skilled and geographically scattered team.
• Remote work opportunities – Kaiser Permanente places much value in fostering work-life balance. For this reason, the company gives eligible associates a comprehensive set of benefits designed to optimize work flexibility. Remote jobs are routinely offered across the medical and health fields, but also beyond into customer care and technical support.
• Policy and track record – Kaiser Permanent has integrated inclusion provisions for people with a physical disability across the whole employment process, including initial recruitment drives. Their Special Accommodations program is a system whereby all new applicants can request reasonable accommodations, and obtain assistance with appropriate job placement.
Klynveld Peat Marwick Goerdeler (KPMG)
Klynveld Peat Marwick Goerdeler (KPMG) is a respected tax, audit and advisory services provider across the US as well as internationally.
KPMG is active across many sectors, including banking, energy and natural resources, financial services, insurance, media, and the public sector.
As such, they're active recruiters across a diverse spectrum of skill-sets.
• Remote work opportunities – KPMG appears to offer a roughly equal mix of remote and onsite job opportunities. Those it offers remotely span full-time, part-time, and freelance positions.
• Policy and track record – The National Organization on Disability (NOD) recognized KPMG as a Leading Disability Employer in 2019. The company integrates disability inclusion into its recruitment and employee retention strategies. This commitment is further reflected in KPMG's Statement on Diversity, which emphasizes the importance of inclusion for continued innovation and customer service.
Northrop Grumman
This company provides technology and security solutions to an international clientele.
The company offers solutions in cybersecurity, engineering, intelligence, IT and information security, manufacturing, and operations.
They specialize in building systems that help companies maintain adequate cybersecurity.
• Remote work opportunities – The positions offered by Northrop Grumman are, of necessity, highly niche, and subject to intensive security checks. However, the company has a solid track record for providing competitive salaried positions that are both flexibly-scheduled and available on a remote work basis.
• Policy and track record – For five years running, Northrop Grumman was awarded a 100 percent score on the Disability Equality Index and was named among the Best Places to Work for Disability Inclusion. The company has a strong commitment to diversity and actively seeks to offer a rewarding work environment for people living with disabilities. This commitment is particularly well-reflected in Northrop Grumman's policy of assisting severely wounded service members in finding suitable employment within the company.
Procter & Gamble
Procter & Gamble is the parent company for over two dozen widely available household and personal care brands.
Because the company oversees product development from design right through to marketing and customer service, the brand recruits from a large pool of potential applicants.
The company is therefore a strong employment opportunity.
• Remote work opportunities – A highly flexible employer, Procter & Gamble frequently advertizes full-time and part-time positions with remote work as an option. The company places considerable emphasis on fostering a healthy work-life balance.
• Policy and track record – Procter & Gamble is recognized for its ongoing commitment to offering great opportunities for people living with disabilities. DiversityInc Magazine places the Procter & Gamble among the top ten companies for Global Diversity, as well as one of the Top Companies for People with Disabilities. In its policy literature, the company emphasizes that inclusion drives innovation.
Sodexo
Sodexo is a hospitality company specializing in facilities management and food services.
The bulk of its clientele come from the senior living, sports and leisure and healthcare sectors.
They also cater to government organizations across the US.
• Remote work opportunities – Sodexo posts regular advertisements for temporary, part-time, and full-time remote positions across over one hundred hospitality-related professions. Among the company's more unique job offerings are those offered on a temporary and seasonal basis. Sodexo's FLOW initiative has gained the company recognition by Flexjobs as a Top 250 Company for Flexible Jobs.
• Policy and track record – Sodexo is actively advocates for the inclusion of disability issues into the global business agenda, and recently announced its membership in The Valuable 500, an international think tank and advocacy initiative that works to promote employment inclusivity on an international stage.
---
Other Ways to Make Money at Home If You Have a Disability
Setting payroll positions aside, there are many other methods of making money online that can offer a desirable degree of flexibility.
You do need to bear in mind though that these income streams will require both time and trial and error to establish.
So if you're like most Americans and have a lot of debt, these options are probably more feasible if you have a financial buffer zone and time to experiment.
Freelance Work
Freelancing has one clear advantage when it comes to earning a bit of extra money.
It's flexible by definition.
Those seeking freelancer hires are likely looking for people they can draw from when needed, without necessarily committing to long-term remuneration.
Freelancing, therefore, tends to lend itself to those working from home.
Here are some popular options.
• Photography – If you have the equipment, passion, and the talent for it, selling stock photography can be a rewarding and lucrative income stream. Getty and Adobe Stock Images are a great place to start because they provide clear guidance on how to make money as a photographer or graphic designer. Provided you have a good camera, setting yourself up to sell photos online is entirely free. You might also look into selling your artwork through eBay (be sure to look into cybersecurity best practices).
• Writing – Writing is a skill that will always be in demand. Retail outlets need copywriters and blogging services. Tech and science-based companies need technical writers. The vast array of online magazines are always on the lookout for that next killer pitch or someone handy with social media. Breaking into regular writing work does take time, but it's a business you can build from anywhere, and one particularly suited to older workers with a wealth of experience to draw from. While there are countless niche freelance writing sites from which to ply your trade, Upwork remains one of the most accessible tools for a fledgling writer.
• Web Design and Programming – If you're well-versed in the technical side of content delivery — web design and programming foremost among them — you're sitting on a gold mine of marketable skills. There are many marketplaces to sell these skills, but don't neglect to advertise yourself to local businesses through Craigslist or similar geo-specific bulletin boards.
Online Tutoring and Consulting
If you're lucky enough to have a particular skill, you can work to earn extra income by building an online tutoring or consulting business.
Selling an education program online has never been in higher demand, and when it comes to settling on a sales strategy, you have a plethora of platforms to consider.
Before investing time and effort in building your content, however, it pays to look closely at webinar software.
Knowing which product best fits your needs will give you useful insight into how to build your content.
Renting Out Space
If you have a room to spare, renting out space within your home can be an effective way to earn some passive side income.
But you'll need to do your due diligence to make sure you're protected.
To get you started, Realtor provides a useful overview of the process, breaking the process down into 3 phases: preparing your home and learning how to function as a landlord; finding a suitable tenant — one who is safe and a good fit for your home environment; and drafting a lease.
If you decide to go ahead, you'll first want additional information to help structure the process.
Landlord Studio's Guide to Renting Out A Room is a great place to start.
Here you'll find a step-by-step approach to knowing the law, handling money exchanges, identifying scams, setting your price, and moving from tenant screening through to finalizing a formal room rental agreement.
Read it thoroughly, and you'll be equipped!
You may also want to take advantage of a platform like Cozy.co.
This site can help you rent your room safely, and will even help connect you with potential tenants.
Find Work. Find Happiness.
We hope this guide has been helpful.
If you carry one thing away from this, we hope it's a firm confidence that work-from-home opportunities are indeed out there.
While it might take time, research, and persistence to find something that is right for you, any number of fantastic companies are out there and may be eager for the diversity and experience you can bring.
We wish you the very best of luck in your quest for a new job.