Real, Unbiased Jeunesse Review from an Ex-MLMer
8 Comments
---
Table of Contents
---
Fountain of Youth?
If I had to pick a word that best describes what the MLM company Jeunesse is all about, it would be "youth".
But let's face it.
We all wanna look younger.
Since the dawn of time, human beings have been on an endless search for the so-called Fountain of Youth.
While this elusive elixir has yet to be officially discovered, you wouldn't know it by looking at the MLM world.
Every MLM company from here to Timbuktu swears that they have the magical beverage, supplement, lotion, or potion.
You know what I'm talking about.
The all-in-one "secret product" that can restore your youthful vigor, sharpen your mind, and improve your looks.
Maybe even whiten your teeth.
All while taking years off your appearance.
Not only that, but they'll also claim to have an income opportunity tied to their flagship product that can make your bank account very healthy as well.
Now, I'm not saying that what Jeunesse or other MLM companies are promoting is completely untrue.
But I would definitely put out a whopping "Caveat Emptor" (buyer beware) warning as a reasonable precaution.
In other words, look before you leap with any network marketing company.
Because there's a flood of MLM companies coming out of the woodwork that are ready to capitalize on a frustrated 9-to-5 population.
All seeking to live the dream life:
Laying in bed all day with endless stacks of cash.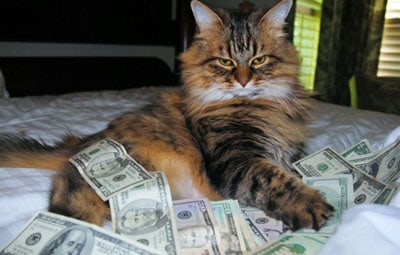 Wait, not that one.
Working from home, being your own boss, setting your own hours, and banking ridiculous amounts of cheddar.
Yeah, that's better.
Along with plenty of chill time in a hammock on the beach.
Besides offering the "dream", these MLM companies claim to offer amazing products that basically sell themselves.
And a business opportunity that can take you from zero to hero, if you just put in the effort.
Does Jeunesse provide you with that opportunity?
Let's find out.
---
What Is Jeunesse Global?
Jeunesse (pronounced Juh-ness) Global is a popular seller of skin care goods, cosmetics, and natural health supplements.
The company is great at coming up with intriguing product names such as "Finiti", "Nevo" and "M1nd" (yes, with the "1").
And don't forget "Luminesce Cellular Rejuvenation Serum".
Gotta admit that's catchy.
Long story short, there seems to be quite a bit of hype — and more than a fair share of controversy — surrounding this company.
So let's dig in a little deeper to see if there's any real opportunity to be found here.
As always, make sure you also do your own research before deciding to move forward with this, or any other home-based business.
---
When Did Jeunesse Start?
Founded in 2009 and headquartered in Lake Mary, Florida, Jeunesse Global has all the appearance of a first-rate MLM company.
Glitzy promotional materials, attractively-named products with well-designed packaging, and inspiring success stories from distributors.
Who are apparently all livin' the dream of owning an insanely profitable home business.
They have a vibrant network of over half a million distributors (dubbed "Generation Young" by the company), and ship to over 88 countries worldwide.
Jeunesse's revenue is nothing to sneeze at, either.
In their first seven years in business, the company had accumulated $3 billion in sales, an impressive milestone by any metric.
The products responsible for this massive revenue machine are primarily health and wellness-based items such as skin creams, nutritional supplements, and energy drinks.
In case you didn't know, products that people consume and reorder month after month are ideal for anyone who is looking to build a home business.
Why?
Predictable monthly income, silly.
And as of this writing, Jeunesse has racked up 79 Stevie Awards, 17 Direct Selling News Awards, and 29 MarCom Awards.
Which apparently are all for recognizing business excellence and creativity in marketing.
Nicely done Jeunesse.
They also landed on the Inc. 500/5000 list for being one of America's fastest-growing companies.
Because if there's one thing that exciting new MLM companies know how to do, it's grow fast.
Really fast.
At the inception of any burgeoning MLM startup, there's always that initial distributor sign-up frenzy.
Everyone scrambles to "get in on the ground floor" before the company really goes to the moon.
There are other dozens of other MLM companies that have done the same.
Including MonaVie (remember the Acai Berry craze?), which fell into foreclosure in 2015 after defaulting on a note that secured the assets of the company.
Not too long before their fall from grace, MonaVie had skyrocketed to reach $1 billion in sales in a single year.
Interestingly enough, there was another MLM company that tried to purchase MonaVie's assets before it was blocked by a federal judge.
That company was none other than Jeunesse Global.
Red flag?
Not necessarily.
After all, companies swoop in to purchase the assets of failing businesses all the time, especially when they market similar products.
That said, there are quite a few reasons to suspect that everything is not necessarily above board with Jeunesse.
More about that later.
On to the products first!
---
Are Jeunesse Products Any Good?
Forgive me for sounding a bit jaded about this but in my opinion, if you've seen one popular MLM health and wellness product, you've basically seen 'em all.
Jeunesse offers the usual suspects: skin care, eye creams, nutritional supplements, energy drinks, cosmetics, and so forth.
To be fair, I have NOT used any of their stuff myself so who knows — Jeunesse products might just be the best thing since sliced bread.
Maybe even better than this GIF:
(Unlikely though.)
But seriously, from the praise of their massive network of enthusiastic distributors, I don't doubt the high quality of Jeunesse's product line.
It should be noted, however, that the watchdog group Truth In Advertising (TINA) found many unsubstantiated health claims in Jeunesse-related marketing efforts.
In fact, their legal team actually sent the company a letter.
It was basically a warning that they would alert the FTC if they didn't pump the brakes on some of their distributors claims and be a little more truthful.
In other words, ease up on the amazing stories of curing cancer to lowering blood pressure to eliminating psoriasis.
Even if the company had no knowledge of such tales, they're still responsible for how their company is being promoted.
That includes fast-and-furious marketing campaigns from their distributors to promote the idea that Jeunesse products are the closest thing to a "miracle cure" that you'll find anywhere.
Fortunately, many of those health claims were revised or taken down by the company once TINA fired a shot across their bow.
The problems for Jeunesse definitely don't stop there, though.
But let's take a break and get back to our "happy place" by talking about some of the pros and cons of this MLM.
---
Pros: Why Choose Jeunesse?
✓
They made the Inc. 500/5000 list for being one of America's fastest-growing companies and have been in business for nearly a decade now.
Considering that most network marketing businesses tank within the first five years, that's quite a milestone in the MLM world.
✓
Jeunesse has over half a million distributors, ship products to over 88 countries worldwide, and have won multiple awards for business excellence.
One thing's for sure: they definitely know what they're doing in terms of building a successful business. Gotta give it to them.
✓
The company has six different ways for you to earn income as a distributor.
(more on that in just a minute).
I gotta admit that I don't fully understand the rocket-science math behind their pay structure though.
But at least I can say there seems to be a decent amount of diversity among their income sources within this one business opportunity.
✓
Distributors promote a variety of health and wellness products.
The products are highly consumable and must be replenished on a regular basis.
This lends itself to repeat product orders, which means residual income for you.
---
Cons: Why Not Join Jeunesse?
✗

There isn't a whole lot about their product line that you won't find in any other "standard issue" MLM joint.

This lack of real product differentiation is a strike against them in my book.
✗
The company doesn't have the best reputation
(I'll get more into that a little later).
This can hinder the credibility of the business, especially to potential prospects who like to look before they leap.
✗
The compensation plan is a little bewildering.
(see below)
With an interesting number of hoops to jump through before you can really gain any momentum as a distributor.
✗

Like many MLMs, there seems to be more emphasis placed on recruiting new distributors than selling actual products.

This is part of the reason why the FTC is starting to take notice of the company.
---
Compensation Plan: How Jeunesse Works
Jeunesse's compensation plan is an interesting mess of multi-tiered structures that follow a basic binary (two-legged) model.
But with quite a few confusing elements thrown into the mix as well.
The entry fee to get started with Jeunesse is only $29.95.
But that simply gets you in the door and allows you to buy products at the wholesale price.
You don't even become an official "distributor" until you have either personally purchased or sold 100 points worth of product, which totals to about $250.
New distributors are routinely pushed to invest upwards of $1,200 to start out at a "higher level" by ordering a larger initial startup package.
Without getting too far down the rabbit hole, you basically have to sponsor people on both sides (both legs) in order to earn commissions.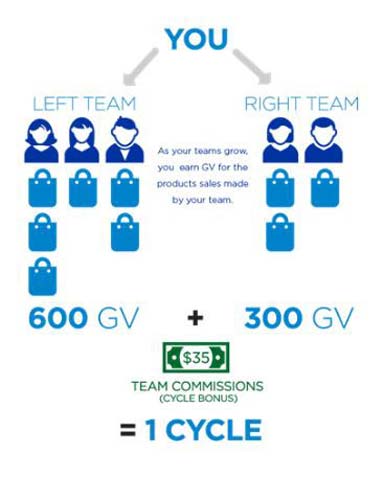 On one side, you have to be running at least 600 GV (Group Volume).
Then on the other side, you need 300 GV in order to qualify for what's known as a "Cycle Bonus", or "Team Commission".
What this basically means is that when you sign people up under you, any products they order will earn points that carry a certain amount of Commissionable Volume (CV) value.
As can be expected, CV is not set at a 1:1 ratio (it never is), meaning 1 point for every $1 spent.
Nope, the ratio is closer to 1 CV for every $2 spent, which is a common practice in the network marketing industry.
What does this mean for the average person?
Like most MLMs, many will struggle to purchase enough (typically overpriced) products just to make the necessary CV threshold.
Just so that they can earn a proportionally meager commission.
Let me explain.
Going back to our 600/300 Cycle Bonus example, the combined total of Group Volume from both legs (600 + 300 = 900).
That's roughly equal to about $1,500 worth of product.
The Cycle Bonus that you get from this level of volume is only $35, which is a paltry 2.3% commission on the total sales generated.
Of course, the company's promotional literature states that if you build your business big enough, you can cycle through this level of volume several times over in a short period of time.
In theory, this would enable you to enjoy up to $26,250 per week in Cycle Bonus commissions.
But I would like to see just how many distributors are actually raking in that $26,250 on a weekly basis.
Safe to say not too many.
Jeunesse claims that there are six ways to earn money through their business:
Retail Sales
New Customer Acquisition Bonuses
Team Commissions
Leadership Matching Bonuses
Customer Acquisition Incentives
Leadership Bonus Pool
I won't bore you with the specific details and qualifications for each one.
But there are several other aspects of the compensation plan that are complex to say the least.
You have to know the difference between Commissionable Volume and Personal Volume.
Not to mention Group Volume, Personal Group Volume, and Spillover Volume.
Each of these have their own requirements and stipulations that you have to adhere to in order to remain actively qualified for certain bonuses and commissions.
As you can imagine, this adds up to a dizzying array of percentages, points and figures that can easily confuse newcomers.
When you boil it all down though, the premise is the same as any other MLM:
More product sales = more money.
But again, when you join Jeunesse, the emphasis seems to be more on recruiting new distributors than actually peddling products:
According to the FTC, if a multilevel marketing company emphasizes recruitment of new distributors more than actually selling the products, you're probably dealing with a pyramid scheme.
So is that what Jeunesse is?
I wouldn't go that far.
(Yet.)
But while researching this company, I started seeing warning signs all over the place.
For example, Jeunesse as a company has been involved in multiple lawsuits since the company first opened its doors in 2009.
Claims and accusations against the company range from racketeering activities (later dismissed) to pyramid scheme practices.
Jeunesse has also racked up quite a bit of complaints with the FTC.
In fact, a leading expert economist with the FTC recently issued a report declaring Jeunesse a pyramid scheme.
For the record, I don't have a personal vendetta against this company.
If you love Jeunesse, all the best.
But there's a lot of drama and red flags going on here, so tread carefully with this one.
---
Jeunesse: Quick Summary
Jeunesse Summary
PROS
CONS
Jeunesse has a vibrant network of over half a million distributors (dubbed "Generation Young" by the company), and ship to over
88 countries worldwide.
There isn't a whole lot about their product line that you won't find in any other typical MLM company.
They have done over $3 billion in product sales in just over 7 years and have been on the Inc. 500/5000 list for being one of America's fastest growing companies.
There seems to be a lot more emphasis placed on recruiting new distributors than selling actual products.
They have six different ways for you to earn income as a distributor which means more ways to make residual income.
It only costs $29.95 to become a distributor but new recruits are routinely advised to start out at a "higher level" by ordering a larger initial startup package.
As a distributor, you will promote a variety of health and wellness products, which are highly consumable and must be replenished on a regular basis.
Jeunesse doesn't have the best reputation with multiple lawsuits, complaints, and a leading expert with the FTC basically declaring the company a pyramid scheme.
The company has been in business for nearly a decade now, which is exceptional compared to most other MLM companies that fail within 5 years.
Jeunesse's compensation plan is both incredibly complex and confusing.
Bottom Line: Jeunesse vs. Neora?
That depends on what you're looking for.
Both of these MLM health & wellness companies are obsessed with looking younger and both have been around for about a decade now.
Each of them offer nutritional supplements and skin care products, but Neora is definitely more focused on the latter.
Jeunesse seems to have more of an "overall health" approach when it comes to their products.
And you can't deny that Jeunesse is a bonafide MLM success story.
But like many MLMs before it, the company has earned a sketchy reputation by espousing somewhat questionable business practices.
One thing I can applaud them for though, is clearly posting their Income Disclosure on their website.
That's ballsy and a good move.
In the Disclosure, it states that only 14.38% of their distributors earn more than $4,350 in one year.
That's about $362 per month on average, which is not bad, but far from anything you could retire on.
That same Disclosure states that only 2% of their distributors earn more than $82,000 in a year.
Sounds about right.
So in other words, the odds are heavily stacked against anyone looking to develop a healthy income through Jeunesse.
To the tune of a 98% failure rate.
But that's on par with any network marketing company out there.
And to be fair, according to the the U.S. Small Business Administration, 5 out of 10 entrepreneurs who start ANY business fail within the first five years.
A whopping 50% crash and burn rate.
So no matter what kind of business it is, the odds are stacked against you.
But if you wanna improve your odds, maybe it's time to seek another income opportunity.
One that won't require you to annoy your friends just to make a buck or two.
Interested?
---
Shameless Plug: Realistic Passive Income Without MLM?
Imagine this:
No recruiting, no selling products, no rah-rah meetings, no bullsh*t.
Don't believe me?
Don't blame you.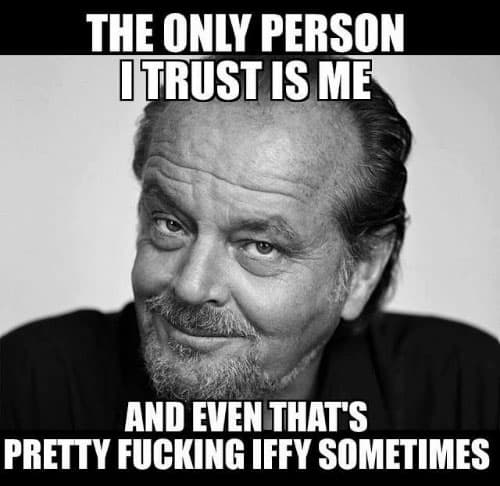 But before you scream "SCAM!" and scram, do yourself a favor.
Put down the Hatorade and click here to discover more realistic ways to make passive income from home.