Real, Unbiased Amway Review from an Ex-MLMer
82 Comments
---
Table of Contents
---
The O.G. MLM
Here's something we can both agree on:
If there was ever such a thing as an O.G. MLM, Amway would be it.
No doubt about it, this infamous network marketing company is the Original Gangster and undisputed heavyweight champion of all MLMs.
In terms of yearly revenue, no other multi-level marketing company even comes close.
Amway Global is the number-one direct selling business on the planet, raking in around $8-9 billion a year.
That's a full $3 billion more than Avon or Herbalife, its closest competitors.
If you're a budding entrepreneur who's been alive longer than 15 minutes, you've probably heard of 'em by now.
While things have calmed down a little in recent years, there was a time when it seemed like there were Amway distributors lurking around every corner.
Possibly even in random storm drains, like Pennywise from the movie It: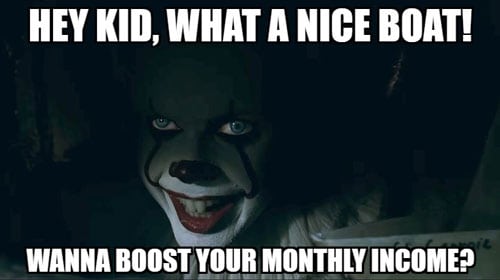 So what gives?
What is it about Amway that has drawn untold millions of regular folks into its vortex for an astonishing 60 years now?
Let's dig a little deeper to find out…
---
Who Is Amway and Where Are They Located?
Headquartered in Ada, Michigan, Amway is an MLM company who sells health, wellness, beauty, nutrition, and home care products to the masses.
Now get this:
Amway is one of only a few companies that can legitimately claim to have pioneered the business model that we've all come to know and love as…
(Or hate and be repulsed by…)
You guessed it: Multi-Level Marketing (MLM).
Amway now has 17,000+ employees and operates in over 100 countries and territories throughout the world including Canada, China, India, Japan, and Thailand.
The only exception being Antarctica.
But at this point, I really wouldn't be surprised if they even had a few penguins on board:
(I clearly have too much time on my hands.)
More:
Although the company doesn't officially publish how many registered distributors it has, a commonly quoted figure is somewhere between 3 and 4 million people worldwide.
As of this writing, Forbes Magazine ranks Amway as the 53rd largest privately held company in the United States by revenue.
The company consistently finds its way to the top of the Direct Selling News "Top 100" list.
Amway's headquarters complex in Ada, Michigan is also quite impressive.
Picture this:
Stretching a full mile from east to west, it boasts 80 total buildings with some 3.5 million square feet of manufacturing and office space.
Here's a pic of their main entrance and head office:
Kidding.
But Amway's magical kingdom is still a far cry from a humble "mom-and-pop" operation.
And let's not forget the name of the basketball arena that the Orlando Magic call home.
Officially known as the Amway Center, so named because the DeVos family (Richard DeVos co-founded Amway) OWNS the freakin' team.
The company has initiated many other commercial sponsorships in the past, including being the former jersey sponsor of the San Jose Earthquakes — a Major League Soccer team.
They even own a hotel in Grand Rapids, MI called the Amway Grand Plaza for Pete's sake.
Simply put, Amway is a beast.
Now let's wipe the dust off and begin with…
---
A Brief History Of When Amway Started
Amway was founded way back in 1959, by long-time friends and business partners Jay Van Andel (above left) and Richard "Rich" DeVos (right).
To put things in perspective, that was the same year that:
Mattel came out with the first Barbie doll.
Alaska became the 49th State of the Union.
Amazon still meant a jungle, not a website.
But a decade before that, Rich and Jay started out by marketing a line of nutritional products from a company known as Nutrilite.
Previously named The California Vitamin Company, Nutrilite's claim to fame was having the first-ever multivitamin sold in the United States:
Impressed by the groundbreaking direct sales model used by Nutrilite, DeVos and Van Andel quickly became top distributors.
They also loved how the company offered commissions on product sales from newly recruited distributors they introduced to the business — a system called multi-level marketing or network marketing.
After building up a team of more than five thousand distributors, Rich and Jay decided to leave Nutrilite (with their top recruiters) and go it alone.
Then it happened:
The two entrepreneurs launched a new company known as The American Way (later shortened to Amway) so they could expand the product line to include regular household items.
… and the rest is history.
DeVos and Van Andel's first order of business was to buy the rights to what would become Amway's first product:
A highly concentrated organic household cleaner known as Frisk.
They later changed the name of the product to L.O.C. aka "Liquid Organic Cleaner" now known as "Legacy of Clean".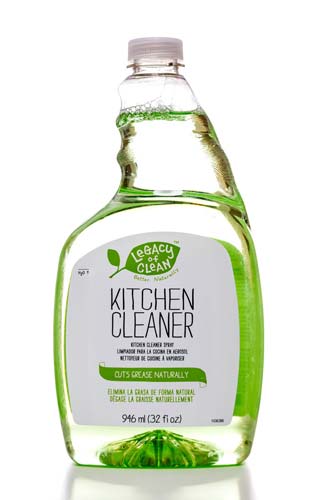 This cleaner, along with their Nutrilite supplements (which the company later acquired), became the core of Amway's product offerings.
Distributors were also given the ability to earn a residual income through their customers' repeat purchases.
Fast-forward to today:
This direct sales behemoth has added all kinds of new products to their repertoire, including several product divisions doing billions in annual sales by themselves.
In 2021 alone, Amway's Nutrilite brand of supplements sold 11 billion vitamin tablets around the world.
Nutrilite was also named by Euromonitor International as the world's number-one selling nutritional supplement brand.
But here's the interesting thing:
Amway enjoyed a brief stint of being thought of as an "internet business" back in the late 1990s and early 2000s, when it launched the now-defunct web-based brand known as Quixtar in North America.
Why would Amway do such a thing?
The biggest difference between Amway and Quixtar was that distributors (known as "Independent Business Owners" or "IBOs" for short) could order their products directly online.
This saved them from having to manually fill out order slips and submit them to their upline.
Good idea, right?
Unfortunately, the Quixtar brand failed to gain popularity with the general public and after 7 years (and a class action lawsuit) it was scrapped.
Starting in 2007, the Quixtar name was quietly phased out and now all Amway business owners worldwide are under the Alticor, Inc. brand as one big happy family.
Mostly thanks to their MLM business model, it's fair to say that Amway doesn't exactly have the best reputation among the general public these days.
But they do have the highest revenue.
And the quality of their products is definitely not to blame…
---
Are Amway Products Any Good?
If there's one thing I can say about Amway:
It's that their products are LEGIT.
I know several people who have used their Nutrilite dietary supplements and have nothing but good things to say about them.
Check this out:
Nutrilite claims to be one of the only vitamin/mineral brands on the planet that grows, harvests, and processes the plants for their supplements on their own certified organic farms.
Apparently they even use special Egyptian earthworms just to fertilize the soil for their organic plants.
Now THAT is hardcore lol.
But it's not just about vitamins and minerals.
Their household cleaning products are every bit as high-quality, with L.O.C. being a groundbreaking cleaner in terms of being fully biodegradable and comprised of organic ingredients.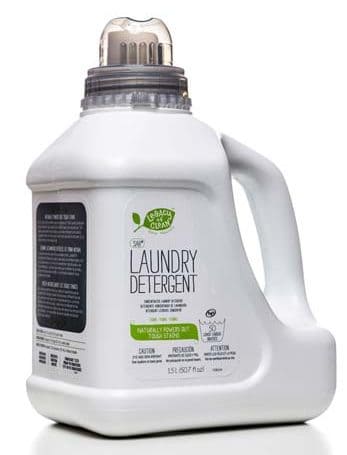 Put it this way:
Amway was doing organic before organic was cool.
And we can't forget about the company's Artistry line of cosmetic and personal care products which is a juggernaut by itself, generating billions of dollars per year in revenue.

Amway also has a popular "eSpring" water filter that has earned mad respect in water purifying circles, garnering an "excellent" rating from Consumer Reports among other accolades.
I actually know someone who has owned and used the eSpring: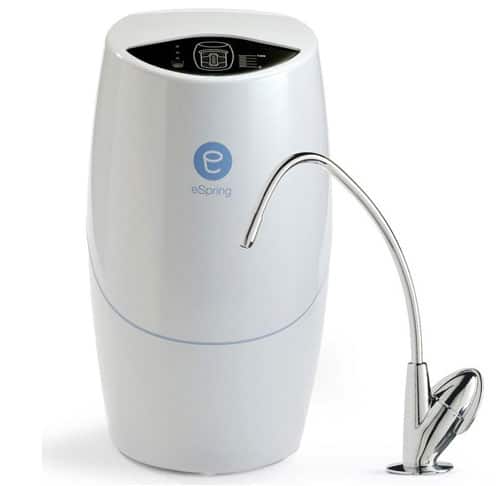 Which utilizes UV light along with a carbon block filter to purify tap water.
Not sure about the science but…
Apparently the water tastes pretty damn good lol.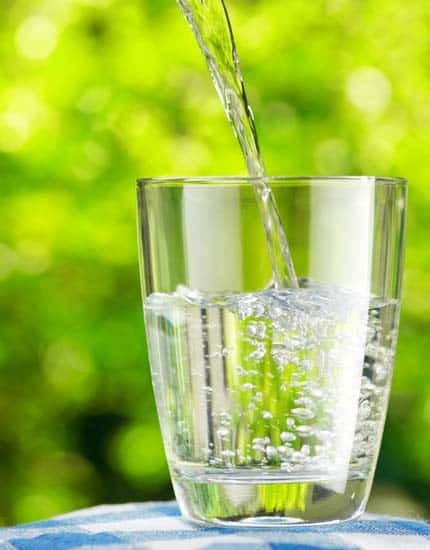 And I'll mention one last product which is also one of the company's most addictive:
The XS Energy Drink.
This sugar-free energy elixir courses through the veins of countless IBOs worldwide, bringing in annual sales of more than $100 million.
If you couldn't tell by now:
There are literally hundreds (450+) of other products in Amway's catalog including Amway Home™, Satinique™ (hair care), and Atmosphere Sky™ (air treatment systems)…
… but I'm not gonna to bore you with an exhaustive survey of their entire product line.
Needless to say, they're well-covered in terms of product variety.
The only strike that I would count against Amway when it comes to their products, is their typical MLM-inflated prices.
Definitely not the worst that I've seen, but they're not exactly the "low-price leader" by any means.
That said:
From my own research and folks that I know personally, I can honestly say that Amway seems to walk the talk in terms of high product quality.
It's almost unfortunate that a company that produces such awesome products has been subject to so much controversy surrounding their business opportunity.
I'll cover that in more detail in just a sec.
But first let's explore some pros and cons:
---
Pros: Why Is Amway Legit?
✓
You won't have to worry too much about stability with this one.
As a long-time member of the Direct Selling Association, Amway is the largest and most successful MLM company in the world.
Which means you're hooking up with a 60 year-old company that does $8-9 billion a year in sales.
To be fair, Amway sales have been on somewhat of a downtrend in recent years, but it's safe to say they're here to stay.
✓
Their product quality is mostly outstanding.
If you want to become a full-time Amway IBO, you can be proud of what you're selling product-wise.
Even if you're not interested in their business plan, Amway is still known for having quality products.
That's more than what can be said for many two-bit MLM companies out there nowadays.
✓
A high rating from the Better Business Bureau.
For what it's worth, Amway has been accredited with the BBB for almost 30 years (since 1991).
And they currently have an A+ rating.
However, it's important to mention this is common for large MLM companies.
Since many of the positive Amway reviews often come from their own distributors — who are not exactly unbiased lol.
✓
As the most well-established network marketing company, Amway offers top-notch training materials and events for their IBOs.
Amway has plenty of free training programs and resources to help you get to the next level of your MLM small business.
That includes live presentations, webinars, podcasts, and online courses.
No raggedy, copy-of-a-copy, black-and-white brochures here.
And no sketchy-looking information packs that you'd be embarrassed to hand out to your friends and family members aka "prospective distributors".
They even have an Amway Business Center for IBOs in New York.
They also hold multiple training conferences throughout the year to keep you motivated and inspired (if you're into that kind of thing).
However, this is not to be confused with the loads of unofficial motivational books, videos, and other Business Support Materials (BSMs) that you'll be encouraged to buy from your upline.
(More about that later.)
---
Cons: Is Amway a Pyramid Scheme or Scam?
✗
On the business opportunity side, Amway's reputation is all but in the crapper.
Like it or not:
When most people hear or type the word "Amway" into Google, a wall quickly goes up before you can even begin talking about the business.
Questions about pyramid scams and ponzi schemes will often follow:

Or:
"Aren't the only people that are making money with those at the top of the pyramid?"
To combat this, a lot of their IBOs have resorted to memorizing creative rebuttals so they can avoid using the company name right off the bat.
It also explains why the Amway-affiliated World Wide Dream Builders organization has been so successful — they don't have to mention Amway up front.
✗
Throughout the decades, the company has been the target of numerous FTC investigations.
With allegations that include price fixing and making exaggerated income claims, to paying millions of dollars to former distributors for misleading business practices.
Anyone who's been around this industry for a while is aware that all MLMs walk a fine line between selling the products and selling the dream.
As you might expect, one of the biggest and most long-standing accusations against Amway is that it's an illegal pyramid scheme.
Hence the term "Scamway."
But the FTC actually ruled this out in 1979 due to the fact that Amway does not specifically pay people for recruiting new distributors.
Even though — as we all know — recruiting is the cornerstone of all MLMs and is obviously highly encouraged.
Cuz that's how the network marketing business works.
✗
Being the original MLM, it's not surprising that IBOs are heavily pressured to sell products like crazy and buy more for personal use.
In return, distributors earn PV (point value) and BV (business volume) which determine their monthly compensation percentage.
But like most MLMs, Amway products are expensive.
This can make it hard for distributors to purchase enough volume to reach their minimums.
Not to mention the not-so-easy challenge of convincing someone to make a full switch from cheaper, store-bought brands.
✗
The over-the-top Amway meetings and cult-like culture turns many people off.
Look:
For many IBOs, Amway is almost like a religion.
This had led to the company cranking out some of the most annoying and aggressive distributors in the MLM universe.
All selling the dream of financial freedom by running your own business, perhaps for the first time.
Nothing wrong with free enterprise or drinking your own Kool-Aid.
But it's also the reason why Amway has been accused of damn near brainwashing their recruits with pro-Amway propaganda.
---
Compensation Plan: Can Amway Make You Rich?
Okay, let's get down to brass tacks:
Time to talk about the Benjamins, baby.
As you'd expect, the top-level distributors of the world's largest MLM make sh*tloads of money.
Metric tons.
Those at the highest "Founders Emerald" and "Founders Diamond" levels are ballin' out of control.
Above that, the few at the "Crown" level are making residual incomes that seriously border on the unbelievable.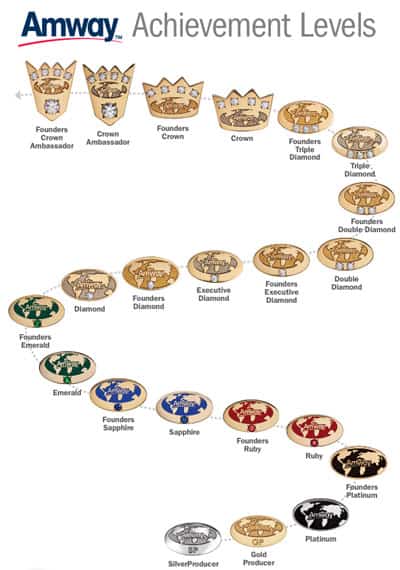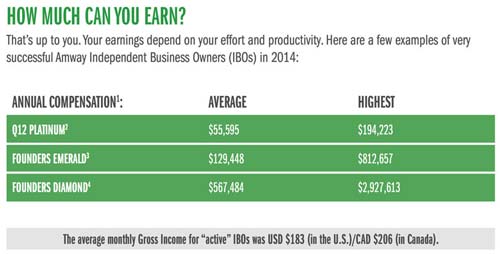 But like most other MLMs, unfortunately they represent a pathetically small percentage of the total number of distributors enrolled in the company.
To put it in perspective, the Amway Corporation has paid out almost $60 billion (with a "B") in bonuses and incentives to distributors since its inception.
That's a LOT of money.
But according to Amway.com, only 48% of all IBOs are active with an average gross income of around $200/mo.
You read that right.
Two hundred bucks PER MONTH.
Ouch.
Why so low?
Like all direct selling companies, for most people it's gonna be an uphill battle to get to any significant level of income.
And when I say "uphill" — I mean a very steep hill.
Starting face down in the mud.
With an army of renegade mercenaries strafing the hill with machine gun fire.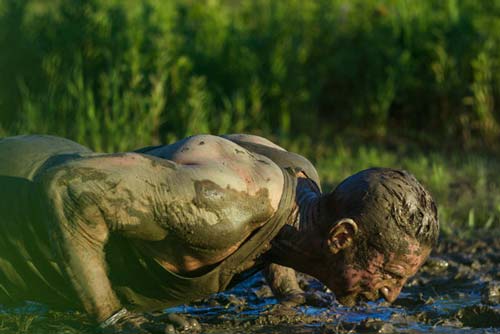 In other words, it might be a little tough to make this thing work.
Especially if you treat it like a casual part-time job.
But let's break it down, shall we?
---
How Amway Works
Are you ready to become a Founders Diamond and make $500k per year?
News flash, rookie:
First you gotta learn the ropes by starting out as a brand-new Independent Business Owner (IBO) for around $100.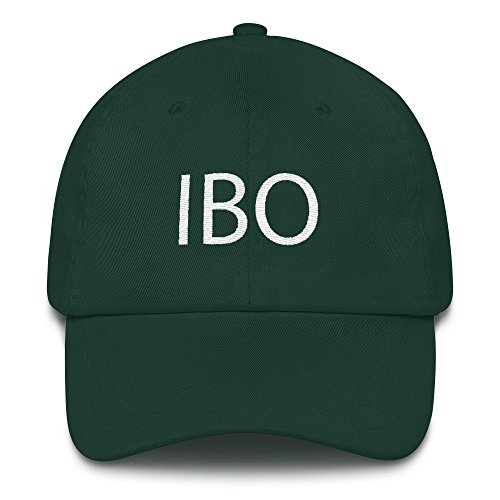 Next up, the really fun part:
You'll then be encouraged to talk about Amway with your friends and family (in person and on social media), as long as you can convince them the hefty retail sales price is worth it.
As a new IBO, you'll also be taught to "be your own best customer" by switching all of your current household items to Amway.
Spoiler alert: This will cost you more money out of pocket.
As mentioned earlier:
The more you sell, the more Point Value and Business Volume numbers you earn, and the more commission you make.
(You can check out this handy Amway commission calculator.)
But here's where it gets a lil' sketchy:
The BV of the Amway products you buy is not always equal to the dollar amount it costs to buy them.
Long story short, this means you gotta buy a ton of Amway stuff to get a relatively meager commission.
For example, as you can see in the image below, buying 600 PV worth of product should net you roughly $225/mo for your trouble.
If you add up all the 100 PV's above, it's over the 600 PV threshold which means that your commission will be 9% of BV.
If you add up all the $300 BV's above (and add $400 BV from customer purchases), it's roughly $2500 BV total.
Which means that you'll receive around $225/mo in commissions (9% of $2500 BV = $225).
But keep in mind that you and your group probably spent well over $1000 to buy all those Amway products.
If your group continues to grow and increases your total monthly PV to 7500, your commission can get as high as 25%.
(Feel free to check out Amway's official compensation plan.)
After countless hours of looking at their comp plan, here's the "simplest" explanation I could find on YouTube:
Don't feel bad if you have absolutely no idea what any of that means.
I'm the one who did the damn research and still don't understand it all.
But all you really need to know is why there's such a strong emphasis placed on sponsoring OTHER people into the business.
Simply because you can benefit from their BV as well, since their volume becomes part of your group volume (GV), boosting your PV bracket, and therefore your commission percentage.
Clear as mud?
Didn't think so lol.
Translation: If your downline makes more money, YOU make more money.
Do this enough times and you're a dancin' millionaire, right?
Not so fast, Twinkle Toes…
---
What Amway Doesn't Tell You
Here's the truth:
It can be very discouraging when you start prospecting and trying to recruit new distributors.
First off, you have to overcome the immense hurdle of Amway's not-so-good reputation.
That means persuading your friends, family members, total strangers, and possibly a few household pets that your business opportunity is worth a look.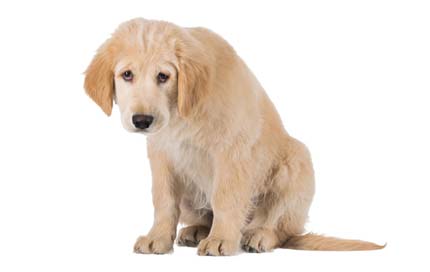 You'll hear things like:
"That sounds like a pyramid scheme to me…"
Or:
"No thanks, I've tried something like that before and it was a total scam."
You might even try inviting them to a couple hotel ballroom meetings to listen to a "special guest presenter".
Or perhaps one-on-one sit-downs at a local Starbucks where you sketch out the compensation plan using neat little circles on a piece of paper.
Or maybe a home meeting, where someone with a whiteboard draws out the plan Pictionary-style.
While all of this is going on, your upline is steadily encouraging you to invest in a small library of motivational material aka the aforementioned Business Support Materials (BSMs).
Supposedly, to give you the knowledge and inspiration you need to succeed in the business.
This is one of the biggest points of contention between Amway critics and supporters.
What's the problem?
Basically, you're told that the more BSMs you and your group buy, the more likely you are to succeed in the business since you'll be developing the proper "mentality" for success.
It's important to mention that distributors who choose to sell or distribute BSMs must emphasize that the purchase of these materials is optional.
But it's common for new recruits to hear such phrases as:
"Tools are optional, but so is success!"
Or:
"I've never seen anyone be successful in this business without these tools."
Now to be fair, I completely agree that without the proper mindset, you don't stand a chance of being successful in MLM or any traditional business.
However, the costs for these "optional" BSMs start to add up pretty damn quick.
To the tune of hundreds of dollars per month, on top of the money you're shelling out to buy products for personal use.
And who is all this extra Business Support Material cash going to?
The top-level distributors who are selling it to you, of course.
You're also encouraged to attend weekend seminars, "attitude sessions" (more motivation), "night owl" sessions (still more motivation), and especially major functions and conferences.
You might even hear that "not attending the next major function will set your business back six months!"
The end goal is to cram as much Amway knowledge and motivational meth down your throat until you become a walking spokeszombie for the company.
Amway believes so much in the power of these rah-rah products and meetings, they even have an official term for the groups of Amway IBOs who are the best at it:
"Professional Development Programs" (PDPs) also referred to as "Amway Motivational Organizations" (AMOs).
As an AMO, the group can operate under the Amway flag but is allowed to sell their own products that instruct new recruits how to succeed as an Amway professional.
I wanna make something clear though:
I'm not anti-Amway or against the idea of surrounding yourself with a positive group of like-minded peeps.
In fact, if you're NOT paying attention to what you read, watch, and listen to on a regular basis, you're gonna have a hard time making it as an entrepreneur.
The only problem is that network marketing marketing companies like Amway are often accused of crossing the line and using near "cult-like" behavior to keep their distributors on board.
And don't forget that even if you're okay with drinking the MLM Kool-Aid, you still have to convince a whole lot of other people to believe the hype as well.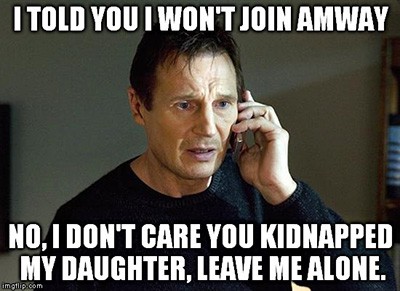 Easier said than done.
But if you can do that enough times for enough years, you just might end up with a massive network of IBOs, as well as some impressive monthly residual checks.
Unfortunately, since the vast majority of IBOs don't make a dime, the chances of that happening are slim.
---
Amway: Quick Summary
Amway Summary

| PROS | CONS |
| --- | --- |
| Amway is a legit business as the most successful network marketing company on the planet, with billions of dollars in yearly sales and a track record spanning six decades. | Thanks to their multi-level marketing business model (which emphasizes recruiting), Amway's reputation among many folks is poor to say the least. |
| In general, Amway's products have an excellent reputation for being very high quality which can lead to long-term customers. | It costs about $100 to become an Independent Business Owner (IBO), and you are expected to buy a lot of products for personal use which tend to be pricey. |
| Amway offers more than 450 products ranging from skin care to health supplements, so it's safe to say you won't run out of things to sell as an IBO. | Like all MLMs, there is a strong emphasis placed on sponsoring other people into the business so you can make commissions from their sales as well. |
| As the most well-established network marketing company, Amway offers top-notch training materials for their IBOs. | Distributors are frequently encouraged to buy costly motivational books & videos from their upline to help them succeed. |
| The top-level distributors in Amway can earn some of the highest commissions in the MLM industry, with yearly incomes in the high six and seven-figure ranges. | The company admits that only 48% of all IBOs are active and of the ones that are active, their average monthly gross income is only around $200. |
Bottom Line: Is Amway a Scam or Will It Survive?
C'mon, they've been around for 60 frickin' years and do $9B in annual sales.
Amway's not going anywhere.
Personally, I'm not a fan of their business model but don't think they're a scam either.
Kidding.
Make up your own mind but compared to many MLMs out there, I actually kind of like Amway.
Meaning I admire them from a pure business standpoint.
Now headed by Doug DeVos and Steve Van Andel (both sons of the original founders), you gotta respect their longevity and success as the largest MLM in the world.
Not to mention their product quality is better than most.
If you decide to join Amway, the money is definitely out there… remember the $60 billion in bonuses and incentives I told you about?
The catch is that you will need to build and maintain an absolutely MASSIVE organization to get anywhere near the six-figure income level or above.
To put it simply: it's a long shot and still requires a ridiculous amount of hard work.
According to the Federal Trade Commission, that's why 99% of MLMers lose money.
But maybe you should try switching it up.
Y'know, stop chasing old multi-level dreams and start a business by actually learning the skills to make money online?
One where you can still be your own boss and rake in a lotta dead presidents.
It's your call, Neo:
Take the blue pill and keep pestering those closest to you about your amazing home biz opp.
Or take the red pill and giddy-up on over to this link.
Good luck.
---
Shameless Plug: Realistic Passive Income Without MLM?
Imagine this:
No recruiting, no selling products, no rah-rah meetings, no bullsh*t.
Don't believe me?
Don't blame you.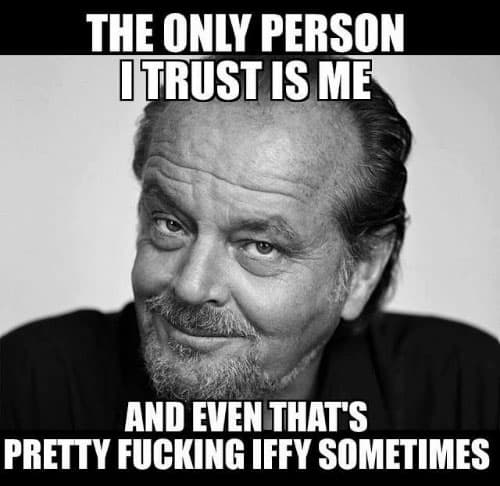 But before you scream "SCAM!" and scram, do yourself a favor.
Put down the Hatorade and click here to discover more realistic ways to make passive income from home.