Ultimate WebinarJam Software Review from a Webinerd
2 Comments
---
Table of Contents
---
Is WebinarJam Legit?
Before we get into this review, quick show of hands:
Who else is a sucker for Smucker's jam?
Strawberry, grape jelly, raspberry — I'll put that sh*t on damn near anything.
But here's something you prob'ly didn't know:
The J.M. Smucker company also created WebinarJam.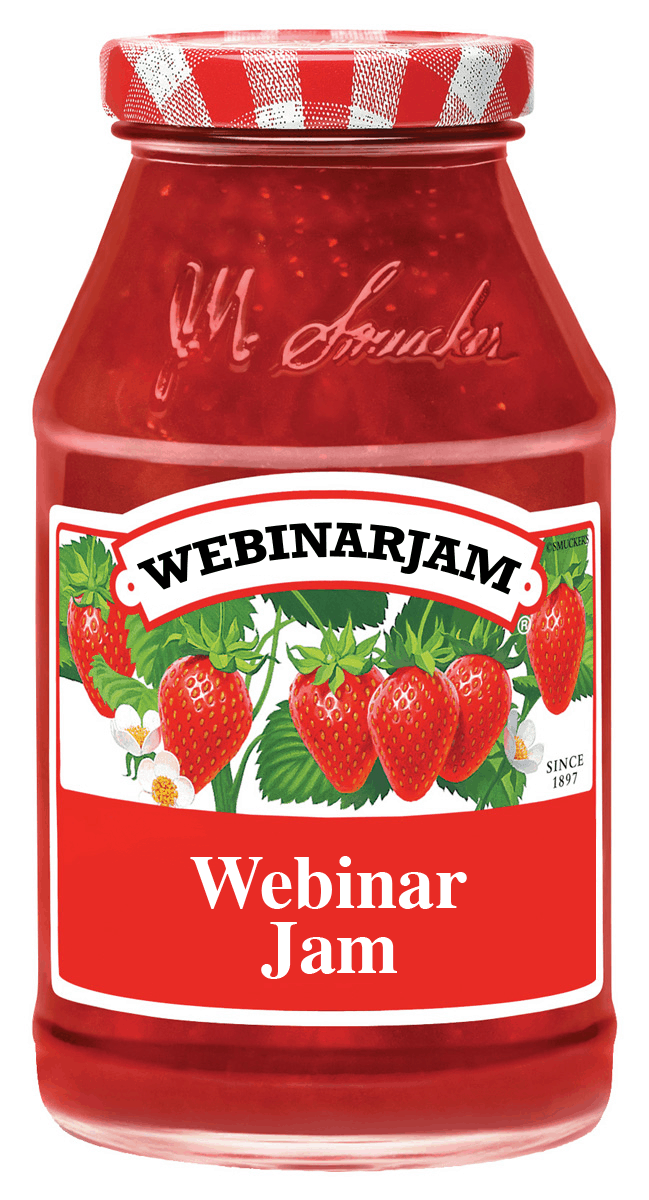 (Not really. But I'm an idiot and couldn't resist that stupid joke.)
Just like Smucker's though, WebinarJam has become one of the most respected names in their industry.
In just 7 short years…
Countless entrepreneurs including Tony Robbins, Jenna Kutcher, Eben Pagan, and Brendon Burchard have switched to WebinarJam and seem to like it:
The big question is:
With dozens of webinar services out there, why is WebinarJam consistently ranked at the top of the list?
Is the hype well-deserved or is it just a well-preserved scam?
Well, it's a sticky subject but I'm your huckleberry.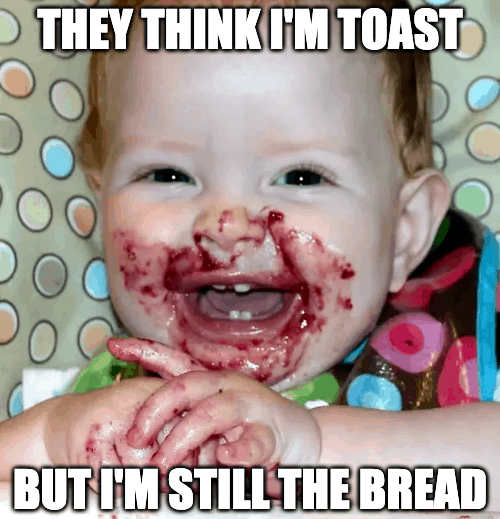 And luckily for you, researching the crap outta things is still my jam.
(Get it? Well-preserved? Huckleberry jam? Toast? Ahhh forget it.)
DISCLAIMER:
Your trust means everything to me. I may earn a small commission from affiliate links below but any recommendation I give you is what I'd buy myself and doesn't affect your cost whatsoever. Thanks for your support.
Now let's grab a spoon and pop the lid off this bad boy:
---
What is WebinarJam 4.0?

is a popular webinar hosting software renowned for its simplicity and ease of use with more than 50,000 users across 40 different industries worldwide.
The SaaS (software as a service) company behind WebinarJam — Genesis Digital, LLC — was recently named one of Inc. 5000's fastest growing companies and is based in La Jolla, California, USA.
Here's how WebinarJam 4.0 came to be: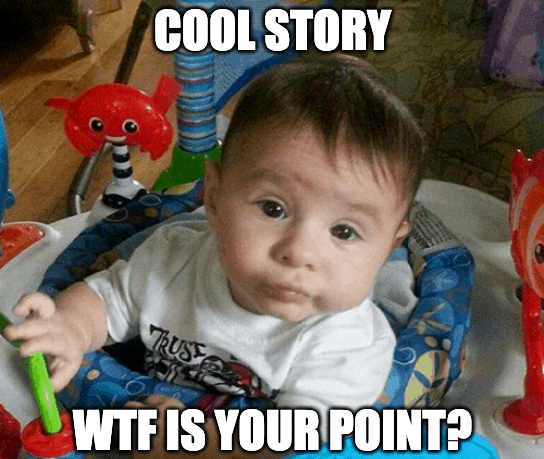 Good question, lil' guy.
WebinarJam started out with a simple vision: Make webinars easy and affordable for the average person.
And despite rebuilding their software several times to stay ahead of the game, the company's main goal hasn't changed.
As the late American author and businessman Stephen R. Covey wrote:
The main thing is to keep the main thing the main thing.
After all, what good is a piece of software if it's not budget or user-friendly?
But let's be real: Plenty of webinar companies make that claim.
So what makes WebinarJam stand out like a roll of Charmin at a colon cleansing convention?
Just sit back and relax as we get down to business:
---
WebinarJam Review
Interesting fact:
nearly broke the Guinness World Record for the largest live webinar with over 10,000 simultaneous viewers.
So I'm gonna go out on a limb and say it probl'y won't have any issues with handling your audience size lol.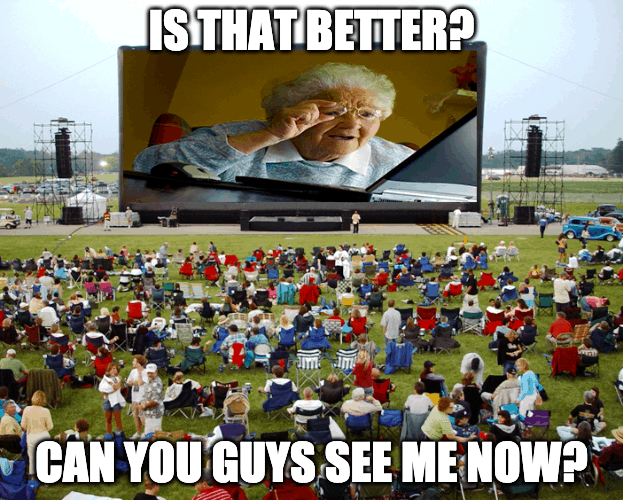 More:
Since launching in 2013, WebinarJam has been rebuilt with completely new technology — not just once but FOUR times in seven years.
Why?
According to the company:
We're just copying the Apple iPhone business model of constantly releasing new versions to make a lot more money. If you don't like it, kiss our webinass!
Kidding.
(But wouldn't that be refreshing?)
Seriously though, I've been using WebinarJam on and off since 2015 and the company has made significant improvements over the years.
Here's a breakdown of the latest WebinarJam features in version 4.0:
• Browser-Based Platform
First off, WebinarJam doesn't require any software downloads or installation.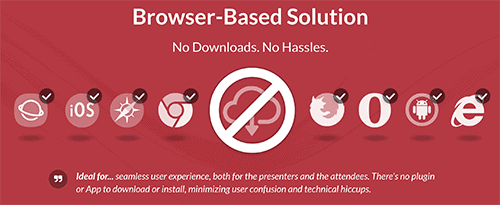 It's conveniently designed to work with your favorite web browser on any device for ultimate functionality.
• Easy Presentations
Once you've created your webinar slides, the last thing you need to worry about is having a clunky and slow way of uploading them into your webinar.
The answer?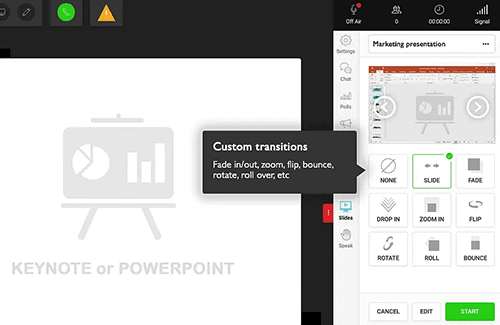 WebinarJam allows you to effortlessly import and customize your PowerPoint or Keynote presentation and scroll through it with ease during your live session.
• Live Chat
Ask any webinar veteran what the secret to a successful webinar is and there's a good chance they'll mention one word: engagement.
Which is just a fancy word for being interactive and getting in touch with your attendees — the more engagement, the better.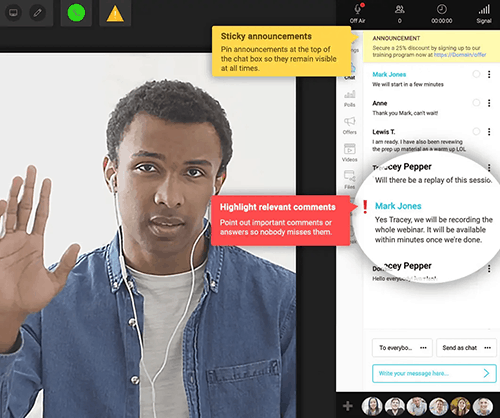 WebinarJam takes traditional online interaction to another level with both live and private chat options, moderator abilities, and sticky announcements.
• Automated Recordings
As you can prob'ly guess, this option will record your live webinar on autopilot in a perfect, second-by-second video file.
You can then use WebinarJam's "Replica Replay" feature to broadcast your live event later for anyone who missed it or wants to watch your recorded webinar a second time.
Check it out:
IMPORTANT NOTE:
If you're looking for more flexibility with automated webinars (e.g. 24/7 on-demand webinars) — you should consider adding EverWebinar to WebinarJam.
(More about EverWebinar later.)
• Attendee Spotlight
This feature allows you to invite any attendee to speak and interact with you during your live webinar via webcam or screen share.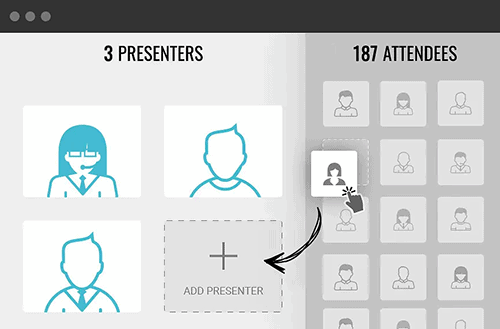 In effect, the Attendee Spotlight can turn any of your webinar attendees into co-presenters and then back into viewers again with a simple mouse click.
• Drawing Whiteboard
Imagine the ability to enhance your webinar slides with:
Highlights
Custom notes
Your own freehand drawings
WJ makes it easy as PB&J.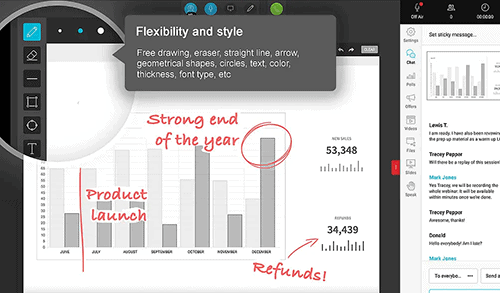 You can even draw directly on your slides during your live webinar to emphasize your point while keeping your audience engaged.
• Page Builder
WebinarJam gives you an entire library of stunning pre-made registration page templates that are fully customizable (colors, text, images, etc).
All of WJ's templates are mobile-responsive so they look epic on your iPhone's iOS or Samsung's Android platform.
You can also try split-testing designs to see which template converts the best.
• Polls and Surveys
One of the best ways to engage with your webinar audience is by using polling or survey questions during your live presentation.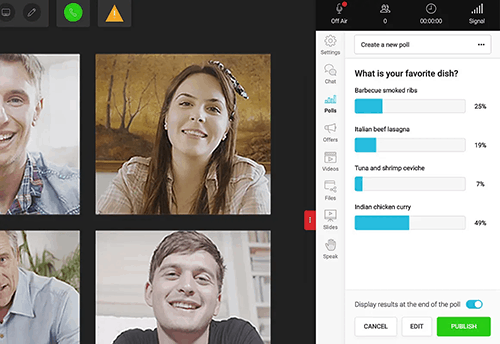 Fact is, many folks love to answer multiple choice questions and by throwing a few polls out there, you'll get instant feedback with more engagement.
• Active Offers
This option gives you full control over when and how you use offers during your WebinarJam presentation.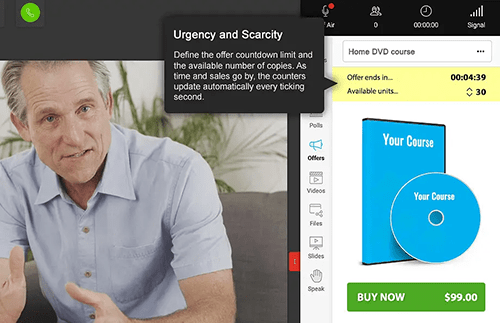 With a mouse click, you can show your CTA pop-up which can include a buy now button, countdown timer, and number of units left.
• Video Injections
Need a video fix? You're in luck. WebinarJam excels at giving you the ability to play a pre-recorded video while hosting your webinar event streaming live.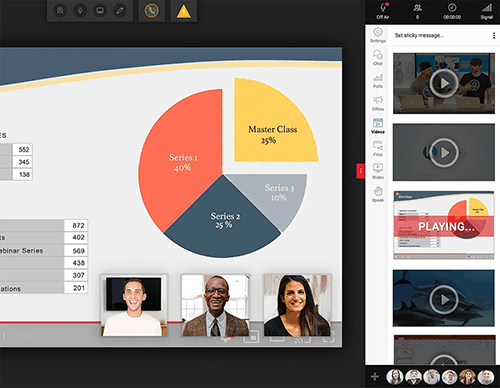 For example, you might have a super-technical part of your webinar you'd prefer to record and play for your live audience and then answer FAQs after.
• Flexible Scheduling
Feel like hosting a webinar right now? Want to schedule a live stream later this week? How 'bout running a weekly webinar series?
It's all possible with feature-rich WebinarJam 4.0.
You can pick and choose when to host your live casting sessions and can even get a branded "Always-On" room ready to go 24/7.
• Email Marketing and SMS System
You can be the greatest webinar host in the world with the sexiest registration and thank-you pages, but if you don't repeatedly remind folks to show up?
You're frickin' fricked.
The solution?
WebinarJam's got you covered with pre-webinar email and text notifications, as well as post-webby follow-ups for those who missed your event or left early.
• Handouts
Sharing files with your attendees during your live webinar session is a brilliant way to increase engagement and add more value to your event.
Perhaps you'd like to offer a cheat sheet, webinar summary, or questionnaire for testimonials? Files that can be shared include PDFs, images, spreadsheets, and slide uploads.
• Paid Webinars
Free webinars are the most common type of web-based seminar. And they should be. But there are certain situations where it makes sense to charge for your live event.
For example:
If you're a coach or consultant hosting an online course or providing a paid training session, WebinarJam makes it easy for your clients to sign up for a fee using a credit card or PayPal.
• Power Analytics
Like it or not, stats matter.
The more numbers you have to work with, the more you're able to improve small details that can make a big difference in your webinar journey.
WebinarJam tracks everything you need to know from registration and show-up rates, to how long your viewers stick around and much more.
• Password-Protected Webinar Rooms
You might've heard of popular video conferencing platforms such as GoToMeeting or Zoom and the security issues they're susceptible to (e.g. Zoom-attacks).
With password-protected conference rooms, you can establish various levels of accessibility to avoid any rude interruptions or privacy concerns thanks to WebinarJam's SSL/TLS encryption.
• Automated Integrations
For experienced marketers who already use an email autoresponder or CRM software, WebinarJam is the 3rd party integration king.
Automated integrations include:
ClickFunnels, AWeber, Drip, Kartra, ActiveCampaign, iContact, ConvertKit, Infusionsoft, Mailchimp, Ontraport, and Zapier just to name a few.
Oh and can't forget about how easily WebinarJam integrates with 3rd party tracking codes such as Google Tag Manager and Facebook pixels.
• One-Click Registration Process
Confession:
I'd rather sh*t in my hands and clap than fill out another registration form.
Thankfully, WebinarJam has a plan to save my hands: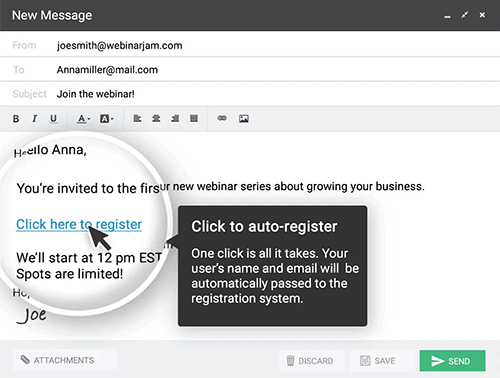 With one-click registrations, you can send an email through any autoresponder or CRM with a link that'll automatically register someone for your webinar.
Wait 'til you see what happens to your webinar registration rates when someone doesn't have to fill in their name, email, or phone number ?
• Panic Button
Regardless of how well you prepare or how awesome your webinar software is, sometimes things will go wrong during your presentation. It happens.
Maybe your WiFi is on the fritz (hint: use direct ethernet cable for webinars) or you're experiencing webcam or poor audio quality.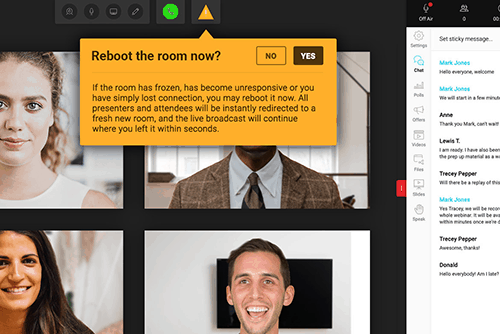 In any case, WebinarJam has a panic button that allows you to reboot your presentation into a brand new live room and auto-transfer everyone over.
Pretty cool, huh? This is one of the bonus features available in WebinarJam Pro.
Speaking of which:
• Always-On Room
If you're a WebinarJam Pro user and enjoy hosting live video streaming events on a regular basis without any hassles — you're gonna love this self-explanatory feature.
A custom URL (branded with your company name) that's "always on" and ready to go live 24/7 whenever you feel like jumping on. No setup, just a click.
• Control Center
For WebinarJam Enterprise users with huge audience sizes and a lotta balls to juggle, the Control Center is a godsend.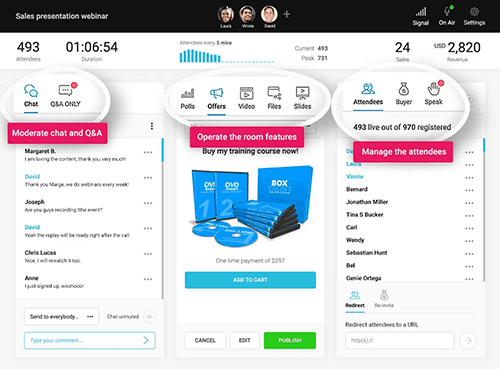 WebinarJam's Control Center is a separate room that your staff member can operate to answer any chat questions, launch product offers, polls, etc.
In other words: They take care of all the logistics so you can focus on delivering the best presentation possible without any distractions.
Boom! That about does it, my fellow webinerd.
Long story short:
WebinarJam 4.0 has more advanced features than you'll ever need to run world-class webinars.
But what about the cost? And how does it compare to other webinar providers?
Here ya go:
---
WebinarJam Pricing
You have three pricing options:
WebinarJam Pricing Options

| Basic | Professional | Enterprise |
| --- | --- | --- |
| $499/year ($41.58/mo) | $699/year ($58.25/mo) | $999/year ($83.25/mo) |
| Unlimited webinars | Unlimited webinars | Unlimited webinars |
| Up to 2 presenters | Up to 4 presenters | Up to 6 presenters |
| Up to 500 attendees | Up to 2,000 attendees | Up to 5,000 attendees |
| 2 hours max duration | 3 hours max duration | 4 hours max duration |
| 24/7 support | 24/7 support | 24/7 support |
| | Always-On live room | Always-On live room |
| | Panic Button | Panic Button |
| | | Control Center |
To sum up:
WebinarJam's Basic plan is ideal for most webinar enthusiasts offering unlimited live webinars for up to 2 presenters and 500 attendees.
The Professional plan offers unlimited live webby's for up to 4 presenters, 2,000 attendees, along with the Panic Button and Always-On live room.
For those with large audience sizes, the Enterprise plan offers all Pro features along with the Control Center for up to 6 presenters and 5,000 (!) attendees.
All WebinarJam pricing plans include 24/7 customer support and a 30-day money-back guarantee.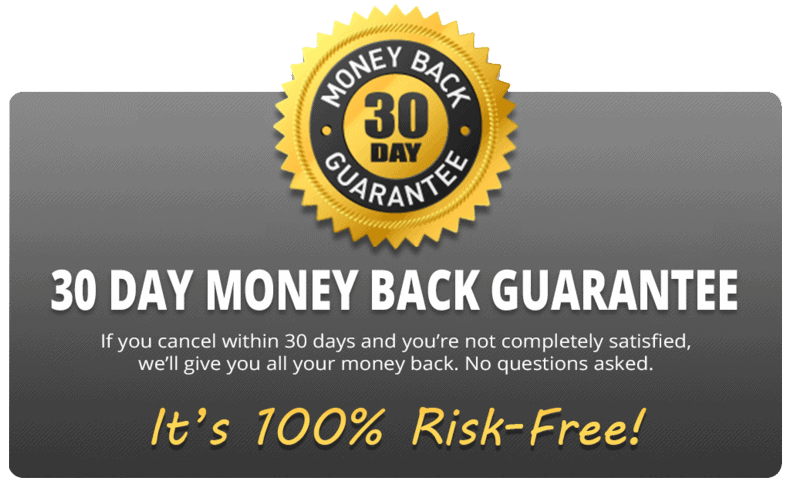 ---
WebinarJam Trial
For those who want to take WebinarJam for a test drive, the company offers .
So for 14 days, you can experience the full WebinarJam software for a buck:
Try WebinarJam for $1
Now, to put things in perspective…
Here's a price comparison of WebinarJam alternatives and what they charge for similar room sizes (approx. 500 seats):
Top Webinar Software Price Comparison
*Mobile users: Scroll left/right on table if your screen can't fit all 4 columns
Top Webinar Software Price Comparison

| Rank | Software | Price | Seats |
| --- | --- | --- | --- |
| 1 | | $41.58/mo ($499/yr) | 500 |
| 2 | (automated webinars only) | $41.58/mo ($499/yr) | 500+ |
| 3 | | $66.50/mo ($798/yr) | 500+ |
| 4 | | $90/mo ($1080/yr) | 500 |
| 5 | | $129/mo ($1548/yr) | 500 |
| 6 | | $129.16/mo ($1550/yr) | 500 |
| 7 | | $157/mo ($1884/yr) | 500 |
| 8 | | $159/mo ($1908/yr) | 500 |
| 9 | | $163/mo ($1956/yr) | 500 |
| 10 | | $179/mo ($2148/yr) | 500 |
| 11 | | $198/mo ($2376/yr) | 250 |
| 12 | | $199/mo ($2388/yr) | 500 |
| 13 | | $298/mo ($3576/yr) | 1000 |
| 14 | | $375/mo ($4500/yr) | 500 |
| 15 | | $453.70/mo ($15k/yr) | 1000 |
| 16 | | $599/mo ($5988/yr) | 500 |
| 17 | | $983.18/mo ($12k/yr) | 500 |
As you can see above:
No other webinar platform can match the same number of seats and features you get with WebinarJam at a comparable price point.
(WebinarJam works out to $1.37 per day.)
Even if you purchase WebinarJam with the EverWebinar add-on, it's still a far better value for money compared to what the other guys are offering.
If you decide to get both, we're talking about $798/yr which works out to just $66.50/mo for the best live and automated webinar solutions on the planet.
But what is EverWebinar anyway?
Well, that's exactly what we're gonna cover next…
---
WebinarJam vs EverWebinar
Here's the deal:
WebinarJam is designed to create the best live webinar experiences possible.
Its sister-software — — was specifically created for automated or evergreen webinars.
The two different types of webinars accomplish different objectives.
Think of it this way:
Live webinars typically convert better and create deeper connections with your audience. Automated webinars can be easily scaled and reach more of your audience.
So guess what?
For best results, you should use a combo of both live and automated webinar presentations.
Now:
Although WebinarJam has a Replica Replay feature which can auto-record your live webinar (including chat, surveys, etc) and replay it on another day…
EverWebinar takes WebinarJam and puts it on steroids.
EverWebinar basically gives your attendees a lot more flexibility to register for your webinar and watch it on-demand (i.e. at their own convenience).
For example, you can set up your EverWebinar replay page to stream:
• Just-In-Time webinars available instantly upon registration
• Only on certain days of the week (in attendees' timezones)
• Within certain timeframes such as every 15 or 30 minutes
The EverWebinar 4.0 platform also allows you to set up custom registration pages with email and text reminders for your automated presentation.
You can even engage with your audience by hosting a "hybrid" webinar — an automated recording that allows you to chat with your audience in real-time.
EverWebinar vs WebinarJam in a nutshell:
If you're brand new to webinars and just getting your feet wet, you should prob'ly start with and see how it goes.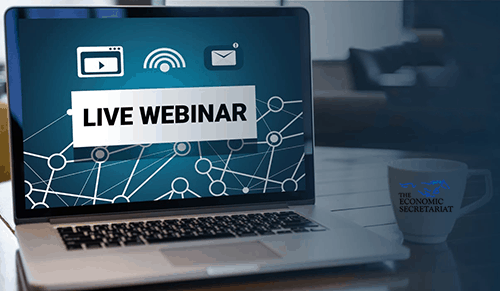 If you wanna host live and automated events, you can simply add EverWebinar during WJ's checkout process for 40% off ($299/yr).
(You can also add it later for the same discounted EverWebinar pricing.)
Or if you're only interested in automated webinar funnels, you can for a 14-day trial.
Keep in mind though:
Even if you prefer webinar automation, you'll still have to do a live webby to get your event recorded anyway, so you might as well try WebinarJam first.
The best part?
Both pieces of software are designed to seamlessly integrate with each other, so you can import a WebinarJam session into EverWebinar with a simple click.
Speaking of simple:
---
WebinarJam vs Zoom
Unless you've been living in a Covid-free bomb shelter with no WiFi, you've probably heard of Zoom.
The mega-popular web conferencing software really took off during the 2020 global pandemic when everyone was forced to stay and work from home.
Zoom's main claim to fame is that it offers a simple, bare-bones video meeting platform with a very attractive price point: FREE.
Here's the catch:
The no-cost Zoom pricing option is limited to a maximum of 40 minutes of meeting time and comes with little to no webinar-friendly features.
So if you're looking to sell stuff and actually make money during a live video presentation? Zoom ain't for you.
In short, Zoom is meant for corporate business needs such as video conference calls and WebinarJam is built for sales, online marketing, and customer engagement.
Zoom webinars are available as a paid add-on ($55/mo with Zoom Pro) but many have found Zoom video webinars to be clunky and overpriced for what you get in terms of standard webinar features (no CTAs, webinar replays, etc).
You should also be aware that Zoom has a ton of bad press about its surprising lack of online security.
"Zoombombing" is a term that's become popular due to countless Zoom live meetings getting disrupted by uninvited trolls.
Check out this lovely screenshot: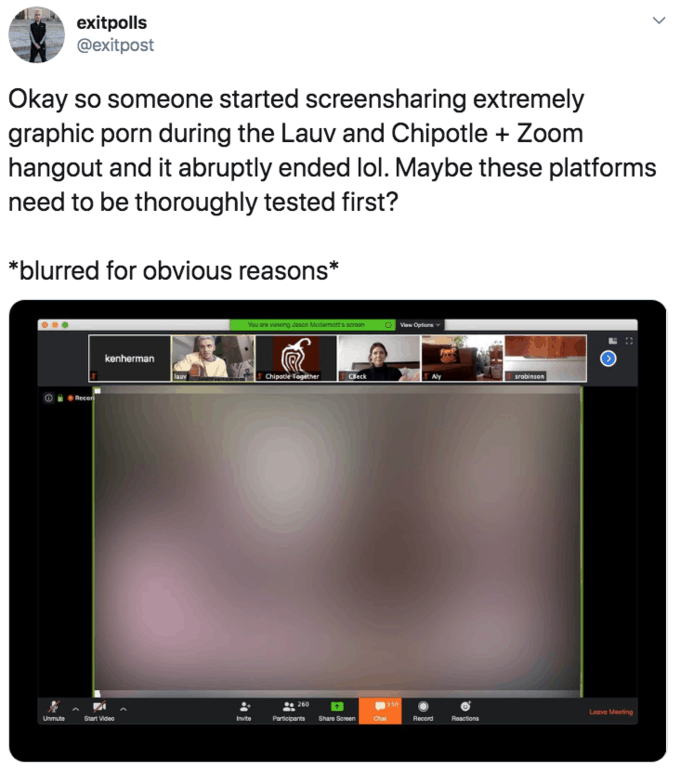 (Zoom Meetings: We can't stop intruders! WebinarJam with SSL/TLS encryption: Hold my beer.)
Despite its security glitches, Zoom is still an excellent choice for those looking for small video meetings but is definitely not a great webinar solution.
So let's look at a better one…
---
WebinarJam vs Demio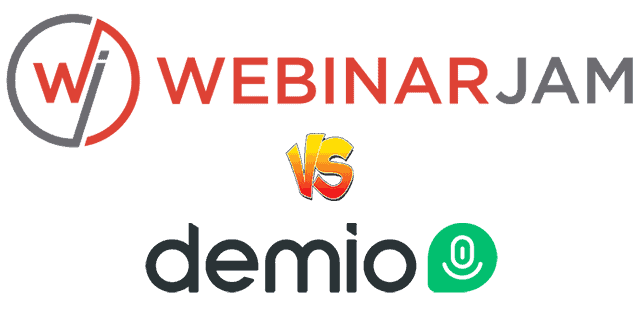 The dealio with Demio:
Offering a squeaky-clean user interface,  is an easy-to-use webinar platform built with marketing in mind.

Kidding.
I actually like Demio and rate it highly.
But as a long-time user of WebinarJam, it's hard for me to be unbiased.
Soooooo…
Here's the best video review I could find from brilliant entrepreneur Shane Melaugh (CEO of ) who took Demio for an exhaustive test drive:
Shane's Demio summary:
✓ Well-designed platform with a good overall user experience
✓ Easy for attendees to sign up
✓ Solid engagement features (CTAs, polls, handouts, etc)
✓ Good audio and video quality
✓ Automated webinars have flexible scheduling
✗ Weak chat and Q&A features
✗ Webinar screen sizes are limited, poor for screen sharing
✗ Demio landing pages are very weak, you'll want to use your own
✗ Replays are just videos, no chat replay or CTAs from the live event
✗ Pricey for what you get, automated webinars cost extra
Now to be fair, let's see what Shane has to say about WebinarJam:
Shane's WebinarJam summary:
✓ Best platform for sales webinars
✓ Great for multiple presenters and large audiences
✓ Superb engagement features (CTAs, whiteboard, video injections, polls, surveys, handouts, etc)
✓ Excellent audio and video quality
✓ Best value for the price (most seats for least money)
✗ No monthly pricing options (annual only)
✗ User interface could be improved
✗ Needs EverWebinar add-on if you want automated webinars
✗ Notification emails sometimes end up in spam
✗ Not designed for small video meetings
To sum up: Shane prefers WebinarJam over Demio mostly due to sales features and overall pricing.
But let's take a look at both platforms side by side:
Demio vs WebinarJam Comparison
Demio vs WebinarJam Comparison

| | | |
| --- | --- | --- |
| | | |
| Live | ✓ | ✓ |
| Automated | ✗ | ✗ |
| Presenters | 1 | 2 |
| Free Trial | 14-day | 14-day |
| Price | $49/mo (or $408/yr paid annually) | $41.58/mo (or $499/yr paid annually) |
| Seats | 50 | 500 |
| Cost Per Seat | $1/seat | $1/seat |
| Winner | | ✓ |
| | | |
| | | |
| Live | ✓ | ✓ |
| Automated | ✓ | ✓ |
| Presenters | 4 | 2 |
| Free Trial | 14-day | 14-day |
| Price | $234/mo (or $1956/yr paid annually) | $66.50/mo (or $798/yr paid annually) |
| Seats | 500 | 500 |
| Cost Per Seat | $3.91/seat | $1.60/seat |
| Winner | | ✓ |
Short story long:
Demio and WebinarJam are both premium, easy-to-use webinar platforms offering powerful marketing and engagement features.
Dollar for dollar, WebinarJam is a better overall value but Demio is still an attractive choice and you can try it out for free .
But enough about Demio.
Let's talk about what you really need to know…
---
How To Create a World-Class Webinar
Let's face it:
As a form of public speaking, hosting a webinar can be nerve-wracking.
Truth is, I was full of doubt and scared sh*tless before my first webby.
"What if no one shows up?"
"What if my audience hates my voice?"
"What if I forget everything, pass out, and cut a loud fart while I'm unconscious?"
(Could happen.)
Thankfully, like so many things we fear in life, it was all in my head and my first webinar went off without a hitch.
(Or a bugle call from Fort Asshole.)
This was largely due to my realization that everyone's favorite radio station is WIFM:
In other words:
It's all about giving your audience exactly what they want and focusing 100% of your attention on delivering as much value as possible.
Make sense?
But I didn't just wing it the first time. And neither should you.
Here are six things you need to know about hosting a successful webinar:
1. Begin with the end in mind.
What is the ultimate purpose of your webinar subject matter?
Are you trying to educate your audience, demonstrate your product, or sell them something?
Be specific and write it down.
A single webinar can accomplish all of the above but having a clear objective will make your presentation a hundred times more effective.
The goal of your main webinar topic should also be measurable.
For example, instead of writing down: "I want my attendees to learn a lot" — here's a better goal:
"By the end of my webinar, my attendees will know precisely how to cook 5 grams of meth in 10 simple steps."
And keep it realistic:
Don't set the target number of attendees at 1000 if you're just starting out and have zero followers or an email list of 150 peeps, k?
Fact is, over 70% of all webinars have less than 50 attendees, so there's nothing wrong with starting small.
Tip: Hosting a sales webinar this week with 10-15 attendees is always better than waiting until the "right" time which never happens.
2. Be prepared.
We've all heard the old saying:
"By failing to prepare, you're preparing to fail."
It's about as enlightening as:
"At the end of the day, the day ends."
But that doesn't mean it's not true.
If you want your webinar to go smoothly, you better know your sh*t like the back of your hand.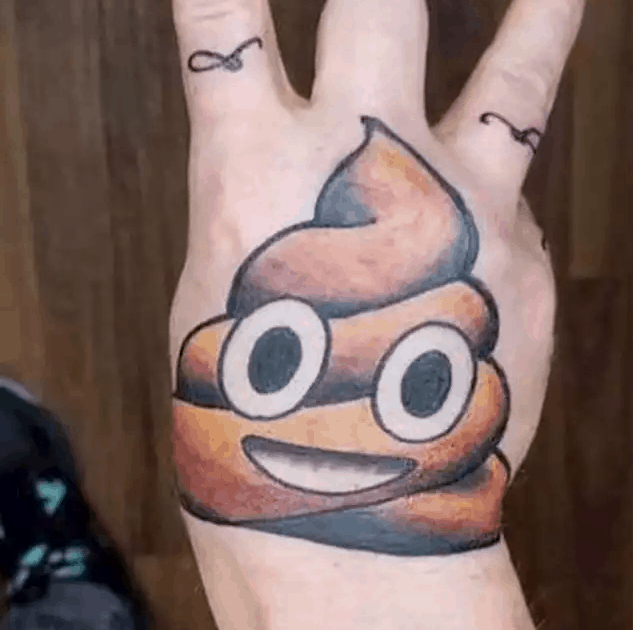 Check this out:
The epic infographic below (courtesy of mlsp.com) walks you through a webinar script that's allegedly generated over $50 million (!) in sales.

More:
I find it helpful to write out my webinar script word-for-word and practice speaking it aloud during a couple dry run throughs until it sounds natural.
Having a script handy also serves as a fail-safe just in case you have a brain fart during your live presentation.
Tip: Use Canva.com, PowerPoint (for PCs), or Keynote (for Macs) to outline your webinar and create a dazzling slideshow.
3. Keep it brief.
Since people tend to have short attention spans, shorter webinars tend to get better results.
According to research, the optimal webinar length is around 30 to 60 minutes.
Yes, 3-hour marathon presentations can also work if you know what you're doing, but you gotta learn how to walk before you skateboard.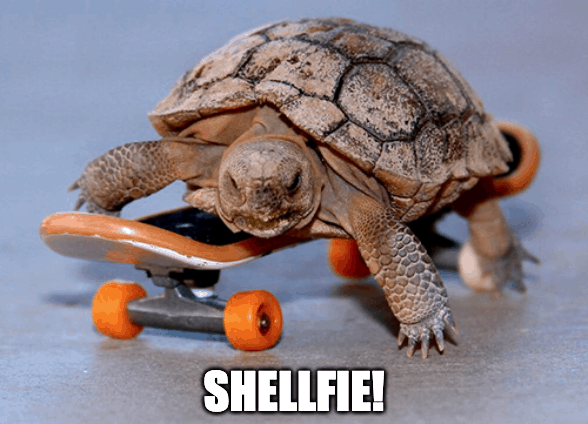 More from the Big Book of Webinar Stats:
• Emails are the most effective tactic for promoting your webinar.
• Tues and Wed are the best days for sending webinar invites.
• To get the most registrations, start promoting 3-4 weeks out.
• Tues, Wed, and Thurs are the best days for hosting live webinars.
• Mornings (10 am to 12 pm) have the highest webinar show-up rates.
4. Engage or die.
News flash:
Above all, the key to a hosting a successful live webinar is engagement.
The best webinar platform in the world can't save a presentation that doesn't include participation from your audience.
Here's some of the most-effective engagement techniques and webinar tools:
• Be yourself. People love authenticity more than anything so don't pretend to be something or someone you're not — embrace your uniqueness, warts 'n all.
• Ask questions. Before your webinar begins, interact with your attendees by saying their names, asking where they're from, what they hope to learn, etc.
• Have fun. Everyone loves to laugh and hates being lectured — be personable, use humor, and keep it light!


• Offer "ethical bribes". Give away rewards or prizes to attendees who actively participate in your webinar from start to finish (e.g. PDF handouts or videos).
• Mix it up. Use different types of e-learning webinar content like text slides, images, and videos but only devote 1-2 minutes to each slide. Keep it moving!
• Deliver. Make sure you deliver exactly what was promised in your webinar title (i.e. valuable content) and give specific actions and event takeaways.
• Roll with the punches. There's no such thing as a "perfect" webinar so admit when things go wrong, take it in stride, and laugh about it with your audience.
• Use polls and surveys. In a 60-minute webinar, try to include at least 3 polling or survey questions that encourage participation and useful feedback.
• Call-to-Action (CTA). Using CTAs (e.g. buy now buttons, limited-time offers, 60-day trial offers, etc) are a proven way to boost your conversion rates.
• Q&A. Studies show that 92% of attendees want a Q&A session at the end of a webinar, so leave 10-15 mins for questions and have some FAQs ready to go.
5. The fortune is in the follow-up.
Get this:
The average webinar attendance rate is about 40-50% — so if 100 folks register for your webinar, only 40-50 of 'em will probably make it to your event.
But that means at least half of all those who showed interest in your webinar either didn't show up or convert.
Needless to say…
If you don't have a solid follow-up game in place, you're leaving a LOT of money or missed opportunities on the table.
Fortunately:
Most high-end webinar platforms have automated emails to remind no-shows when to catch your replay.
You can also offer your registered attendees who showed up (but didn't convert) a link to the recording, your webinar slides, or another call-to-action to buy or sign up.
For more details, you should check out:
• This awesomely helpful webinar email blueprint.
• This detailed breakdown of a $20 million webinar sales funnel using WebinarJam.
6. Technology matters.
First, the good news:
Gone are the days when you needed to be a tech wizard just to run a successful webinar presentation.
Thanks to modern technology, webinars are easier to host than ever before.
The bad news?
If you cheap out on your equipment, all bets are off.
Below are the six must-haves for a smooth webinar experience:
• Internet connection — The faster, the better. All webinar platforms require a lot of bandwidth so to minimize the risk of technical disruptions, try to use your fastest connection (i.e. direct ethernet cable instead of WiFi).
• Webcam — A crappy webcam is the #1 reason for poor webinar video quality. It's widely accepted that Logitech's C920S is the best high-definition webcam.
• Microphone — To escape the dreaded "Can you hear me now?" issue, avoid built-in mics and invest in a solid audio device like my personal fave: Blue Yeti.
• Quiet environment — The best webinar equipment is wasted if your office or room has a ton of background noise (e.g. kids screaming their heads off = bad).
• Lighting — If you're gonna be on-camera, the best lighting is natural daylight. But if you can't face a window, these are my picks for affordable lighting: Fovitec or MOUNTDOG.
• Software — This one's a no-brainer. The best webinar systems make registering, hosting, and interacting with your audience a piece of cake…
Or a piece of toast with some delicious !
See what I did there?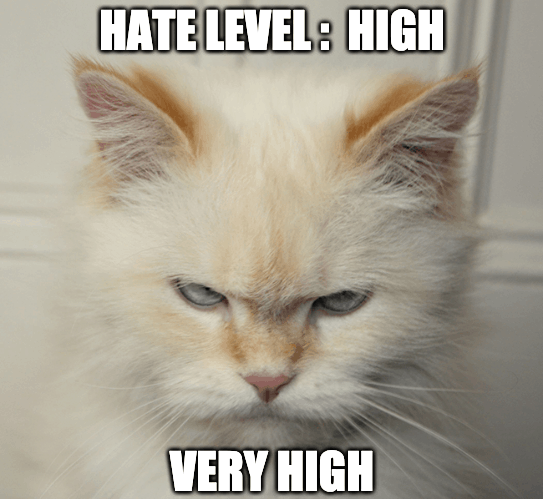 Okie dokie, so there you have it.
Joking aside, if you follow the step-by-step guide above, you really can't go wrong with hosting a world-class webinar.
It's easier than you think.
But look:
Don't be the person who just reads about webinars.
Be among the daring few who have the courage to actually host one.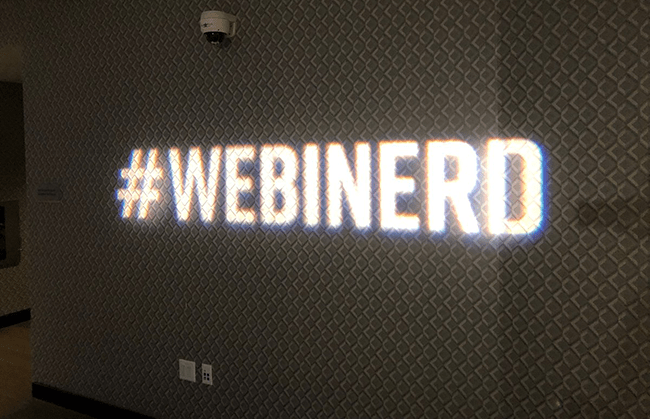 (Side note: Besides being profitable, they're actually a blast!)
Now go out there and make it happen.
---
WebinarJam Pros
✓ Incredibly user-friendly webinar platform
✓ Ultra High-Def video and sound quality
✓ Offers unlimited live webinars for 500-5000 attendees
✓ No downloads, plugins, or computer software installation
✓ Compatible with all web browsers and mobile devices
✓ One-click registrations for your webinar attendees
✓ Ideal for online marketers, small businesses & medium-sized organizations
✓ Automated email/SMS messaging for reminders and follow-ups
✓ Live chat, polls and surveys, active offers (buy now buttons, etc)
✓ Stunning landing pages with customization for webinar registrants
✓ Screen sharing and multi-presenter options
✓ Social media and 3rd party software integrations (Zapier, WordPress, etc)
✓ Replica Replay to automatically record/replay your live webinar
✓ Power analytics to track all your webinar stats
✓ Webinar broadcasting via Facebook Live and YouTube Live
✓ Easy-to-follow user tutorials and helpful Quick Start Guide
✓ Premium customer support available 24/7
✓ Voted as the best webinar software by dozens of review sites
✓ Excellent value for money
---
WebinarJam Cons
✗ Built for sales and educational presentations, not for tiny online meetings
✗ Up to a 10 sec delay from live to what appears on attendees screens (typical for all webinar platforms and not a big deal)
✗ Notification emails can sometimes end up in spam folder
✗ No monthly subscription options (annual payments and rebills only)
✗ No WebinarJam free trial (but they do offer a 14-day trial for only $1)
✗ Requires EverWebinar add-on if you want evergreen webinars
---
WebinarJam: Quick Summary
WebinarJam Summary

| PROS | CONS |
| --- | --- |
| Most well-known and user-friendly webinar platform on the market | Built for doing online business (sales and education), not for tiny video meetings |
| WebinarJam has the lowest price in the industry for 500 attendees (works out to $41.58/mo) | No monthly subscriber options (annual payments only) |
| Browser-based software (no downloads, plugins, or installation) | No free trial (14-day trial for only $1) |
| Automated email/SMS system for reminders and follow-ups | Notification emails can sometimes end up in spam folder |
| Offers high-end webinar marketing features such as custom landing pages and 3rd party integrations | Requires EverWebinar add-on if you want evergreen webinars |
| One-click registrations for your webinar attendees | Small time delay from live to what appears on attendees screens (normal for webinar software) |
| | |
Bottom Line: WebinarJammin'
We're Jammin'
Jammin' till the Jam is through
We're Jammin'
And I hope you like Jammin' too

~ Bob Marley​
Not gonna lie, I'm a big fan of WebinarJam.
(And Bob Marley 🙂 )
But here's the thing:
WebinarJam is simply a tool.
It's an amazing tool for hosting webinars but like all tools, its only as good as the person using it.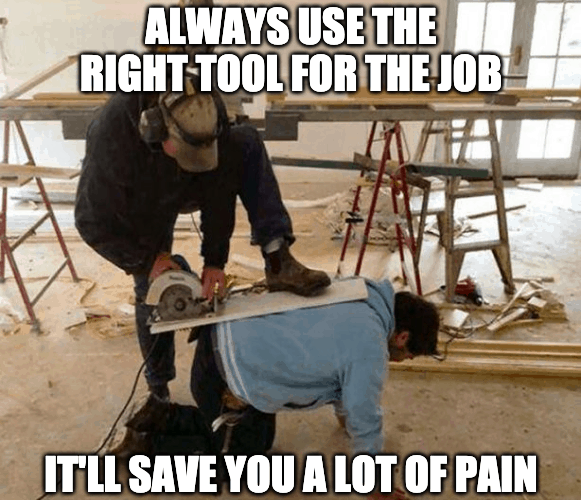 The good news?
If you learn how to use webinars correctly, they're one of the best ways to connect, educate, and sell to your target audience in 2023.
So if you're not using them yet?
It's a perfect time to add 'em to your arsenal of digital marketing tools.
But just like anything, you get what you pay for: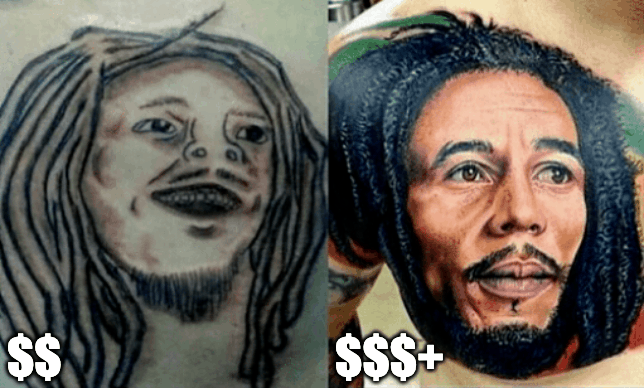 Bottom line?
WebinarJam 4.0 is — wait for it — jam-packed with powerful new features and is the easiest webinar software to use on the market. No question.
That's why it's trusted by over 50,000 users around the globe.
And with a $1 trial and 30-day money-back guarantee, you have nothing to lose by giving it a shot.
As a long-time user of WebinarJam (since 2015), take my word for it:
You'll be glad you did.
Try WebinarJam for $1