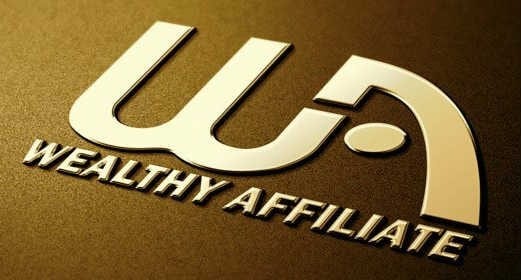 Real, Unbiased Wealthy Affiliate Review from an Ex-Member
14 Comments
---
Table of Contents
---
The Secret of Wealthy Affiliates
It's a question that drives you insane:
Why are some folks so successful online?
Yet you're still making less than a high school dropout who operates the sour cream gun at Taco Bell:
Well, the answer could be you're lacking something important.
Something other internet marketers are doing that you're not.
Something you need to fix right now, Skippy.
And that something…
Is the smart drug Adderall.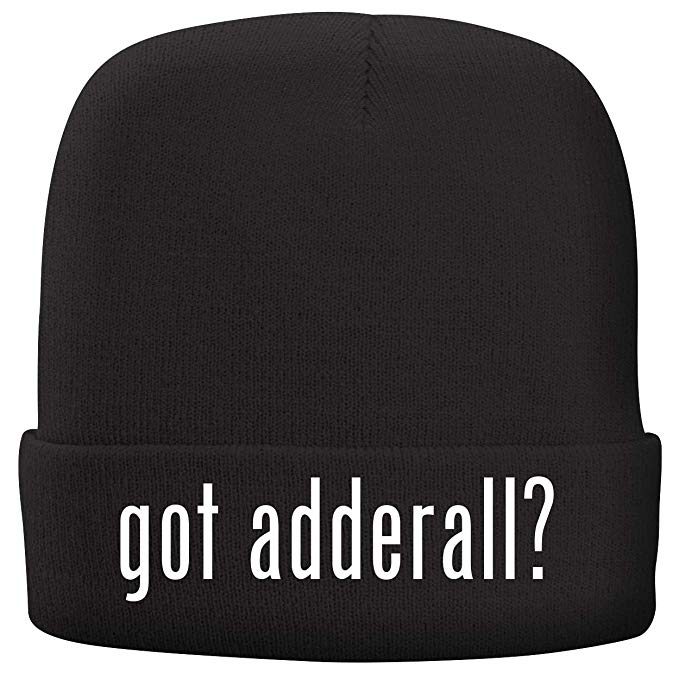 Kidding.
It actually has everything to do with your lack of online marketing skills.
And Wealthy Affiliate offers something uniquely compelling: Free membership to get those skills.
Turns out, it's a lot easier to get people to sign up for your program when the price tag is zero.
Go figure.
In fact:
Wealthy Affiliate has managed to build a thriving online community with millions of members in just under 15 years.
Know what else?
Wealthy Affiliate also claims to be able to transform complete newbies into successful affiliate marketers.
But if sounds too good to be true… you're right.
They're not giving away the entire farm for free, so it's not all sh*ts and giggles.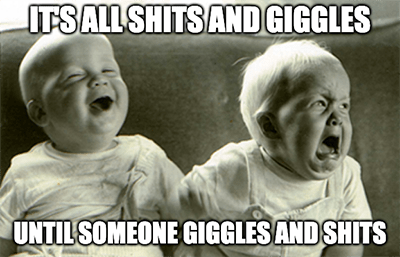 (More about that later.)
By the way:
I actually paid to become a Premium member of Wealthy Affiliate for the sole purpose of reviewing them in this article.
(Screenshot showing my WA dashboard.)
The difference between this review and most of the others out there, is that I'm an EX-member of Wealthy Affiliate and won't get paid if you sign up.
In other words:
I don't give two sh*ts if you join them or not (I do something completely different).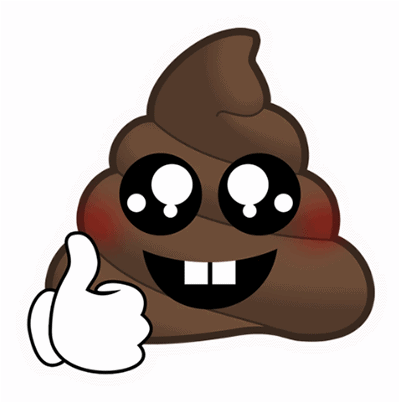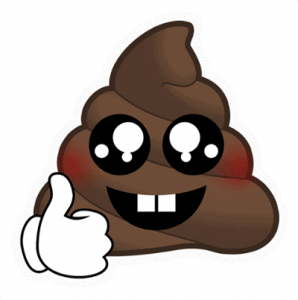 But enough talk about poop, here's the real scoop on this popular group:
---
What is Wealthy Affiliate?
Wealthy Affiliate is the world's largest online training platform and community for affiliate marketers, boasting 1.5 million members across 195 countries.
According to Wealthy Affiliate (WA) co-founder Kyle Loudoun:
It includes everything you need from the training, the live classes, the tools, a website builder and WA-only website features, domains, an industry leading website hosting platform, personal support & mentoring, and the ability to network with 100,000's of like-minded and very successful online marketers.​
Spoiler alert:
That description might be just a lil' biased so…
The company behind Wealthy Affiliate — Niche Marketing Inc. — is based in Victoria, British Columbia, Canada.
In case you're new to the online business world:
Affiliate marketing is simply promoting someone else's product or service through a website or pay-per-click (PPC) advertising, for a cut of the profits.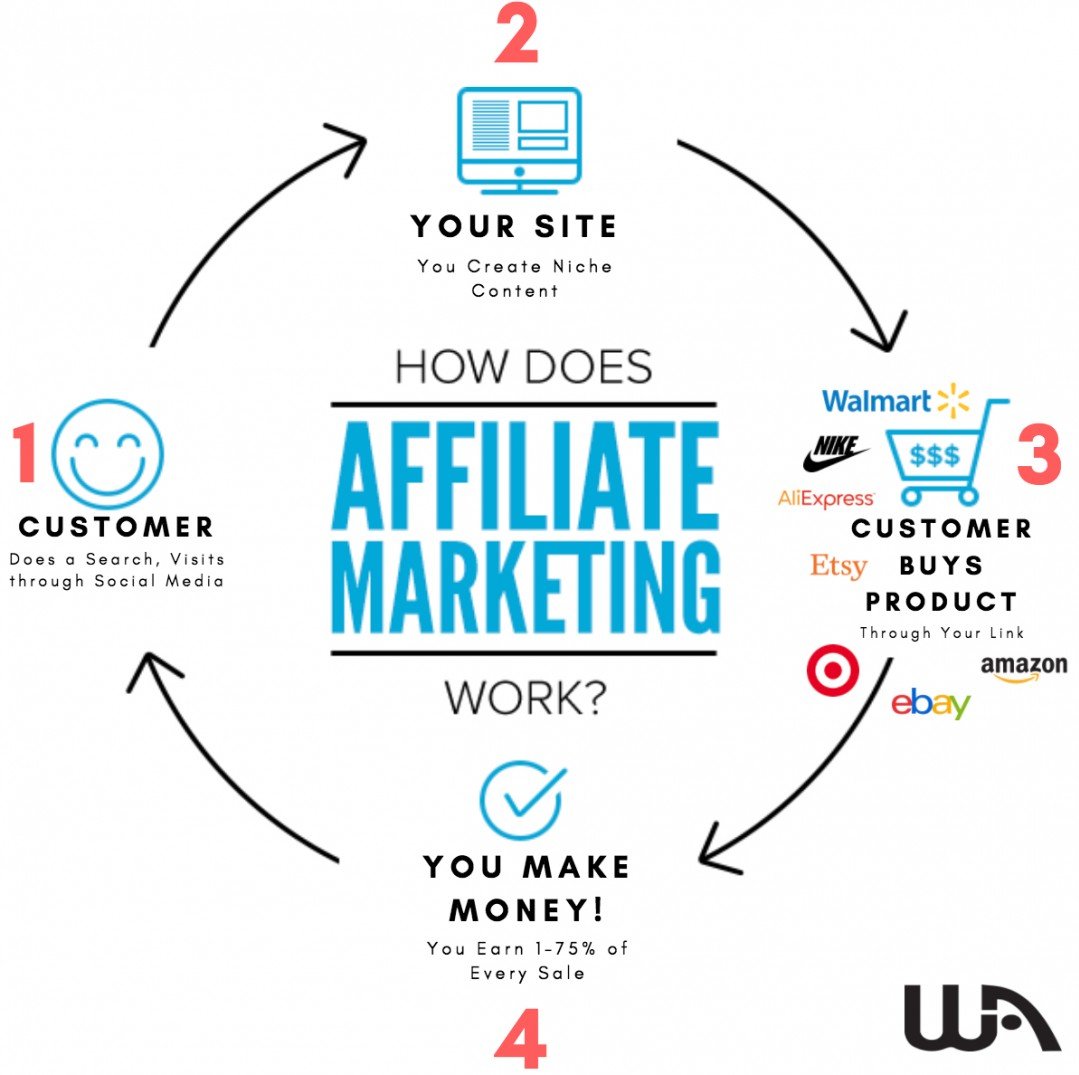 The largest and most popular affiliate marketing programs are from online giants like Amazon, eBay, and Shopify.
If you've ever visited a website and clicked on an Amazon link, you've probably purchased something from an affiliate marketer and didn't even know it.
(Or didn't even remember lol.)
Simply put:
Wealthy Affiliate teaches you how to set up your own affiliate marketing business and collect that digital cheddar.
But how it starts is usually how it ends, so let's take a quick look at how this company began:
---
When Did Wealthy Affiliate Start?
Launched on September 10th, 2005, Wealthy Affiliate was founded by Canadian entrepreneurs Kyle Loudoun and Carson Lim.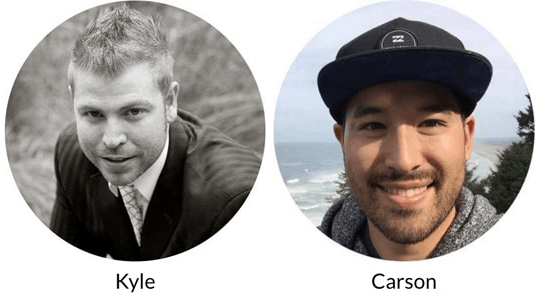 Kyle and Carson met a few years earlier while they were both studying to get computer science degrees in university.
Back in 2002:
As typical broke students, they decided to invest some time into learning how to make money online.
And then it happened:
The 21-year-olds created their first successful website called Pornhub.

Not really.
They actually discovered internet marketing.
(Sorry to disappoint you 😉 )
But after much trial and error, their hard work eventually paid off in the form of thousands of dollars in affiliate commissions.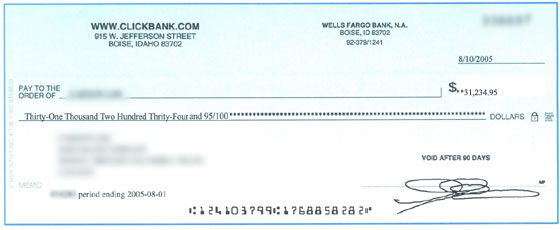 The idea to teach others how to do the same was sparked soon after.
In 2005, Kyle and Carson officially started Wealthy Affiliate with the intention of showing other people exactly what they were doing to make money online.
The rest is history… but in the beginning: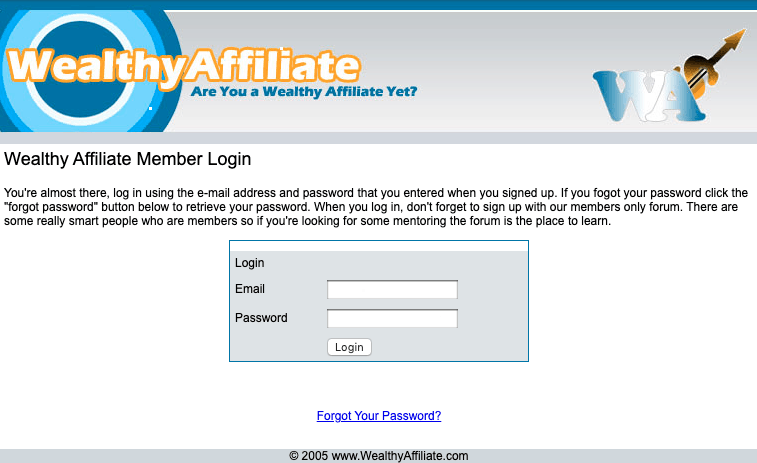 WA was just a simple membership site providing affiliate marketers with one weekly keyword list for $29.99 per month (no free accounts).
After growing to more than 50 members within a few months, they soon realized additional support would be needed and the WA Forum was born.
But like any ambitious business owners, Kyle and Carson were just getting warmed up.
The two entrepreneurs then:
Hired their first employee.
Started adding step-by-step training modules.
Launched their blogging portal "WA Spaces" in 2006, which allowed members to create their own personal webpages within the WA community.
But rapid growth usually comes with growing pains and Wealthy Affiliate was no exception:
In 2007, Kyle and Carson launched an in-house website builder and web hosting platform called SiteRubix.com so WA members could easily build their own affiliate websites.

Sounds cool, right?
Unfortunately, another website builder called "WordPress" was gaining massive popularity at the same time.
So, after spending countless hours and hundreds of thousands of dollars developing SiteRubix 2.0, the project was shelved in 2008.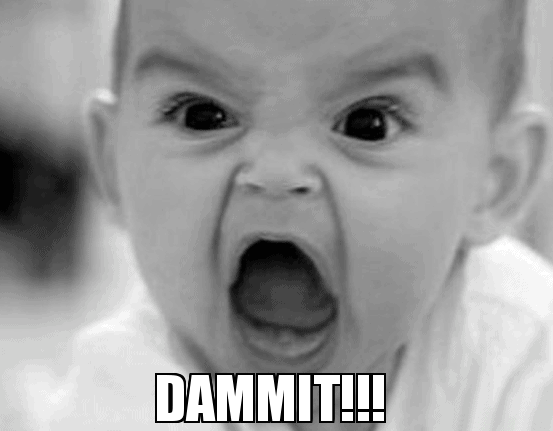 But like true entrepreneurs, Kyle and Carson brushed it off as a learning experience.
The founders quickly turned their attention back to improving the Wealthy Affiliate product and community.
2009: They built a virtual training center and launched WA Premium.
2010: The WA Blog was re-launched and pricing increased to $97/mo.
2011: Live Chat was released so members could chat in real-time.
2012 was a big watershed year for the Wealthy Affiliate group:
First, they released the Jaaxy keyword research tool to help WA members find the best keyword searches to target in the search engines.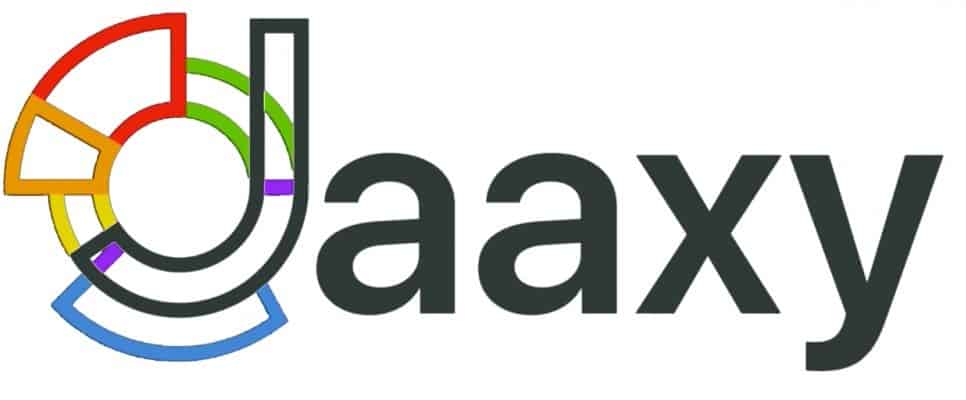 Then in October 2012:
Wealthy Affiliate launched their famous $0 Starter membership and reduced their Premium membership down to $47/mo.

(Premium membership was increased to $49/mo in 2016.)
Look:
We could go on all day, but I think you get the point that this company is constantly striving to grow.
In the years since 2012, Wealthy Affiliate has continued to evolve with technology and build their membership base by sticking to their motto: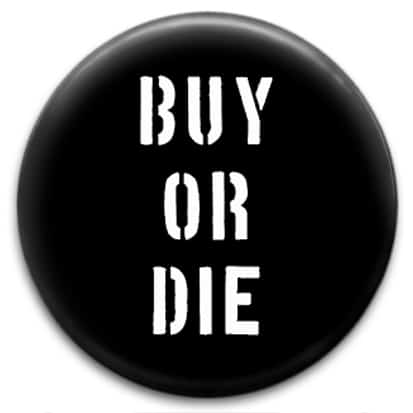 Kidding.
It's actually:
Your success is our success.
Kinda lame but it's pretty clear Wealthy Affiliate has made Kyle and Carson ridiculously successful multi-millionaires.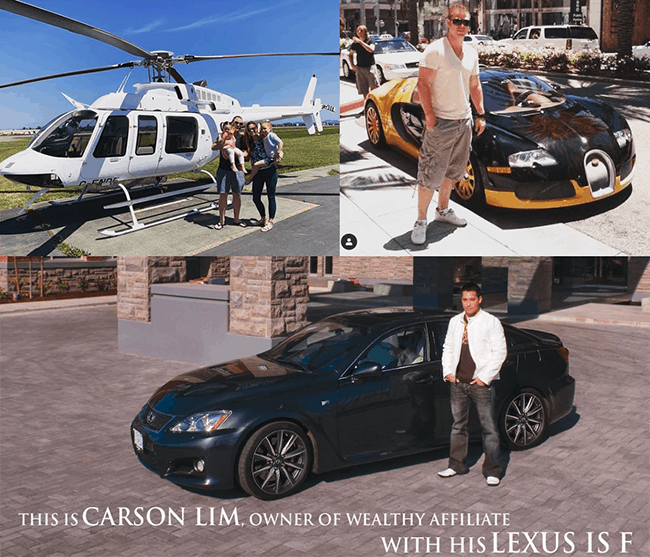 But what about your success?
What exactly does WA teach you?
Enough grab-assing, let's get into it:
---
How Does Wealthy Affiliate Work?
Wealthy Affiliate gives you the money-making tools and know-how to begin your journey as an affiliate marketer.
The overall business model is pretty straightforward:
Simple, right?
Choose an interest, build a website, drive traffic to it, and if some of your visitors buy something from one of your affiliate links, you make money.
Easier said than done, but that's gist of affiliate marketing.
And Wealthy Affiliate's goal is to provide you with the education and support to make that a reality — or at least get you started.
Most of their training is based around their Online Entrepreneur Certification (OEC) program — an all-in-one series of 5 training courses (50 total lessons) covering the basics of how to start making money online as an affiliate.
That includes choosing your first niche site, free traffic methods, monetizing your site, understanding social media, and content creation.
Not gonna lie: It's a good introductory affiliate marketing course for beginners, but I was expecting a lot more.
After researching their 100+ core lessons (if you include Affiliate Bootcamp), there was little to no training on the following essentials for online marketers:
Backlink building, nofollow links, external authority links
WP page builders and alternatives to Jaaxy
Citing sources and affiliate disclosures
Content updates and outsourcing
Schema and featured snippets
Email marketing
To be fair, most of these topics are mentioned
somewhere
in the vast Wealthy Affiliate university, IF you're willing to do some serious digging.
But why they're not covered within the core WA training material is beyond me.
Besides missing crucial information, their core training is also very disorganized and hard to follow.
Almost like it's been put together like a giant affiliate marketing jigsaw puzzle over the last 15 years.
But then again:
What the hell was I expecting for a program that costs less than a tank of gas?
We've all heard it a thousand times before, but the truth is:
---
How Much Can You Make With Wealthy Affiliate?
Well, the good news is:
The sky's the limit.
The bad news?
You're gonna need a cape.
In terms of the exact percentage you might earn from your affiliate sites, it really depends on the product and companies you're selling for.
Generally speaking, commission rates for affiliate marketers are normally around 5% to 30% on average.
Since physical products (e.g. televisions, computers) actually cost money to produce and ship, they normally have lower commission rates.
Digital marketing products (e.g. online courses, ebooks) cost much less to produce and can be delivered online, so they often have much higher affiliate payouts.
Same goes for online services such as website and podcast hosting companies, landing page software, and online course platforms.
For example:
Amazon has the largest affiliate program on the planet and pays its affiliates anywhere between 4% to 10%, depending on the product category.
By contrast:
ClickBank is a huge affiliate marketing program that mostly sells digital products and frequently pays its affiliates 50% to 75% commission.
Now.
Just because a company offers higher commission rates, doesn't necessarily mean it's "better".
Affiliate marketers have made fortunes with every type of product and commission structure you can think of.
Case in point:
After the financial crisis in 2008, Tim Chen found himself without a job.
In 2009, he started NerdWallet.com using $800 of his own money.
Because of his previous work experience, he chose the personal finance niche (an extremely competitive one) and focused on helping people decide on the best credit cards, insurance, loans, etc.
By providing high-quality content that genuinely helped his visitors with their money problems, NerdWallet's website traffic quickly grew.
Ten years later, Tim's website is now valued at more than $500 million (!) and is one of the most successful affiliate marketing websites in the world.
Want another example?
Okay, here's my personal fave:
Back in 2011, Brian Lam started a blog called The Wirecutter where he gave recommendations and product reviews for tech gadgets such as cameras and smartphones.
Being the former editorial director at a tech-based website, it made sense for Brian to go into a niche he was familiar with.
Just like NerdWallet, TheWirecutter.com focused on creating epic content to help their visitors decide on the best tech products to buy.
(Notice a pattern?)
As an Amazon affiliate, every time someone purchased a recommended gadget through one of his affiliate links, Brian would earn a commission.
Check out this sick interview with Mr. Lam where he gives plenty of gems:
Once again, the focus on quality over quantity paid off.
Massively.
After just five short years, Brian sold The Wirecutter to The New York Times for a cool $30 million.
Now before you get too excited:
I'm pretty sure both Tim and Brian were NOT members of Wealthy Affiliate lol.
And the vast majority of affiliate marketers make less than $20k per year, with only 3% earning over $150k per year.
So NerdWallet and The Wirecutter are just extreme examples of what's possible with affiliate marketing.
But the odds aren't exactly in your favor.
---
How Much Does Wealthy Affiliate Cost?
If you decide to join WA, there are two levels of membership:
Starter and Premium accounts.
Starter memberships are free and Premium access will cost you $49 per month or $359 per year if paid up front.
According to Wealthy Affiliate:
Starter memberships are for "newbies to get started fast!" and Premium is for "those who are READY for success!"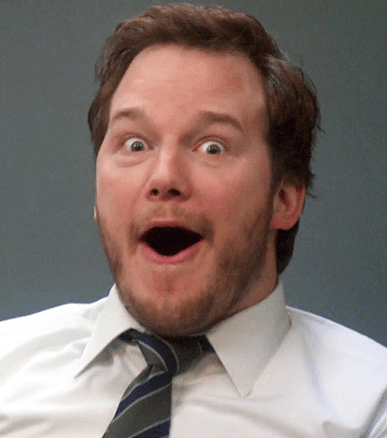 Hype aside, Wealthy Affiliate Premium members get a lot more bells and whistles as you'd expect:
Wealthy Affiliate Membership Options
Wealthy Affiliate Membership Options

| Feature | Starter | Premium |
| --- | --- | --- |
| Price | $0/month | $49/month |
| Live Help | First 7 Days | Unlimited |
| Private Messaging | No | Yes |
| Websites | 2 Free Websites | 50 Websites |
| Security Package | No | Yes |
| Website Backup | Yes | Yes |
| Beginner Course | Yes | Yes |
| Personal Blog | Yes | Yes |
| Affiliate Bootcamp | Phase 1 | All 7 Phases |
| Live Video Classes | No | Yes |
| Video Walk-Throughs | Yes | Yes |
| Keyword Tool | 30 Searches | Unlimited Searches |
| Training Classrooms | 2 | 12 |
| Affiliate Program | Yes | 2x Higher Payout |
| Earn While You Learn | Yes | Yes |
| 1-on-1 Coaching | First 7 Days | Unlimited |
| Access to Owners | No | Yes |
| 24/7/365 Support | No | Yes |
| Website Feedback | No | Yes |
| Website Comment | No | Yes |
| Website Analysis | No | Yes |
Think about it this way:
The free Starter memberships are really just to get your feet wet and learn how to use the Wealthy Affiliate platform.
You can also remain a free member of WA for as long as you like (no forced upgrades).
But even if you're serious about earning a full-time income as an affiliate marketer, you might as well join for free — just to see if it's a good fit.
After all, you can always upgrade to Premium later if you want to experience the whole Wealthy Affiliate enchilada.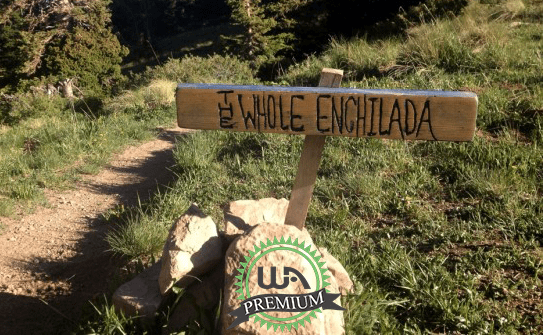 Now check this out:
Below is an excellent walkthrough video from inside the WA dashboard.
Keep in mind:
The guy from the video above is completely biased and fully admits he's been in Wealthy Affiliate for over 10 years.
(He's also an affiliate for them and gets paid if you join WA through his link.)
But if you pay attention to the end of that video, he shows that he's making around 2-3 grand per month from his affiliate sites.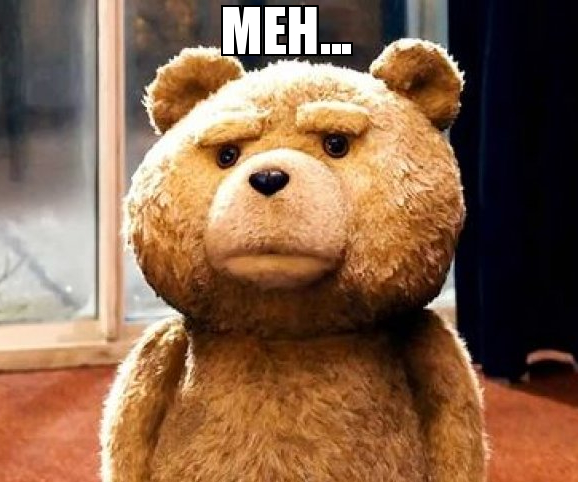 Not bad.
Personally, if I put an entire decade of my life into an online business, I better be earning a LOT more than a couple thousand per month.
Just sayin'.
But for many folks, an extra few grand per month is nothing to sneeze at.
Your mileage may vary.
---
The WA Affiliate Program
Guess what?
Chicken butt:
Guess what else?
Wealthy Affiliate has their own affiliate program.
Here's how it works:
As a free Starter member, you can promote WA and if someone buys a Premium membership through your affiliate link, you'll earn around 21-24% commission.
As a Premium member, your affiliate commission is doubled to 42-49% — the exact percentage depends on your buyer's chosen payment plan.
For example:
If someone signs up for the initial $19 trial offer, you'll earn a one-time commission of $4 if you're a Starter member (21%), or a one-time payout of $8 if you're a Premium member (42%).
Too many numbers for ya?
Don't worry.
All other payment plan commissions are recurring, which means you keep getting paid for as long as your buyer keeps paying their membership dues.
In other words, Wealthy Affiliate offers lifetime commissions and cookies which means if you refer someone to WA, they remain your referral forever.
Here's a complete list of the Wealthy Affiliate affiliate program payouts:
Wealthy Affiliate Commission Structure
*Mobile users: Scroll left/right on table if your screen can't fit all 4 columns
Wealthy Affiliate Commission Structure

| Plan | Starter | Premium | Type |
| --- | --- | --- | --- |
| $19 trial | $4 | $8 | One-time |
| $49/mo | $11.25 | $23.50 | Recurring |
| $234/6-mos | $54 | $108 | Recurring |
| $359/yr | $87.50 | $175 | Recurring |
| Acct. setup | n/a | $1 | Per referral |
| Domain names | n/a | $1 | Recurring |
As you can see above, affiliates who are Premium members can also earn $1 if a free Starter member completes their account setup, or any buyer purchases their own domain name.
Premium affiliates can also qualify for a trip to Vegas if they manage to sell 300 Premium memberships in a calendar year.
Long story short:
You'll earn a lot more commission and perks as a WA affiliate if you're a Premium member.
How Much Can You Make as a WA Affiliate?
According to Wealthy Affiliate's affiliate page, the average lifetime commission is approx. $121.
And the average free to paid membership upgrade conversion is around 12%.
Meaning 12 out of 100 people who join WA as a free Starter member will eventually upgrade to a Premium membership.
Stay with me now, this is important:
It's fair to assume that most active WA affiliates are also Premium members (to get the highest commission rates).
I would also guess the most common WA payment plan is the $49/mo deal.
But let's do a little math.
(Okay I'll do the math, you just watch k?)
So, $23.50/mo in Premium affiliate commissions x 5.15 months = $121.
Meaning the average WA member sticks around for about 5 months before they quit.
Not enough time to become a world-class affiliate marketer, but it is what it is.
Here's the kicker:
As a WA super-affiliate, even if you were a rock star and had a blog that was signing up 5 free Starter members per day (150 per month), at a 12% conversion rate that's just over $2k in affiliate commissions per month.
$2k per month. Once again, not bad.
But not exactly super-motivating either.
The moral of this story?
You're fighting an uphill battle when you're competing against every other WA affiliate trying to rank their "Wealthy Affiliate Review 2023" site on page 1 of Google.
It's not hard to figure out why:
There's 1.5 million WA members who are technically ALL affiliates of Wealthy Affiliate.
So technically speaking:
Could you make a few bucks if you really know what you're doing?
Sure.
But the overwhelming majority of affiliates will never rank high enough to make a dime.
So if you decide to become a WA affiliate and think it's gonna set you free financially…
Think again cuz the deck's stacked against you.
---
Pros: Why Is Wealthy Affiliate Worth It?
✓
Founded by successful affiliate marketers.
Long before Wealthy Affiliate existed, Kyle Loudoun and Carson Lim were making money from their affiliate marketing businesses.
They only started WA after they had a proven track record of success.
From the beginning, these Canadian entrepreneurs intended to show other affiliate marketers how to duplicate their results online.
And in the 15 years since, their intentions seemingly haven't changed.
After many hours spent researching the elusive WA founders, I believe Kyle and Carson are truly committed to helping their members succeed.
Which is partly why they offer:
✓
Free memberships.
Wealthy Affiliate offers free Starter memberships to anyone who wants to try out their program.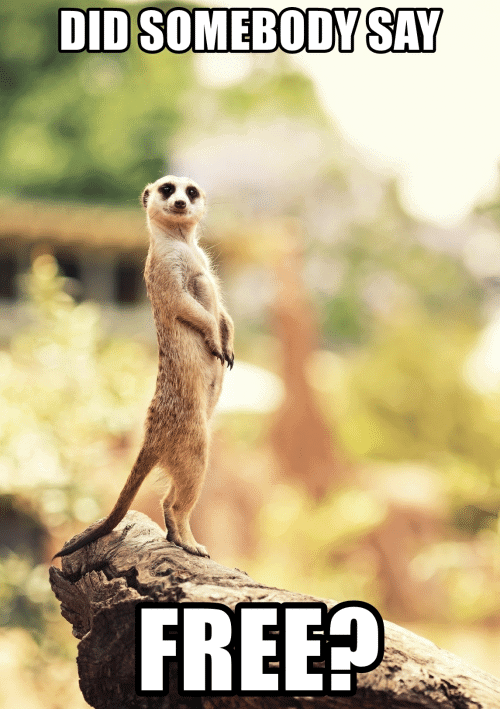 This gives would-be affiliate marketers the opportunity to get some free training for little to no risk or upsells.
Starter memberships include live help for the first 7 days, 2 websites, a personal blog, as well as limited training, support, and coaching.
Access to all of the Wealthy Affiliate training programs requires a paid membership.
Still, the ability to check out their platform for free is a great way for beginners to test the affiliate marketing waters.
It's also one of the main reasons WA has become so popular and now has nearly 1.5 million members around the globe.
✓
An abundance of training + tools + community.
After 15 years in business, Wealthy Affiliate has built a massive program.
From affiliate training courses and hosting live webinars to 1-on-1 coaching and 24/7 tech support – they have a tremendous amount of material, social engagement, and support.
Their Jaaxy keyword tool and SiteRubix website builder also give WA members a simple way to get started as an affiliate marketer.
Last but certainly not least is the million-strong Wealthy Affiliate Community, connecting WA members from 195 different countries.
It doesn't matter if it's your first month or you've been in WA for years:
If you need help with anything from content creation to how to properly set up your social media plugins, all you need to do is ask someone for help.
Whether it's one of the founders or a highly-ranked coach (called Ambassadors) like Jay Neill who sends you a private message — there's always someone around to get you back on track.
✓
You can sell anything online.
As explained above, WA Affiliate gives you the tools and training to get started as an affiliate marketer.
And since affiliate marketing involves selling other people's products for a commission, it gives you a lotta flexibility.
For example, here's some of the most profitable niches in 2023:
Beauty, Health and Wellness, Fitness
Hobbies, Outdoor Survival, Pets
Gadgets, Self-Improvement
Personal Finance, Loans, etc.
Products can range from the normal ones you see on Amazon every day:


To the innovative and useful:
Weird and wacky:
And absolutely awesome:
What's my point?
Affiliate marketing gives you the freedom to choose many different niches and products to make money online.
You can also do it from anywhere with a laptop and internet connection.
✓
A solid reputation.
You can't really find a lot of negative reviews about Wealthy Affiliate.
They do have a few like this one and some Wealthy Affiliate complaints on their BBB page.
But for the most part, WA seems to generate positive feedback.
However: A big reason for that is because most of the review articles you'll find are from affiliates of Wealthy Affiliate.
(We'll get to that below.)
But for what it's worth, they do have a pretty high rating from Trust Pilot.
---
Cons: The Wealthy Affiliate Scam?
✗
Free… to a degree.
This is Wealthy Affiliate's #1 claim to fame:
You can join their program for no upfront cost and see if you like it.
What's the catch?
Their free Starter memberships are very limited and don't give you all the training and support options that WA provides (i.e. the stuff you want).
For complete access to the Wealthy Affiliate program, you'll need to pay $49 per month for a Premium membership.
Which ain't bad… but still ain't free.
And that doesn't include everything you'll need to rank high in the search engines and generate traffic.
Speaking of which…
✗
Training is lackluster and disorganized.
Look:
Without visitors coming to your website (aka getting traffic), you can't and won't make a dime as an affiliate marketer.
You obviously need traffic to click on your affiliate links and buy stuff, so you can earn commissions.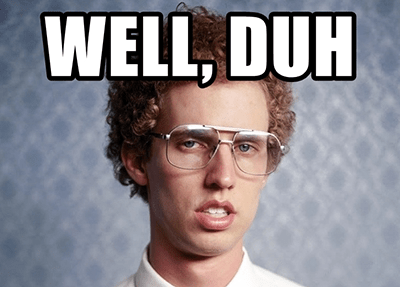 But take it from a guy who knows a thing or two about search engine optimization (SEO) aka how to rank websites (like the one you're on right now):
Getting to the first page of Google search for a competitive keyword ain't easy.
In fact: it's hard as hell.
And Wealthy Affiliate only teaches basic strategies on how to do that.
Don't get me wrong, their core training lessons offer a solid foundation for beginners.
But it seems very thrown together and there's a lot of conflicting information throughout the course.
For example:
In the Online Entrepreneur Certification course, it takes 46 tutorials before you're instructed on how to plan out an article.
Which is all good… except for the fact that you've already been instructed to write 20+ articles in the previous 45 lessons lol.
Whoops.
But then again, if you think you're gonna get the world's best affiliate marketing training for a measly $49 per month…
Keep dreaming.
✗
A very crowded space.
Question:
Ever heard of something called "barriers to entry"?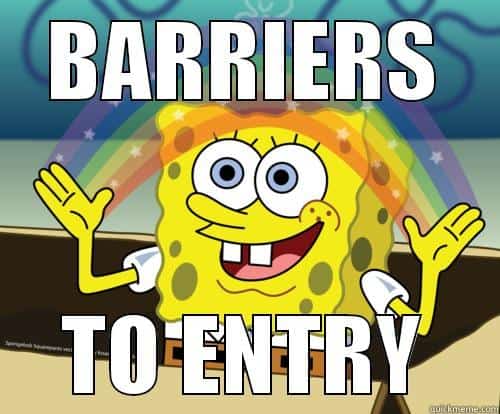 Let me explain:
Barriers to entry are simply obstacles that prevent other people from starting a similar business and competing against you.
The most common barrier to entry in the business world is start-up cost.
For example:
If you wanna open up a McDonald's franchise, you need around $1-2 million with at least $500,000 in cash.
("Really Johnny? You had ONE job!")
For most peeps, that financial requirement is obviously a huge barrier to entry and will stop them in their McTracks.
It also explains why after 60 years in business, there's still only around 40,000 McDonald's restaurants worldwide.
On the other hand: You can join Wealthy Affiliate for free — an extremely low barrier to entry.
And after only 15 years in business, there's almost 1.5 million WA members worldwide.
That's a LOT of people.
Don't forget that Amazon Associates – the world's largest affiliate program – also costs nothing to join and has untold millions of affiliates out there.
Now let me ask you this:
Would you rather have thousands or millions of competitors?
Point is, since anyone with a pulse can get started with affiliate marketing for little to no investment, it's an extremely saturated industry.
And the more competition you have, the more difficult it is to make a lot of money.
(Just ask anyone doing ecommerce.)
Now you understand why 95% of affiliate marketers fail.
✗
Lack of ownership and control.
Here's the deal:
If you don't own the product you're selling, you don't call the shots.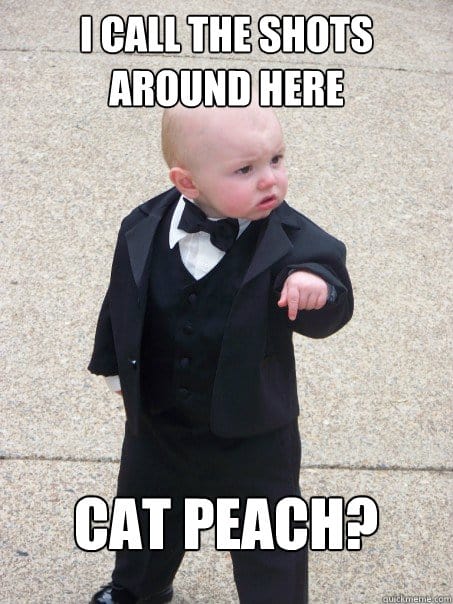 So if your affiliate program decides to change or discontinue a product you've been making a killing from — too bad.
Even worse:
If they decide to change (i.e. reduce) your commission rate, guess what?
Cry some more.
Just ask the Amazon affiliates whose income tanked after the company reduced affiliate payouts to zero for certain products.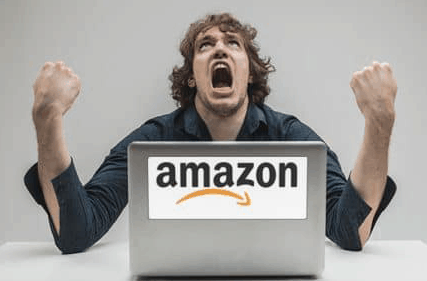 Bottom line:
As an affiliate marketer, you're always working for —  and controlled by — someone else.
✗
All hat, no cattle.
Besides Kyle and Carson, it's hard to find Wealthy Affiliate members who can actually prove they have successful businesses.
Oh sure, there's a ton of 'em that talk a big game and post a million pointless messages and comments within the WA community.
But there's a good reason for that:
See, every single member of WealthyAffiliate.com is assigned a ranking based on how helpful they are to the community.
websiteweHere's a screenshot from the WA ranking dashboard: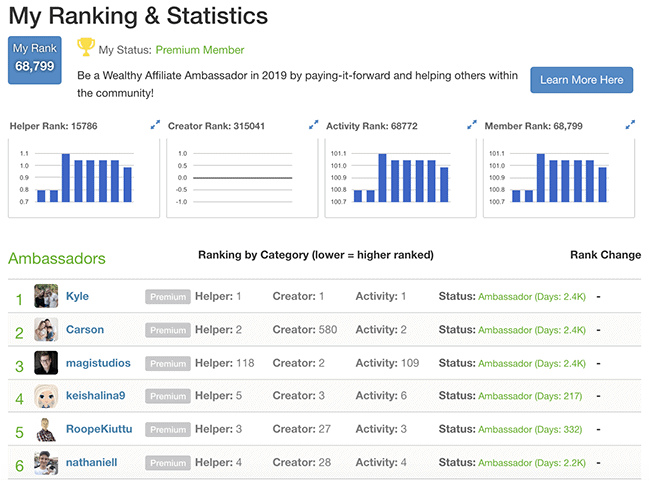 My rank is 68,799 which is also known as "IDGAF" (I don't give a f*ck) status.
But if you're super-helpful and a top-25 contributor, you might reach the highest rank of "Ambassador" status.
Which means absolutely nothing in terms of your success as an affiliate marketer.
However, you DO get a fancy Ambassador "badge" to prove you're a Wealthy Affiliate groupie.
In fact:
There seems to be a ton of high-ranking WA members who spend all their time just trying to maintain their WA ranking.
Makes you wonder what would happen if they invested that time into their affiliate marketing businesses, instead?
But that would require them to put in countless hours of boring-ass work.
So it's the same ol' story:
Most people would rather LOOK successful than actually BE successful.
Some things never change.
✗
Too many affiliates of Wealthy Affiliate.
News flash:
Wealthy Affiliate highly encourages new members to become affiliates of WA and earn commissions if people sign up for Premium memberships.
Which is fine – nothing wrong with that.
Here's the problem:
Did you notice how many bloggers are reviewing Wealthy Affiliate?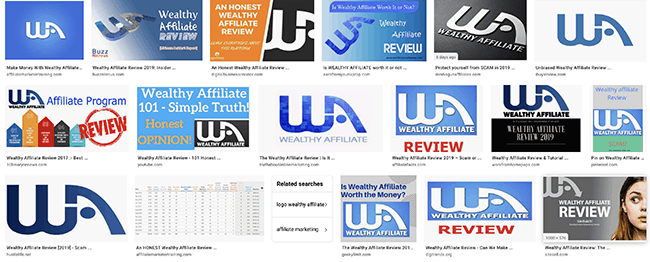 Google is filled with pages of 'em.
All claiming to be "honest reviews" of Wealthy Affiliate to help you discover if it's a scam or not.
Some of them even publish their "real earnings" from affiliate marketing.
Here's what they don't tell you:
Pretty much every single one is written by a WA affiliate trying to get paid.
And those earnings (if they're even legit) are actually from promoting Wealthy Affiliate – not by selling other products.
In fact:
Many WA members do nothing else but write reviews about Wealthy Affiliate and try to rank their own websites higher in the search engines.
Yet by some magical coincidence…
It always turns out that Wealthy Affiliate is the best program ever and you should definitely sign up through their affiliate link.
Shocker!
Now you know why it's damn near impossible to find any negative or unbiased reviews out there.
(Just like reviews for MLM companies.)
The takeaway?
For the record, I'm not saying Wealthy Affiliate is a complete scam.
But there are definitely some red flags you should be aware of.
And thanks to their affiliate program, there's a ton of biased and bullsh*t reviews out there.
Covered in horsesh*t.
With a side of dogsh*t.
So you've been warned.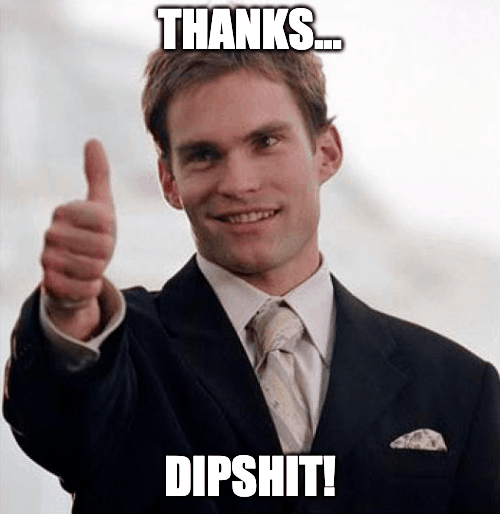 You're welcome ?
---
Wealthy Affiliate: Quick Summary
Wealthy Affiliate Summary

| PROS | CONS |
| --- | --- |
| Founded by two affiliate marketers who had a proven track record of success before creating Wealthy Affiliate back in 2005. | It's been years since Kyle and Carson had successful affiliate marketing sites of their own (other than Wealthy Affiliate). |
| Free Starter memberships to anyone who wants to try out the WA program on a limited basis. | Full access to the entire Wealthy Affiliate program requires an upgrade to Premium for $49/mo. |
| Wealthy Affiliate has an abundance of training and tools that have been developed over the last 15 years. | WA core lessons lack training on many essential areas including advanced SEO, backlink building, email marketing, etc. |
| High level of support from the WA Community which is made up of 1.5 million members from 195 different countries. | Few WA members can show long-term success from their affiliate marketing businesses. |
| Live chats and forum posts allow new members to connect with senior-level coaches (Ambassadors) and the founders themselves. | The WA ranking system seems to encourage members to get a higher WA "status" rather than work on their actual affiliate marketing businesses. |
| Affiliate marketing is a multi-billion dollar industry with many different niches and affiliate programs to make money online with. | Affiliate marketing is extremely saturated with the vast majority of participants making less than $20k per year. |
Bottom Line: Is Wealthy Affiliate Legitimately Worth It?
Like many things in life:
It depends.
Alright, let me put it this way:
If you ask the founders of Wealthy Affiliate if their program is worth it, I'm sure Kyle and Carson would agree it's the best thing ever.
It certainly has made them wealthy beyond their wildest dreams.
But if you ask the average affiliate marketer in WA who quits after only 5 months in the program (that's a fact) — you might get a different answer.
Then again, you get what you pay for.
If you're just getting started, Wealthy Affiliate is free to join or $49/mo if you upgrade to Premium.
Do you honestly believe you can build a successful online business with such a small investment?
If so, have at 'er.
But do yourself a favor and watch the most accurate and unbiased video review of Wealthy Affiliate I could find:
Here's a quick summary of his biggest problems with WA:
A lot of the core training lessons haven't been updated since 2015.
It looks like the last time Kyle and Carson had successful affiliate marketing websites (other than Wealthy Affiliate) was back in 2016.
WA's core training is filled with misleading claims, bad advice, and missing critical information.
The core training is unorganized and the internal "ranking system" is nothing more than a popularity contest.
After going through the WA program myself, I share a lot of the same opinions.
One thing's for sure though:
Affiliate marketing is definitely NOT a get-rich-quick scheme. And becoming a successful affiliate marketer is definitely NOT easy.
The good news?
It's a multi-billion dollar industry that's growing every single year.
And no doubt about it, some affiliate marketers earn millions per year. A few incredible success stories (e.g. Kyle and Carson) make tens of millions.
Key word being "successful" — 95% of affiliate marketers don't make jack.
To be fair:
Statistics show that 95% of all entrepreneurial start-ups fail.
So it's not just affiliate marketing.
But I prefer an income model that's much less crowded and more lucrative.
One that doesn't force me to compete against 1.5 million other Wealthy Affiliate members who are trying to rise to the top of Google, Bing, or Yahoo.
Up to you though.
Good luck.
---
Shameless Plug: Realistic Passive Income Without Affiliate Marketing?
Imagine this:
No selling products, no niche saturation, no affiliate marketing, no bullsh*t.
Don't believe me?
Don't blame you.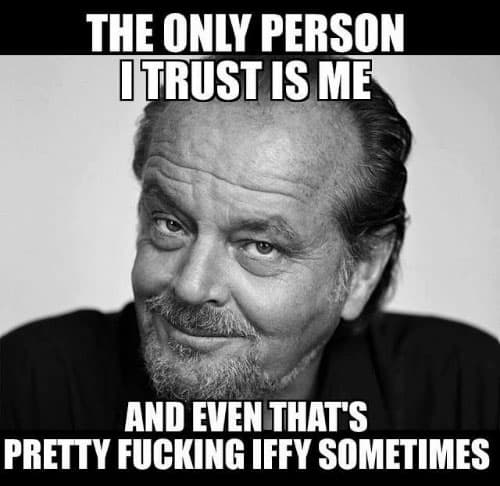 But before you scream "SCAM!" and scram, do yourself a favor.
Put down the Hatorade and click here to discover more realistic ways to make passive income from home.