Real, Unbiased Rodan and Fields Review from an Ex-MLMer
4 Comments
---
Table of Contents
---
Aging Beautifully?
Question:
"What if you got better looking every day?"
If you're a narcissist like me, that happens naturally.
But it's also one of the main slogans of the rapidly growing skincare MLM company Rodan and Fields.
What exactly do they mean, though?
It's actually quite simple:
It's 2023 and as time goes on, you're prob'ly looking more like a shriveled prune than a fresh peach.
Kidding.
But let's face it, most of us don't exactly age gracefully.
Just ask Mickey Rourke: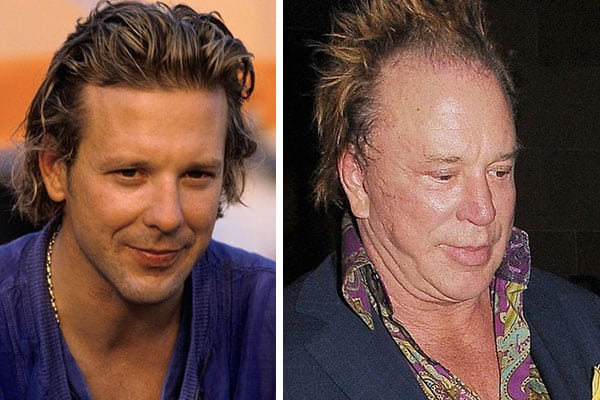 So it's no surprise that between anti-aging serums, moisturizing creams, SPF lotions, etc, the demand for skincare products continues to skyrocket.
In fact:
It's the largest segment of the healthcare and beauty space, with annual sales expected to surpass $165 billion by the year 2024!
And it's not just the Goliaths of the beauty industry (e.g. L'Oreal, Estée Lauder, etc) that are raking it in.
Among the MLM companies that are making waves in skincare (like Avon and Mary Kay), Rodan and Fields stands out as one of the premiere players.
The company's motto is "changing skin, changing lives" and they truly believe their products can help you achieve both.
But not so fast.
Just because Rodan and Fields are in the right niche at the right time, what about their business model?
Are they providing a legit opportunity for aspiring entrepreneurs?
Or are they just another MLM trying to brainwash the gullible masses?
Hold your breath as we dive in:
---
What is Rodan and Fields?
Rodan and Fields is a San Francisco-based MLM company that focuses mainly on skincare and anti-aging products.
But can I be honest with you?
When I first heard the name of this company, I was a lil' confused because I could have sworn they said:
"Rodents in Fields":
(Sadly, the world's first pro-rodent MLM is still just a dream.)
Back to business:
Rodan and Fields was founded by two American dermatologists who were determined to help their patients struggling with acne.
Here's the deal:
As an MLM outfit, Rodan + Fields sells their products online and through distributors known as Independent Consultants.
By the end 2018, the company had more than 400,000 of 'em!
What's the secret to their tremendous success?
Part of the allure of companies like R+F, is being able to run the entire business through social media channels instead of traditional MLM-style parties or meetups.
For example:
Imagine building a six-figure home business from only your laptop or phone.
Sounds sexy, right?
Welcome to the golden age of social media.
And perhaps the most valuable tool in the company's arsenal is the notorious before-and-after selfie:
Serving as a walking advertisement for the effectiveness of R+F products, before and after selfies from thousands of Consultants can be found all over the social web these days.
And you know what?
This marketing tactic is clearly working for Rodan and Fields:
The company is doing more than $1.5 billion in annual revenue.
Now, at this point you might be wondering:
"Why the hell am I still reading this article?"
Well, it could help you make a potential life-changing decision if you decide to join R+F…
… or just kill some time before you watch some more crap on YouTube 😉
In any case, you should keep reading to learn how these two dermatologists created a billion-dollar company in their spare time:
---
When Did Rodan and Fields Start?
Dr. Katie Rodan and Dr. Kathy Fields launched the Rodan + Fields skincare brand back in 2002.
But 7 years before that, they introduced the world to their first acne-fighting product:
Proactiv.
Funnily enough, I recently found an old bottle of Proactiv left in my bathroom by an ex-girlfriend:
(At least I got something positive outta that relationship lol.)
But do you remember the Proactiv commercials featuring celebs like Britney Spears, Justin Bieber, and Katie Perry?
Or perhaps you're aware that Kendall Jenner is the latest face of the brand:
The point? (And I do have one…)
Proactiv is where it all started for R+F.
Back in the late 80's, Dr. Rodan and Dr. Fields created Proactiv to help improve their patients' acne problems.
But if you think it was an overnight success, guess again:
The two budding entrepreneurs spent over five years and $30,000 of their own savings — trying to perfect the Proactiv formula in their home kitchens.
Finally, when they felt it was ready, the duo approached skincare giant Neutrogena with their finished product…
… and were quickly turned down.
But they were also offered one simple piece of advice:
"Try infomercials."
So, the two decided to give it a shot and licensed their brand to infomercial company Guthy-Renker in 1995.
The rest is history.
At its peak, Proactiv was doing $1 billion in yearly sales and is one of the most popular skincare brands of all-time.
(R+F eventually sold Proactiv in 2016 for an estimated $50 million!)
But even after they "made it" with Proactiv in the early 2000's, Dr. Rodan and Dr. Fields still felt driven to solve the world's skincare problems.
The key word being driven.
So in 2002, they launched the Rodan + Fields skincare brand.
A year later, R+F was sold to Estée Lauder who introduced the products into department stores across the USA.
There was a huge problem, though:
The new skincare brand didn't get the "push" from Estée Lauder that Dr. Rodan and Fields were hoping for, and their products weren't flying off the shelves.
Growing frustrated with declining retail sales, the two dermatologists decided to buy back their company in 2007.
Sheesh.
I mean… most folks would just retire and chillax for the rest of their lives.
But these two incredible women believed in their products so much, they wanted to try a different angle to scale their company to new heights: MLM.
As fate would have it, the switch to network marketing came at a perfect time.
Around 2008, the digital world was expanding with smartphones and Facebook rapidly gaining popularity.
When the recession hit, many people lost their jobs and started looking for new ways to pay their bills.
Rodan + Fields seemed like a great solution for many would-be entrepreneurs and the company exploded in growth.
By 2015, the company expanded into Canada and then Australia in 2017.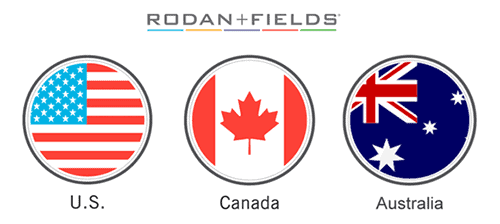 Today:
The dynamic dermatologists are still the public face of the company, but they leave the day-to-day operations to their CEO and corporate team.
But despite all the warm-fuzzies, a couple burning questions still remain:
Do the R+F products actually live up to the hype?
And is the business opportunity still legit?
We'll get to the second question soon enough but first let's investigate…
---
Do Rodan and Fields Products Really Work?
First of all:
To be a successful R+F Consultant, you'll need to sell products such as skin creams, cleansers, masks, toners and serums.
To simplify things, Rodan and Fields categorizes their products like so:
REDEFINE — For those who want to combat the visible signs of aging skin and fine lines. This is their most popular line and what they specialize in.
REVERSE — This line treats skin discoloration such as dark spots, and brightens dull-looking skin.
UNBLEMISH — Basically their new and improved version of Proactiv for adult acne-prone skin. Includes toners, masks, exfoliating cleansers, and SPF lotion.
SPOTLESS — A simple, two-step formula for youth-related acne problems.
SOOTHE — Created for those with visible redness, sensitive, or dry skin issues.
ENHANCEMENTS — As the name suggests, this line is about enhancing your beauty with products like their infamous Lash Boost and super-moisturizing hydration serums and eye creams.
ESSENTIALS — These are products any skin type could use, including makeup remover, lip balm, moisturizer, sunblock and vitamin D.
DERMACOSMETICS – Includes their SPF-infused Radient Defense liquid makeup and brush.
More:
If someone isn't sure what product line is best for their skin, the company has "solution tools" available to help them decide.
But here's the kicker:
Like many multi-level marketing companies, Rodan + Fields products ain't exactly cheap.
How Much Is Rodan and Fields?
To put things in perspective:
R+F has a price point that's comparable to other high-end skincare companies like Clinique, Clarins, and Lancome.
Don't worry though – any experienced Consultant will quickly tell you the exact same thing.
They may even show you a comparison chart like this:
To be fair, cheap products usually produce cheap results.
But if you wanna become a R+F Consultant, you'll still need to convince your friends and family the high cost is worth it.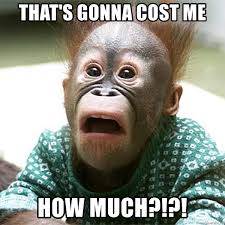 (Easier said than done.)
You can find detailed pricing information about each Rodan + Fields product right here.
But here's a few price examples:
Rodan and Fields Retail Prices
Rodan and Fields Retail Prices

| Product Line | Product | Retail Price (approx.) |
| --- | --- | --- |
| ESSENTIALS | Essentials Daily Body Moisturizer | $27 |
| REVERSE | Reverse SPF 50+ Sunscreen | $42 |
| SOOTHE | Soothe Rescue Mask | $60 |
| DERMACOSMETICS | Radiant Defense Perfecting Liquid | $66 |
| SPOTLESS | Spotless Acne Clearing Treatment | $78 |
| UNBLEMISH | Dual Intensive Acne Treatment | $102 |
| ENHANCEMENTS | R+F Lash Boost | $155 |
| REDEFINE | Age Assault | $357 |
Looking at these individual retail prices, many R+F customers find it more cost-effective to either:
Save 10% on all R+F products by joining their Preferred Customer program for a one-time fee of $19.95.

Preferred Customers agree to autoship at least $80 worth of R+F products every 60 days (or you can easily "skip" the autoship until you're ready for new products).


Instead of buying products individually, it's actually cheaper to buy an entire line of R+F products known as Regimens. These packs can range anywhere from $100 – $400, depending on how many products are needed.


If you're someone who loves their products but has no interest in building your own business, the most cost-effective option is to become an official Rodan + Fields Consultant for $45.

As an Inactive Consultant (aka "Facewasher Consultant" lol), you'll receive a 25% discount on all R+F products with no monthly minimums.
Bottom line:
If you're used to investing in high-end skincare items, R+F prices shouldn't be too much of a shocker.
After all, your skin IS your body's largest organ so it deserves some pampering, right?
Which brings up another important question:
Is Rodan and Fields Safe?
First off, the "Results" section on most R+F product pages show how their formulations faired in a clinical study.
So you can view the percentage of people who experienced an improvement for each skin concern, as well as before & after pics in some cases.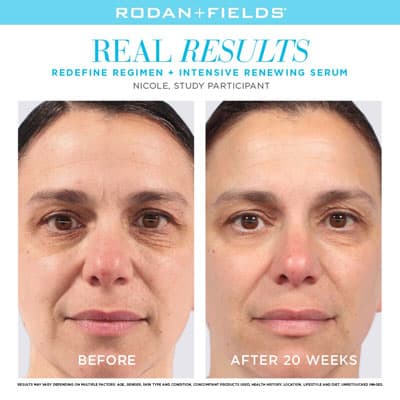 Compared to other MLMs that tell you that the product has been "tested" — that level of detail and professionalism is a big selling point.
I should also mention the company states on their website that: "Rodan + Fields products are not tested on animals."
But let's take a quick look at the ratings for a couple of their most popular products:
As you can see, Rodan and Fields reviews are typically above average.
Which is a pretty good sign that their products are safe to use.
Unfortunately, that story changes a bit when it comes to their eyelash serum:
Rodan and Fields Lawsuit
As one of R+F bestselling products, Lash Boost claims to give users "the appearance of fuller, longer, darker-looking lashes" — with or without wearing mascara.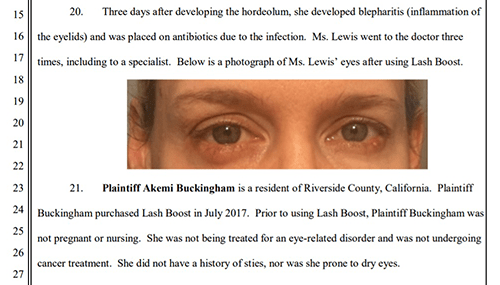 Even though some customers love it, R+F is facing a federal class-action lawsuit concerning a controversial ingredient within Lash Boost.
The suit claims the company didn't properly warn people about the ingredient's potential side effects which allegedly include:
Reports of itchy and discolored eyes, loss of eyelashes, eyelid drooping, infections, and even vision impairment after using Lash Boost.
Rodan and Fields has officially denied any wrongdoing but admits the product can cause irritation if used incorrectly (like virtually any beauty product).
As of this writing, the case is ongoing.
From my own research, it appears that only a small percentage of Lash Boost users may experience negative side effects.
To be fair, the overwhelming majority of Lash Boost reviews are very positive.
But just to be safe, you should always do your own research before purchasing any cosmetics – especially if you have sensitive skin.
The next thing you should consider is how do you feel about social media?
That's because Rodan + Fields highly encourages Consultants to market their products digitally which can include:
Promotional photos (e.g. before & after selfies) posted on Facebook, Instagram, Twitter, etc.
Facebook live events
YouTube videos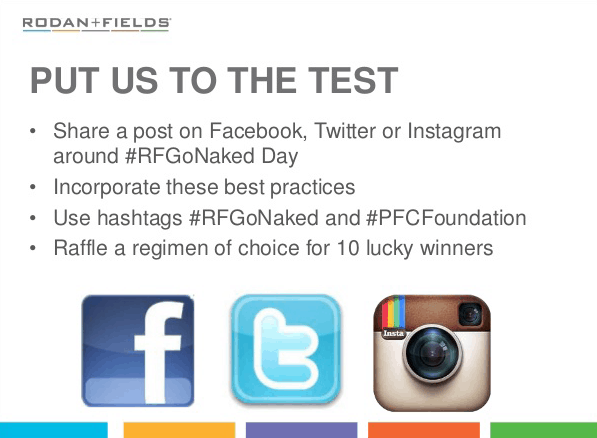 Long story short:
If you're used to spending time on social media and are willing to mix business with personal friendships, R+F might be a great fit for you.
Just be aware that once you cross that line…
It can ultimately cost you some relationships due to the negative stigma of MLMs in general.
Some folks may even think you're taking advantage of their friendship and won't take kindly to your entrepreneurial efforts.
To be fair, others will have no problem giving you their support and encouragement.
Bottom line:
If you wanna use social media to grow your Rodan + Fields business, just be ready to take the good with the bad.
Speaking of which…
---
Pros: Is Rodan and Fields Worth It?
✓
First of all, it was founded by two amazing dermatologists.
Fact:
Compared to many other MLMs who just hire doctors to work on their products, Dr. Rodan and Dr. Fields are REAL dermatologists.
After they formulated their incredibly successful Proactiv line, the two entrepreneurs also showed how much they care about this company when they bought it back from Estée Lauder.
They could've just retired and lived the good life. But instead, they chose to jump back into the skincare business with a passion.
Both of these factors add a ton of credibility to R+F.
✓
Clinically tested with proven results.
Rodan + Fields doesn't shy away from showing you the actual results of their products with real case studies and before & after pics.
(Not just a bunch of fake photoshopped selfies.)
Yes, it's a popular marketing tactic used by many companies.
But it still adds another layer of trust and professionalism that goes a long way — especially in the MLM world.
✓
Lower start-up cost.
You can join R+F by purchasing their Business Portfolio kit for only $45.
It's basically a booklet that fills you in on the history of R+F, the company mission, and a list of the first steps to start your MLM business.
There's a catch though: It doesn't come with any Rodan and Fields products.
So if you're serious about joining R+F and serious about your new home business…
You should probably sign up with their other kits which — along with the Business Portfolio — come with various R+F products and range from $395 – $995 (more about them later).
✓
Taking advantage of modern technology.
Similar to other modern-day MLMs, Rodan and Fields emphasizes the use of social media to grow your business.
That means less traditional home-parties and more posts on Facebook and Instagram.
On the plus side: It's a great way to prospect from the comfort of your own home.
For example, if you happen to live in New York, you can still promote your R+F business to those on the West Coast — or anywhere on the planet for that matter.
But there's also a major drawback, which we might as well get into right now:
---
Cons: Why Rodan and Fields Is Bad
✗
You may lose some friends.
Make no mistake about it:
The downside of promoting your MLM business through social media is the angry backlash from those who don't appreciate you flooding their FB feed with before & after pics or "special deals" on skincare products.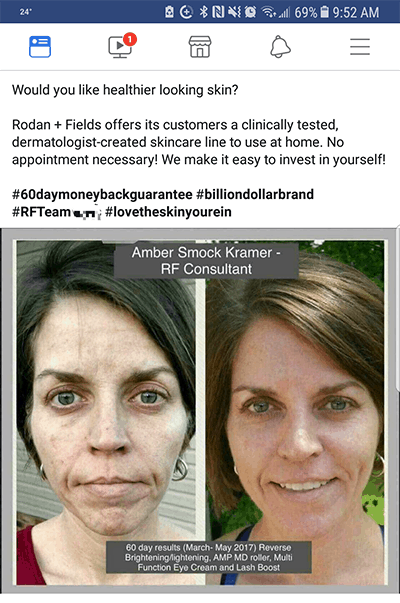 You might even receive some not-too-friendly texts if you try to reach out to someone you haven't seen in a while: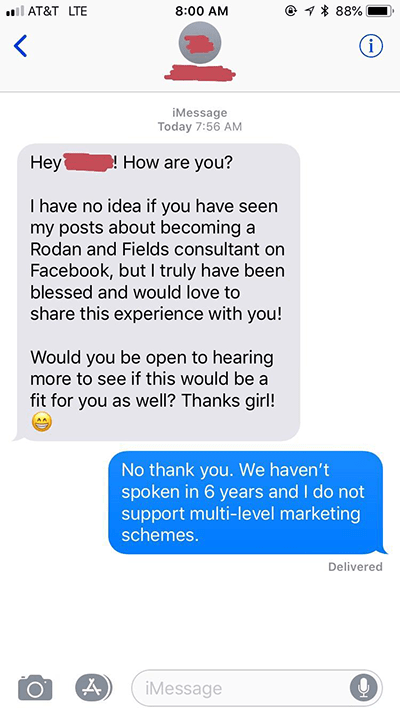 And we can't forget the angry articles written by pissed-off prospects who are sick of all the Rodan + Fields Facebook posts.
Don't say I didn't warn ya.
✗

Expensive products.

Look, I get it.

When you compare R+F products to some of the other high-end skincare companies, they cost about the same.

Or even less than a cup of gourmet coffee per day:
However, if you want to start a home business by selling for Rodan and Fields as a Consultant…
You better be prepared for some (or a LOT of) resistance if you're selling to those who usually buy from the drugstore.
Or you better have some wealthy friends — an entire Regimen set can cost nearly $400 a pop.
✗
Controversial ingredients.
As mentioned earlier, Rodan + Fields is currently facing a class-action lawsuit due to an ingredient in one of their most popular items.
Some customers have allegedly experienced some adverse side effects from using their Lash Boost serum.
(To be fair, the negative reactions are few and far between.)
The case is ongoing but you can decide for yourself if that's a deal-breaker for you or not.
✗
Competition.
Guess what happens when a rapidly growing industry starts raking in over $100 billion per year?
Let's just say…
The pool gets a lil' crowded.
And R+F is definitely not the only MLM offering age-defying skincare products.
Amway, Mary Kay, Avon, Jeunesse, and Younique are just a few of the network marketing companies who are trying to cash in on skin.
Which means that you better find a way to stand out from all the other company distributors who are also posting on FB and Instagram.
✗
Recruitment.
Newsflash:
If you really want to make it as a successful Rodan + Fields Consultant, it's not just about loving their products and introducing them to your friends.
Like any MLM, you'll be highly encouraged – verbally and monetarily — to find others to join your team.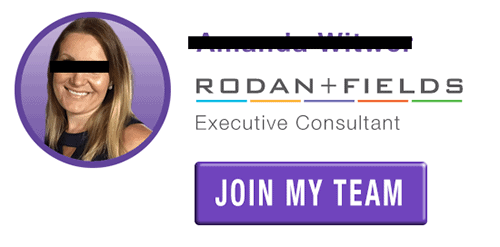 Welcome to the horrible wonderful world of recruiting.
In other words:
You'll need to build a large downline of other Consultants below you, who also wish to work from home.
It's fitting that I found the following words taken directly off RodanandFields.com:
At Rodan + Fields, success comes from creating meaningful connections…
Truer words have never been spoken by an MLM company.
Which leads us to…
---
Compensation Plan: How Does Rodan and Fields Work?
Okay Dorothy:
Let's get this show on the yellow brick road.
Here's the simplest video I could find to explain the R+F compensation plan:
(You can check out their official compensation guide here.)
Naturally, Rodan + Fields claims that their: "unique business model offers an unparalleled personal enterprise opportunity."
Is that true?
Well.. not exactly.
Let's begin by hearing what the founders of R+F have to say:
Okay, so they might be just a lil' biased lol.
The simple truth is:
Rodan + Fields is a multi-level marketing company which means that you make commissions based on your own sales and the sales of those you recruit.
That's the easy-to-understand part.
But when it comes to the details of how much you can make at each level…
That's when it gets a bit complicated.
When you first join R+F, you can choose one of their four enrollment kits:
Business Portfolio Kit — $45
Personal Results Kit — $395
Big Business Launch Kit — $695
RFx Express Business Kit — $995
Basically, the higher kit prices come with more R+F products for personal use and demonstration purposes.
Now:
Once you've signed up, there are eleven different selling statuses you can achieve:
Consultant
Active Consultant
Executive Consultant
Level 1, 2, 3, 4, 5 Executive Consultant
Premier Executive Consultant
Elite Executive Consultant
RFx Executive Consultant
As a Rodan + Fields Consultant, you can earn income in a few different ways:
1. Retail Profit
This is the difference between the price you buy a product for (Consultant price) and the Preferred or Retail Customer price.
Consultant prices are typically 25% less than Retail Customer prices.
For example, if you buy the Redefine Regimen for $149 (Consultant price) and sell it for $199 (Retail Customer price), you earn $50.
Preferred Customers (who receive regular shipments) can purchase products for 10% less than retail.
So in the example above, a Preferred Customer would only pay $179 for the Redefine Regimen, giving you a $30 profit.
2. Consultant Commissions
Everyone starts off in R+F as a Consultant.
However: To be an Active Consultant, you need to sell a minimum of 100 Sales Volume (SV) every month.
Sales Volume includes your personal purchases and retail orders from customers.
In Rodan and Fields lingo, this is referred to as "filling your SV bucket".
Here's the catch:
To ensure you're filling your 100 SV bucket, many new Consultants are encouraged to enroll in the Consultant Replenishment Program (CRP), which automatically re-orders $80 of R+F products for you each month.
On top of that, you'll also need to maintain your PULSE Pro monthly membership for $24.95/mo.
PULSE basically acts like your "back office" and is the system Rodan + Fields uses to track orders and provide helpful training resources for Consultants.
As a PULSE Pro subscriber, you also get a personalized website (like this one) to sell products and sign up new recruits.
As an Active Consultant, you can earn money in two ways:
Retail Profit
10% Commissions
So besides earning the normal retail profit, you'll also get an additional 10% commission on any of your Preferred Customer orders.
And if you manage to recruit someone to your R+F team as a new Consultant, you'll also earn 10% commission on any products they purchase or sell.
Rodan and Fields refers to this as your L1 — aka your first line of recruits.
3. Personal Team Commissions
As an Active Consultant, the next level up is to qualify as an Executive Consultant.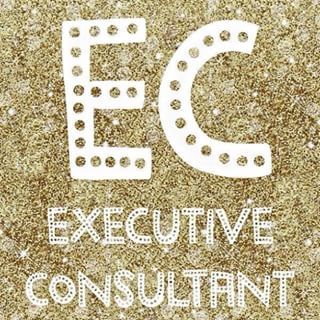 To qualify:
All of your Consultants and Preferred Customers must reach 600 points of Personally Sponsored Qualifying Volume aka your "PSQV bucket".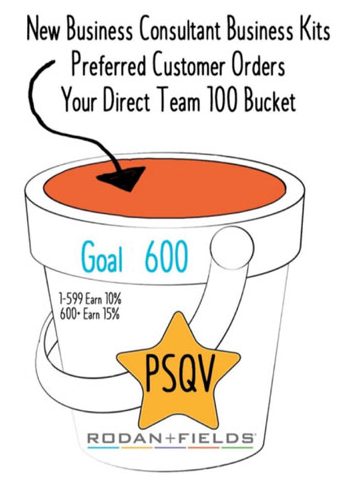 When this happens, you'll earn money in three ways:
Retail Profit
10% Commissions
Additional 5% Commissions on your entire team's sales
4. Generation Commissions
Once you reach the level of Executive Consultant (EC), you can start to make 5% "generation commissions" up to 5 levels deep in your organization.
Basically, if you personally sponsor someone who also achieves EC status, you become a Level 1 Executive Consultant.
If two of your recruits achieve EC status, you become a Level 2 Consultant. If three recruits achieve EC status, you reach Level 3 Consultant.
This goes on until you have 15 Executive Consultant's in your personal downline, five of whom have made it to Level 5 EC status, and you finally achieve the highest level in R+F:
An RFx Executive Consultant.
(Don't get your hopes up just yet… but more about that later.)
5. Bonuses
Like most MLMs, Rodan and Fields offers rewards and incentives based on your production which can include car allowances and cash bonuses.
They also have their "Lead the Way" program which offers Consultants the ability to earn "miles" towards exotic VIP trips:
How Much Can I Earn with Rodan and Fields?
First off:
I'm sure you'll agree that – like anything in life — your success in R+F will mostly depend on your long-term efforts.
This is not a get-rich-quick scheme.
It will also come down to your ability to consistently network and recruit people into your business.
After all:
They don't call it "network marketing" for nothin!
The company also makes it clear they do NOT guarantee any specific levels of income or prosperity.
You could even lose money — especially if you splurge on their higher-end $400-$1,000 starter kits and don't put in the work.
Truth be told:
According to Rodan and Fields 2018 Income Disclosure statement, less than 1% of all Consultants earn more than $25,000 per year.
In fact, 90% of R+F Consultants make less than $200 per month and 96% earn less than $600 per month.


So you'd better keep your day job while you're working towards the Lexus.
---
Rodan and Fields: Quick Summary
Rodan and Fields Summary

| PROS | CONS |
| --- | --- |
| Rodan and Fields was founded by two REAL dermatologists who had a mission to improve their patient's skincare and have successfully done so for almost 25 years. | R+F products are expensive which can make it difficult to sell to your friends & family. But they're on par with other high-end skincare brands. |
| R+F products are clinically tested, have legit case studies, and mostly get excellent reviews from customers online. | A controversial ingredient in their Lash Boost product has led to a class-action lawsuit from a few negative reactions. |
| The initial start-up cost is a very reasonable $45. However, more serious starter kits can go up to $995. | There is a ton of competition from other MLM distributors all trying to cash in on the billion-dollar skincare business. |
| R+F Consultants primarily use social media to promote and grow their businesses = the freedom to work from anywhere (plus no more home-parties). | The promotional usage of social media by R+F Consultants can lead to a backlash from friends who don't appreciate being asked to buy or join your MLM. |
| Their compensation plan is pretty straightforward and gives generous bonuses to high-producing Consultants. | Like any MLM, your success will mostly depend on how well you recruit new members for your team. |
Bottom Line: Is Rodan and Fields a Scam or Pyramid Scheme?
Nope.
They're a legit, billion-dollar skincare brand started by two brilliant women who genuinely want to give their customers "the best skin of their lives".
And from my research, R+F products seem to be high quality and produce amazing results:
Kidding.
But seriously, their products do have great reviews.
So what's the catch?
Rodan and Fields is also a network marketing company that relies heavily on the use of social media — which tends to annoy folks if done too aggressively.
On the other hand:
There are some really inspiring stories of R+F Consultants who've made it despite all the odds.
And if you're someone who loves Rodan and Fields and would buy their products anyway – the $45 starter kit is a no-brainer for the 25% discount.
However:
According to the FTC, less than 1% of people who try MLM opportunities make any real money.
So does that mean you shouldn't even try this business?
Not necessarily.
Rodan and Fields might be a good fit for you if:
You absolutely love and use their skincare products all the time
You have a lot of friends/followers on social media (esp. FB & IG)
You're willing to spend a LOT of time and energy recruiting others and can handle rejection well
If that describes you — go ahead and give it your best shot!
If you're looking for another way to earn a passive income, check this out instead.
---
Shameless Plug: Realistic Passive Income Without MLM?
Imagine this:
No recruiting, no selling products, no rah-rah meetings, no bullsh*t.
Don't believe me?
Don't blame you.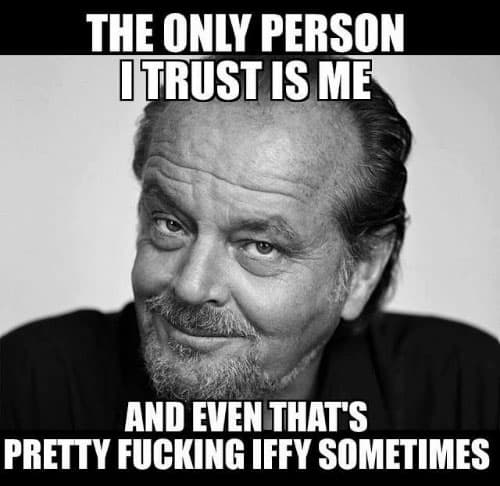 But before you scream "SCAM!" and scram, do yourself a favor.
Put down the Hatorade and click here to discover more realistic ways to make passive income from home.