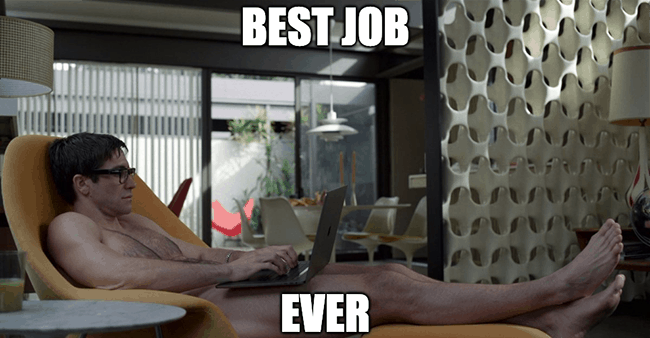 Best Work-At-Home Jobs from a Guy Who Works At Home
20 Comments
---
Table of Contents
---
Just Living The Dream
Let me guess:
You wanna learn how to make money online…
From home…
With no pants…
While ridin' the porcelain pony, amiright?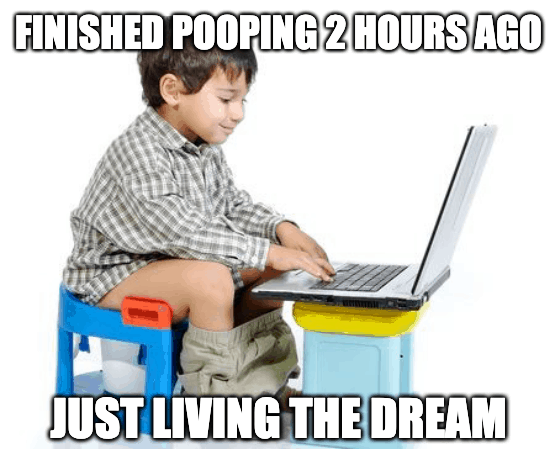 (The last one could just be me.)
In any case, you're not alone.
More than ever, millions of folks are searching Google for their online gold mine.
Only to discover…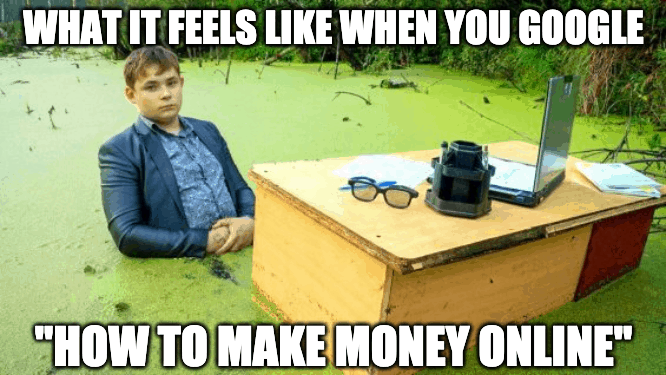 It's actually a swamp.
On the plus side:
Thanks to the internet, there's never been more ways to work from home.
But sadly:
There's never been more ways to get scammed, either.
Here's the problem:
How do you know which online job opportunities are legit?
Unfortunately, it's hard to tell the shady from the shiny.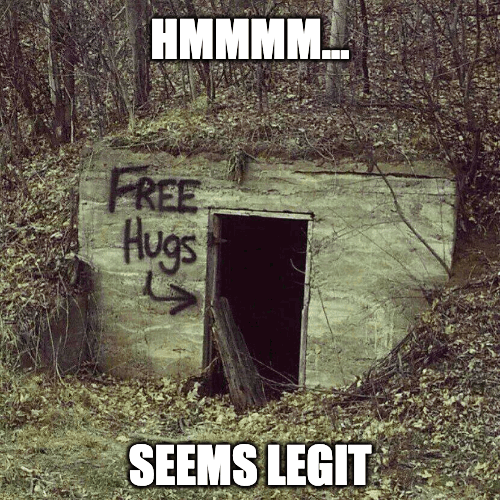 That's why you need to do your research and use a ton of common sense here.
We've all heard it a thousand times before, but if it sounds too good to be true?
Well, you know the answer.
Look:
I've tried everything under the sun to make money online and had a perfect track record of failure – until I stopped searching for the magic bullet.
That was nearly a decade ago — time flies when you're building something you love.
Since then I've made 6-figures every single year doing online work from home.
But let's be honest:
Even though we all know that get-rich-quick schemes are complete bullsh*t — it's still oh-so-tempting to give them a shot.
Why?
It's just human nature since we tend to believe what we want to believe.
So here's the deal:
Your biggest challenge isn't learning how to make money online.
It's avoiding all the promises of easy 'n quick cash that plague the internet these days.
To quote the great American poet Robert Frost:
Two roads diverged in a wood, and I—
I took the one less traveled by,
And that has made all the difference.​
Keep that in mind as we dive into all the different ways you can earn money online in your spare time.
Let's get into it:
---
Search Engine Optimization (SEO)
It's only fitting that we start off with one of the oldest, tried-and-true methods (and my preferred way) of making money online:
Search engine optimization (aka SEO).
Simply put, your job is to help businesses rank their websites on the first page of search engines like Google (fees range from $500-$5000+/mo per client).
Why would they pay for that?
Cuz for the most part, both large and small businesses like Danny the Dentist and Larry the Landscaper are clueless about how to get their websites on page one of Google.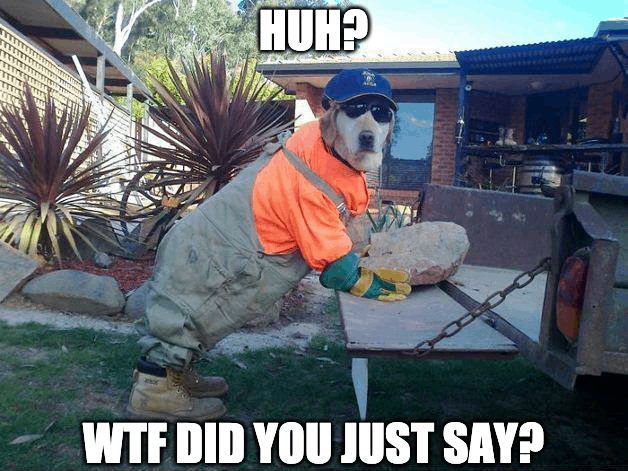 Now, don't get me wrong:
Danny and Larry might be highly skilled at their craft and do a great job of satisfying their customers.
But just like most dentists don't know how to fix engines, most business owners don't know how to rank their websites.
Especially on Google. And that's where you come in.
Basically, there are two ways that a business can get more traffic to their website:
Paid advertising (e.g. Facebook ads, LinkedIn ads, etc) or free search engine traffic (e.g. Google, Bing, etc).
Each method has its pros and cons.
Paid ads have the advantage of speed since a business can throw up a FB ad and literally start generating traffic the same day.
The downside is they obviously have to pay for that traffic (which can cost a small fortune) and they better have some slick copywriting skills for it to work.
In comparison:
Ranking their digital property on a search engine like Google has the advantage of little to no cost since they're not paying for ads — they're using free traffic.
The downside is the time factor required to rank a website on the first page of Google and the skill set needed to make it happen.
In my experience, most businesses prefer using free traffic to get more customers and make more money.

Go figure.
Yes, it takes a little longer to get a website ranked, but the overall lead quality tends to be much higher than paid traffic.
Not to mention their website (aka digital property) becomes a passive income machine once it reaches the first page of Google.
It's like owning a piece of digital real estate in the best part of town.
Oh and another thing:
Despite a lot of misinformation out there, learning how to rank a website isn't rocket science.
But money-chasers beware:
Just like any legit business model, building an 6 or 7-figure SEO empire takes lot of work and patience.
If you want to learn how, check out this Nathan Gotch SEO Academy review.
---
Virtual Assistant
Looking for full or part-time work from home?
Are you okay with doing repetitive and boring tasks?
Becoming a virtual assistant (aka "VA") may be the perfect remote job for you.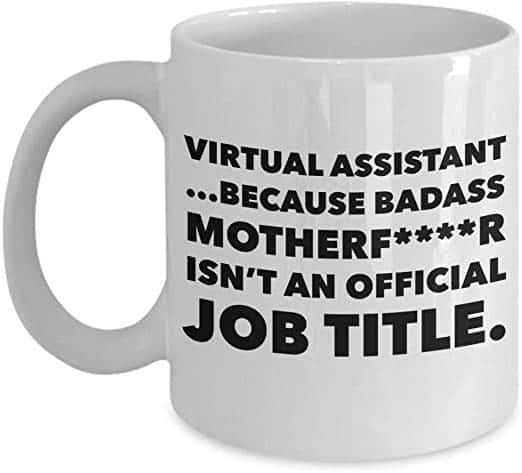 The key word here is "job".
That's because once the novelty wears off and the honeymoon's over, many work-at-home opportunities actually feel like a traditional office job.
(With a few obvious exceptions.)
As a virtual assistant, your responsibilities can include a number of administrative, creative, or technical support services.
Virtual Assistant Examples
Virtual Assistant Examples
Admin Support
Appointment Setting/Calendar Management
Call Center/Customer Service Representative
Content Editor
Online Data Entry Jobs
Proofreading
Social Media Manager
Translator
Transcription/Transcribing Services
Video/Webinar Editor
Now, I know what you might be thinking:
"That's a lot of tasks! What if I don't know how to do any of them?"
News flash:
Fake it 'til you make it.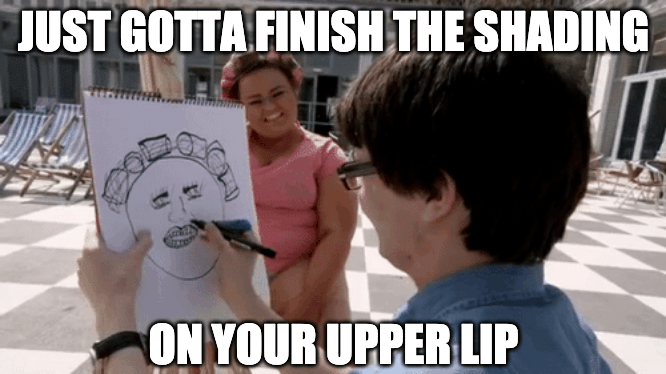 Kidding.
The truth is, most of the jobs given to general VA's are very simple and can be done with basic communication and organizational skills.
However:
You can also specialize in certain areas and only do specific tasks — it really depends on who you're working for.
The key to being a great virtual assistant is to be a virtual Swiss Army knife — ready, willing, and able to do whatever your client needs.
Sometimes that means stepping outside your comfort zone, biting your lip, and pushing as hard as you can to show 'em who's boss:
(Juvenile Humor Disclaimer: It only gets worse from here, Chuckles.)
Back to business:
Although it's possible to have many different employers, oftentimes a virtual assistant will have a long-term relationship with a specific client.
You can choose to work for yourself or work remotely for a popular VA company such as Upwork, Time Etc, or Amazon Mechanical Turk.
The average pay for a virtual assistant can range from $10-$30 per hour, depending on your skills and experience.
The best way to get started is to assess your current skill set and figure out how you can increase your value to potential clients.
Here's an excellent video that explains how to get started as a VA in 30 days:
---
Freelancing
Check this out:
The term freelancer comes from the Middle Ages when a "free lance" referred to someone who was a trained soldier for hire (aka mercenary).
These days, freelancing is all about contract billing — not contract killing.
But some of us can still dream, right?
Here's the skinny:
Freelancers are independent contractors who typically work for a variety of companies or clients.
Similar to virtual assistants, a freelancer usually does remote work from home and offers their services by the hour or per project.
And guess what?
From broke high school or college students with Photoshop skills to trained professionals with bachelor's degrees, freelancers from all walks of life are in high demand.
In short:
Freelancing covers all kinds of work-from-home jobs you can do with a good internet connection and computer.
Freelance Job Examples
Freelance Job Examples
Content Writer/Editor/Proofreader
Copywriter
Graphic Designer/Illustrator
Mobile App Developer
Online Tutoring
Bookkeeper/Bookkeeping Services
Photoshop Editor
Recruiter
Search Engine Optimization (SEO)
Software/Web Programmer
Webinar Consultant
Wordpress Plugin/Website Designer
Voiceover Artist
So the good news is:
You can take practically any ability you have and become a freelancer with it.
•  Are you a world-class business expert or consultant? Sign up with Clarity.fm and get paid for doing quick, Q&A-style coaching calls.
•  Got writing skills? Try your hand at becoming a freelance writer on Upwork.com or Problogger.com.
•  Passionate about photography? Post your photos on a site like Shutterstock.
•  Programmer or software developer? Flex your coding skills at Freelancer.com.
•  Speak another language besides English? Join Fiverr or Rev and earn extra money as a freelance translator or transcriptionist.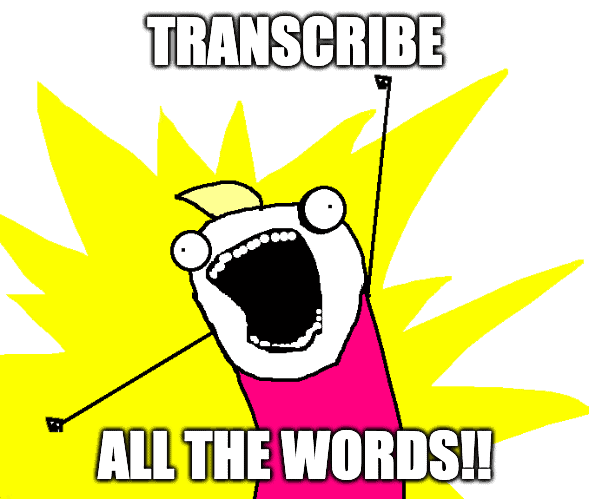 Or perhaps you're like the Picasso who created the graphic above:
Super-talented but just lookin' to polish up your Photoshop or Illustrator skills.
There's plenty of graphic design courses on Udemy and there's never a shortage of freelance graphic design jobs you can do.
By the way:
I do NOT recommend online job boards that require you to pay monthly fees to access job postings (e.g. FlexJobs).
Many of these outfits seem to have a ton of glowing reviews that are likely done by employees of the company or by affiliates who get paid if you sign up.
(I'm not saying they're all fake reviews but many are definitely fake reviews.)
Besides, there are plenty of reputable websites (e.g. Upwork, Indeed, Monster, CareerBuilder) who give free access to entry-level and executive job listings.
The bad news?
If you don't have any skills whatsoever…
You're basically f*cked.
Kidding.
Another option is to sign up with a company like User Testing and make money by visiting websites and providing feedback about your experience.
You can earn $10 for each 10-20 minute task which involves recording a live video of yourself reviewing a website or taking a survey.
(Update: User Testing has many poor reviews from those who've tried it.)
To sum up:
Freelancing allows you to use the basic or advanced skills you already have to work at home and generate extra income.
But if you're lazy, unmotivated, or looking for easy money without hard work?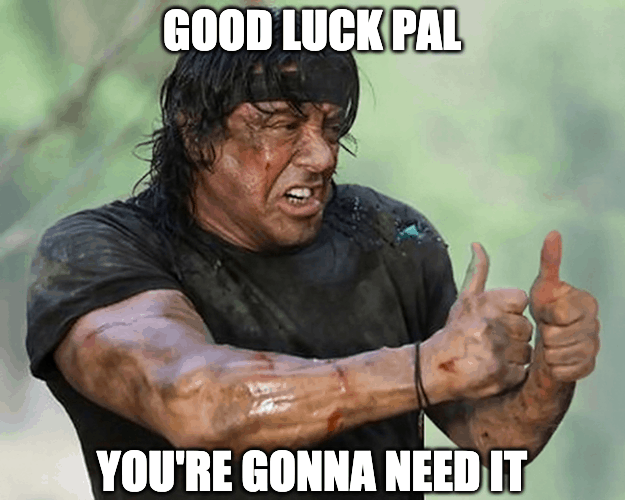 ---
You-Ber
No skills?
No problem.
Even if your talents are limited to binge-watching Netflix and sleeping in, you can still earn a side income if you're willing to get off your ass…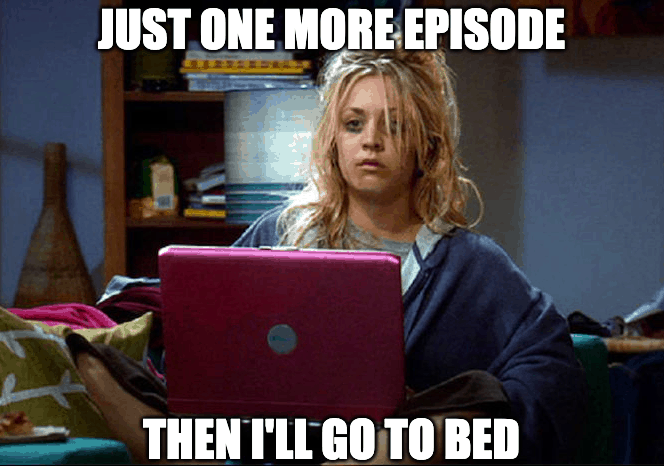 … and put on some pants.
For example:
You can become a "tasker" for a company like TaskRabbit and get paid to help people with daily jobs like shopping, cleaning, or even assembling furniture.
Taskers can earn anywhere from $10-$60+ per hour, depending on the job.
Option #2:
If you're legally allowed to drive, you should consider becoming a driver for Uber or Lyft.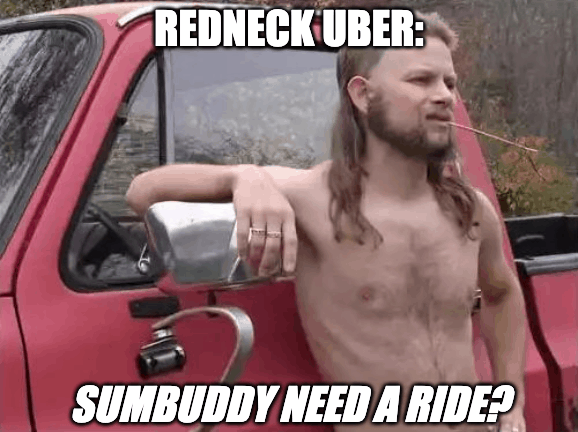 As long as your vehicle isn't a complete piece of sh*t, the average Uber or Lyft driver makes around $8-$12/hr or approx. $400 per month.
Which isn't great but it's better than wasting your free time doing sweet F.A., right?
Or for a similar hourly wage, you can pick up meals and drive for a food delivery app service like Uber Eats, DoorDash, Postmates, or Grubhub.
No car?
No worries.
If you like staying active and live in a large metro area of the United States like NYC, LA, or Chicago, you can even make extra cash as a bike messenger:
Okay, so technically speaking:
Some of these freelance jobs or side gigs require you to work outside of your home.
But it's better than being a professional Poop Catcher or Pit Sniffer.
On the other hand:
If you don't mind scoopin' poop and you're an animal lover?
Sign up for a dog-walking service provider like Wag!, Rover, or Care.com and get paid to take your favorite four-legged friends for a stroll (around $15/hr).
Or if you're not much of a dog walker…
Perhaps you prefer to freelance without leaving your home at all?
You can always enter the renter market:
Try renting out an extra room with Airbnb or even rent out your driveway or parking space for a couple hundred bucks per month.
A couple C-notes may not seem like much but at least it can help pay off your asshole credit card with sky-high interest rates.
Know what else?
If you're really desperate for cash, there's always the option to get paid for donating blood plasma.
Or just pull the damn pin and put yourself on the market.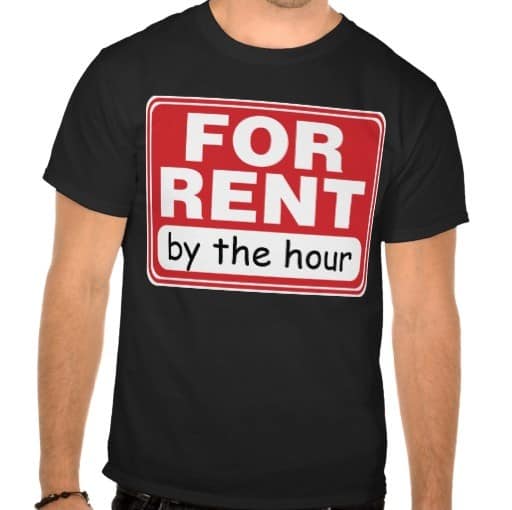 Whoops… did I go too far, Snowflake?
If you find that joke offensive, please accept my sincere apology below.
---
Influencer
First off, a definition:
An influencer can be anyone who has the power to affect the buying decisions of others due to their authority, popularity, or relationship with their audience.​
Believe it or not, influencer marketing has been around forever.
Long before Instagram success stories and celebrity tweets, companies were using popular cultural figures to promote their brands.
Case in point:
Back in 1931, Coca-Cola began using a friendly, white-bearded, older gentlemen dressed in a red suit (to match their brand color) in their ads.
You might recognize him:
(Kylie Jenner: 150+ million followers. Santa Claus: Hold my beer.)
Another iconic influencer was The Marlboro Man back in the 1950s.
This tough and rugged cowboy was the face of Marlboro cigarettes for decades.
Fast-forward to today:
Influencers are generally referred to as popular peeps on social media platforms such as Instagram, Twitter, and YouTube.
Since they already have an established relationship with their audience, companies are willing to pay influencers for using and recommending products to their followers.
After all:
If you know, like, and trust someone, it's a lot easier to "influence" them on their buying decisions.
Which reminds me…
If you're looking for the best toilet paper on the planet, try ShitBegone!
100% recycled and pillow soft, there's magic in every wipe!
But enough about bowel towels 😉
There's basically two types of influencers:
Mega-influencers who have millions of followers (e.g. celebrities, athletes, movie stars, etc).
And micro-influencers who have thousands or tens of thousands of followers (e.g. ordinary people who've become well-known.)
This is where you come in.
If you're knowledgeable about a topic, you can start to gain followers if you're able to create content that people find helpful, entertaining, or interesting.
For instance:
You can learn how to start a YouTube channel on Udemy and review certain products or teach others how to do something (e.g. tech gadget reviews, makeup tutorials, etc).
Or you can host a podcast about a specific subject that you're an expert on (e.g. how to save money by improving your personal finances, relationship advice, etc).
Of course, there's always the option to take selfies on your smartphone and show off your amazingly hot body or incredibly fake lifestyle on Instagram.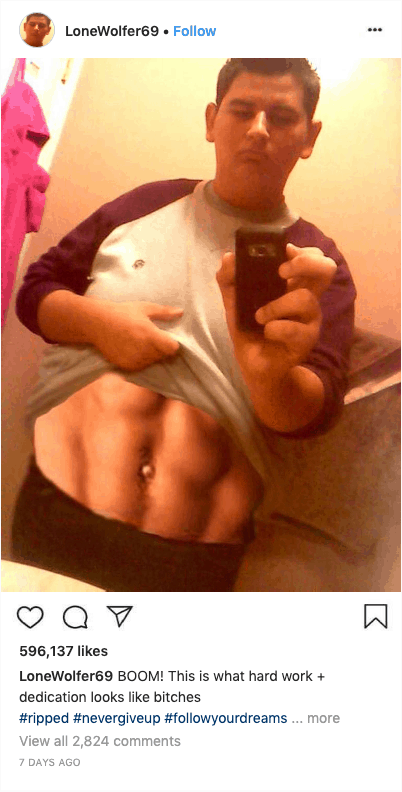 But there's a catch:
To gain a significant number of followers on any social network, you're gonna have to spend a LOT of time in the beginning just creating epic content.
Not to mention have some talent or charisma that allows you to stand out from the millions of other aspiring influencers.
In fact, it usually takes the average influencer literally YEARS to gain enough followers or subscribers to make a full-time living from ads or sponsorships.
So once again:
If you're just looking for a quick and easy way to make a large amount of money online, becoming an influencer is definitely not the side-hustle for you.
But don't let that stop you from taking epic selfies with your cell phone:
---
Online Shopping
Let's face it:
Online shopping has its advantages.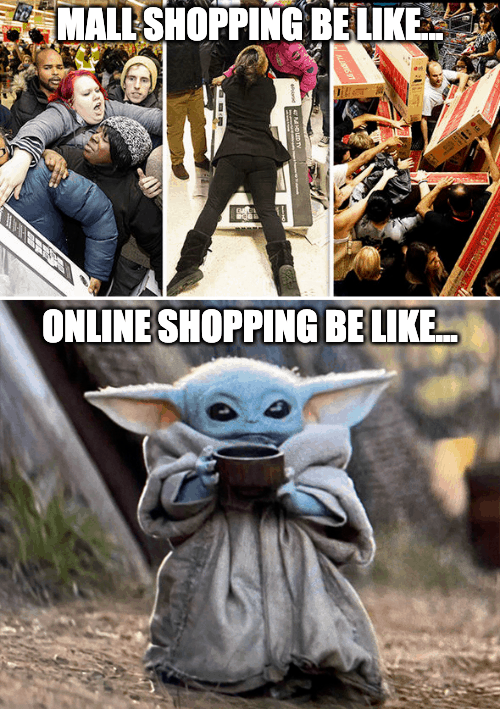 So it's no surprise to learn that online shopping is set to reach $6 trillion in global sales by 2023.
And with that kind of money being spent, competition is fierce between online retailers all trying to earn your business.
Enter "cashback sites" aka companies you can earn rewards or cash back from if you make a purchase through their website or app.
Why would they pay you to shop online?
Simple: Popular brands and online stores are willing to give these cashback companies a commission for sending buyers like you to their website.
In return, the cashback site (e.g. Swagbucks, Rakuten, TopCashback, etc) will share a piece of that commission with you.
Sounds pretty sexy, right?
Cold shower time:
Typical cashback site users make less than $1 per hour.
Not exactly the best way to make a full-time income.
While we're on the subject of legit-but-sh*tty ways to make money online, let me introduce you to the cashback site's ugly cousin:
---
Online Surveys
Wanna have some fun?
Let's begin by taking a quick survey:
See kids? Learning CAN be fun!
Unfortunately, paid survey sites don't ask questions like that.
Fact is:
Real online surveys are generally repetitive and boring as f*ck.
But the good news is:
Most paid surveys require no special knowledge or education — just a solid internet connection.
And there's a number of websites that are eagerly waiting for you to answer their questions or even watch videos and they'll reimburse you for it.
Some of the most popular paid survey sites are:
• InboxDollars
• Survey Junkie
• Opinion Outpost
• Clickworker
• Global Test Market
• OneOpinion
So how does it work?
Depending on the site, you'll typically be rewarded points for each survey you complete or shopper bonuses from online retailers you purchase from.
These points can earn cash back in the form of Amazon gift cards, sweepstake entries, or even payouts to your PayPal account.
Here's the kicker:
The average earnings from taking online surveys range from $0.41 – $2 .03 per hour.
41 cents to 2 bucks PER HOUR.
It gets better though:
Most survey sites require you to give up a lot of personal information such as your birth date, ZIP code, source of income, health problems, ethnicity, etc.
Yeah, no thanks.
More:
Survey sites will often disqualify you for anything from clicking the wrong link to not being the right demographic they're looking for.
Which means you can be halfway through a survey and all of sudden get booted for no apparent reason.
And even if you do join a few survey sites (i.e. sign up to their email list), get ready to be spammed to death with a ton of emails every day.
Doesn't sound so fun anymore, huh?
Needless to say, I can't see why anyone would do this long-term, especially since it's almost impossible to make good money with these stupid things.
The only reason I think online surveys are still popular is because a lot of people are tempted by the illusion of free money from home.
After all:
Getting paid to answer simple questions seems like the perfect get-paid-to-do-nothing "job" that countless folks dream of…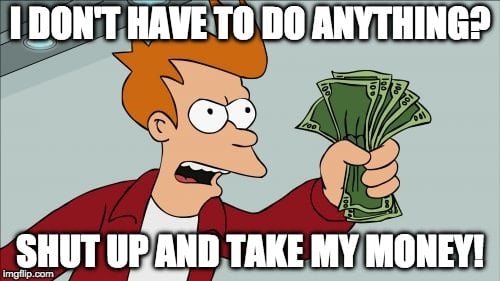 … and get scammed by every single year.
So what does all this mean?
Don't waste your time on paid surveys since there are more legitimate ways to make extra cash from home.
Now let's go from one of the worst, to one of the best ways of making money online in 2023:
---
Blogging
Are you a wizard with words?
Adept at the art of content creation?
Possess the poetic power of the pen?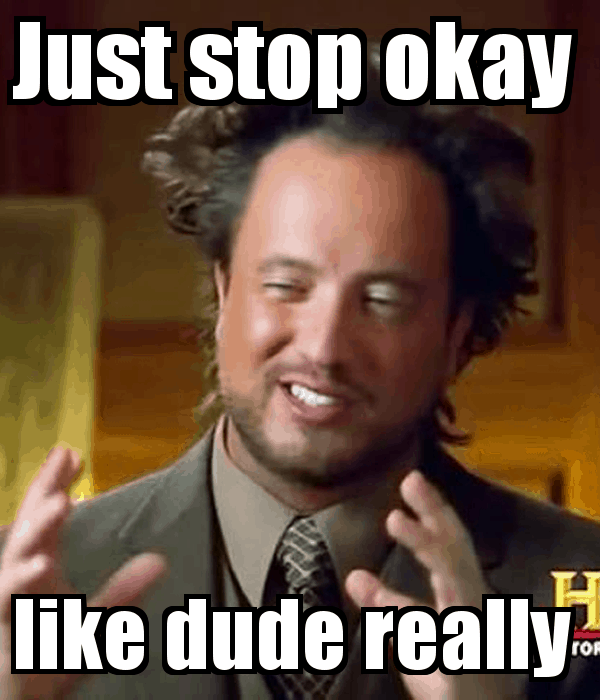 Okay, fine.
But if you're a talented writer who never runs outta things to say, blogging might be your perfect path to passive prosperity.
Or just give you permission to be a prick by pissing people off with "p" words.
Speaking of words, here's an interesting tidbit:
The term blogging is actually short for "web logging" and the same goes for bloggers which is the shortened version of "web loggers."
Well, now you know.
And if you've got the writing skills, there are several options to generate extra income that fall under the blogging umbrella.
The first one being to look at some available domain names, choose a template, and start your own website and personal blog.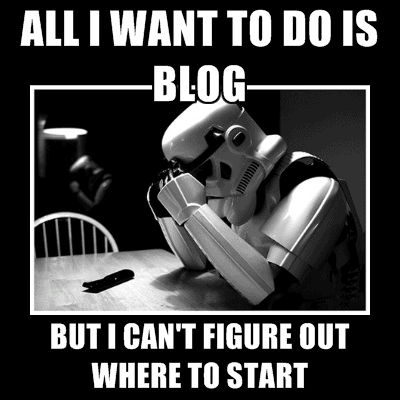 Don't worry, Stormtrooper.
You can choose any blog topic imaginable from writing about traveling the galaxy, your Jedi obsession, or even home business reviews (wink, wink).
Here's the bad news:
With more than 500 million blogs out there (a quarter of ALL the websites in existence), you're jumping into a Very. Crowded. Pool.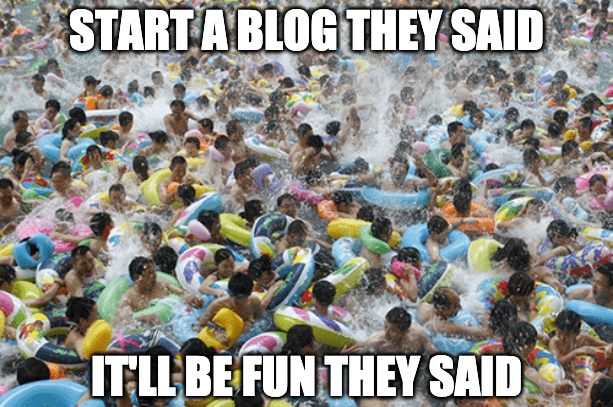 So you better have some serious writing chops if you're gonna stand out.
Not to mention the ability to create a crapload of content at will.
The key to blogging is to know your audience, consistently post high-quality content, and think long-term (i.e. 2-5 years down the road).
Do yourself a favor and listen to this 12-minute podcast from millionaire-blogger Jon Morrow entitled "Should You Even Start A Blog in 2020?":
(Need some more inspiration? Check out Jon's epic article: 7 Life Lessons from a Guy Who Can't Move Anything but His Face. Trust me — it's worth the read.)
Bottom line:
Assuming you have the necessary talent and patience, you can develop a loyal following of readers who visit your blog regularly and allow you to monetize it.
This can be done in a number of ways including display advertising (e.g. Google Adsense), email marketing, affiliate links, or creating an online course.
Another option is to write an eBook, self-publish it as a PDF or with Amazon's kindle program, then promote it on your blog.
Like so: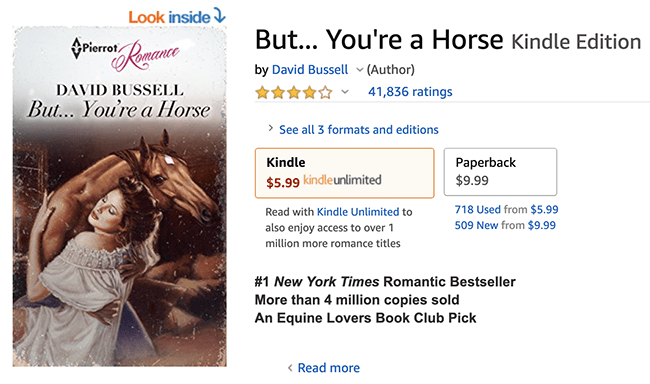 (Calm down neigh-sayers, it's fake. I'm just horsing around.)
But what if you're someone who doesn't want to start their own blog?
Is it still possible to make money blogging without being the star of the show?
You're in luck, Buttercup.
Whether you're a published author or rank beginner, it's possible to land a steady stream of freelance writing jobs if you know where to look.
Easier said than done, though.
No matter what blogging path you choose, becoming a successful online writer is extremely time-consuming and won't happen overnight.
But last time I checked, the only good thing that happens overnight is sleep.
Or visits from the Tooth Fairy.
---
Online Course Creator
Okay, so maybe blogging ain't your thing.
Don't cry, Sugar Pie.
Here's another real money-making idea for ya:
How 'bout turning your existing experience or skills into crisp dollar bills? Cue online courses.
Fact:
It's never been easier to make money from home with digital courses.
Want some proof?
That's right:
The e-learning industry is on track to hit $375 billion in just a few years.
Which makes perfect sense if you think about how many folks prefer to study and work from home nowadays.
(I sure as hell do.)
The best part?
You don't even have to be an expert at something to build a course that can turn into an online money-making machine.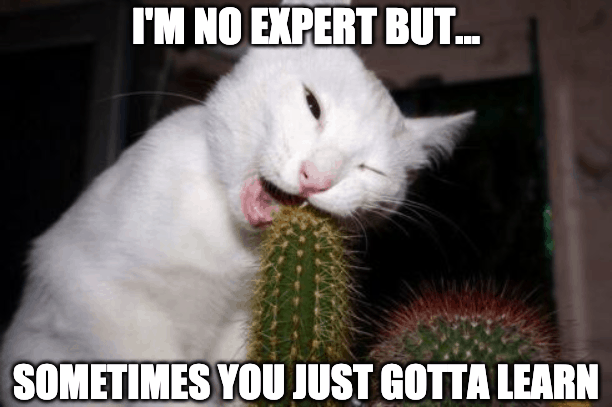 Here's the moral of the story:
Anyone can learn how to build a successful online course business in 2023 — if you're willing to put in the work.
Peep my best course platform review to learn how with a step-by-step guide.
---
Podcasting
Do you enjoy chatting nonstop for hours?
Or better yet:
Have your friends or family commented that you "never shut up"?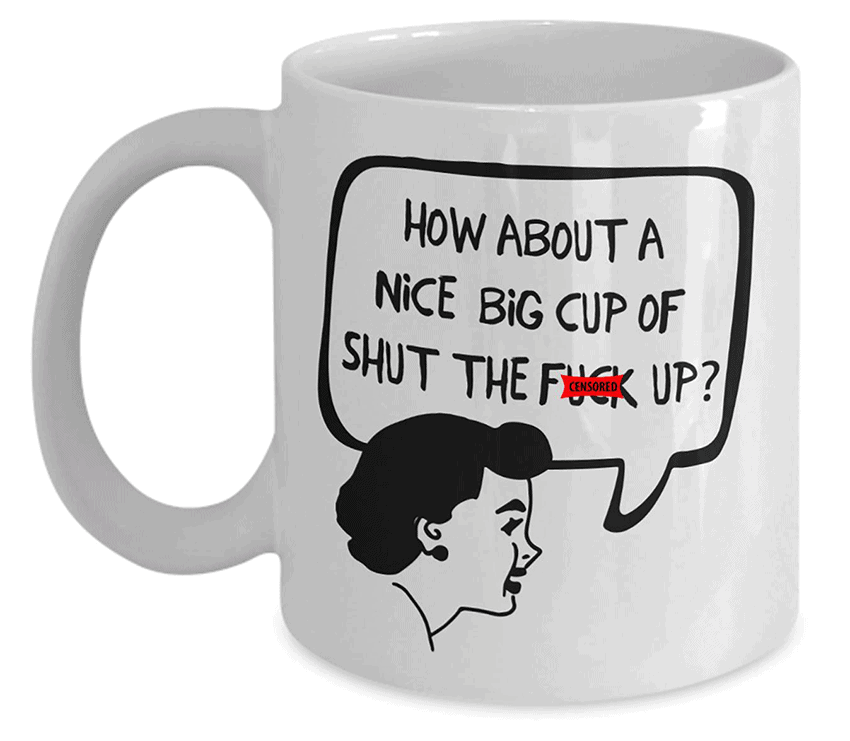 If so, podcasting might a good fit… Loudmouth.
Fact is:
The podcast industry is exploding in growth and projected to reach 504 million active listeners by 2024.
Here's the really cool part:
Gigantic audiences tend to attract major brands which explains why in 2022, podcast ad spend was expected to exceed $1.6 billion.
Which means you're in the right place at the right time.
Just ask Joe Rogan who reportedly makes a staggering $30 million per year from his show The Joe Rogan Experience.
And he's not the only podcaster making serious paper:
Now for the best news:
It takes very little effort and equipment to get started with your own show and broadcast it to millions of potential listeners.
All you really need is a computer, mic, and reliable podcast hosting.
There's also more than half a dozen realistic ways to get paid for your podcast, including:
• Sponsorships
• Subscriptions
• Premium content
• Donations/Crowdfunding
• Affiliates
• Online courses
• Swag
And if you're worried about running outta things to say?
You can always interview yourself and babble about nonsense:
All joking aside, podcasting is poised to become one of the main ways we consume information in the not-too-distant future.
But like any skill set, the catch is there's a LOT that goes into becoming a successful podcaster.
If you're interested in learning more, the first thing you should do is check out my podcast hosting guide.
---
English Teacher
Let me ask you this:
Can you speak English goodly? I mean, real goodly?
Well, guess what?
Thanks to huge improvements in online communication platforms, you can now make a full-time income teaching English to kids in other countries.
Namely: China.
How's that possible?
For starters, English is a compulsory subject for most Chinese students.
The problem is, there's a big difference between knowing the meaning of a word vs. having a conversation in the language.
And in China's education-obsessed culture, millions of parents want their kids to learn and understand the most widely spoken language in the world:
English.
This has created a massive demand for online ESL (English as a Second Language) tutoring and sparked a new multi-billion dollar industry.
Enter VIPKid — one of the most popular and well-respected online ESL teaching companies in the world.
With VIPKid, you can earn between $15 to $22 per hour teaching English one-on-one to 700,000+ Chinese students aged 5 to 12 in 25-minute lessons.
Here's a fantastic explanation of what it's like teaching ESL online:
Looks like fun, right?
Before you get too excited:
To make money with VIPKids, you need to have at least a Bachelor's degree or better (in any subject) and commit to a 6-month contract.
So unless you're serious about teaching, it might not be for you.
But if you love the idea of working from anywhere, setting your own schedule, and getting paid to teach kids the English language…
---
Affiliate Marketing
No doubt about it:
Affiliate marketing is one of the fastest-growing and most popular ways to make money online in 2023.
It's also one of the simplest.
As an affiliate marketer, your full-time job is to promote products or services for an online retailer in exchange for a commission of the sales you generate.
For example:
I'm sure you've visited a blog with a link to an Amazon product or an Instagram account where the person writes "link in bio" on their posts.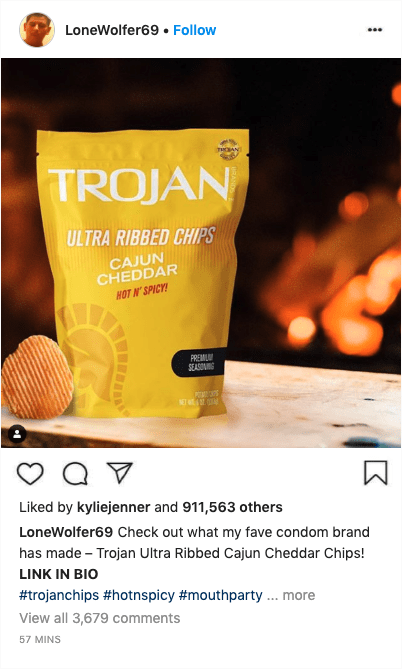 (Yes, it's fake. And yes, I'll prob'ly get sued for that.)
But here's the deal:
If someone makes a purchase after clicking an affiliate link, the one who posted the link (aka the affiliate) gets paid for that referral.
For online retailers, this actually makes a lot of cents.
(Get it? Anybody? Helloooooo? Bah.)
With the rise of social media and decline of traditional advertising, companies understand the power influencers have over their followers' buying decisions.
So if you're a company looking for more customers, it's worth every penny to give a small piece of the pie to influential affiliates who can drive new sales.
Now you know why there are so many affiliate programs out there, from credit card companies to small business loans and virtually any niche with a pulse.
That includes:
Regardless of the niche, affiliate marketing can be summed up in one sentence: Get links, get visitors, and get paid.
Simple, right?
Here's the catch:
You better know how to attract visitors in the first place.
Whether you build a popular website or grow a large social media following, if you're able to get your links seen — affiliate marketing could be your ticket.
But if you lack the skills to get eyes on your affiliate links?
It all boils down to this:
Don't expect to just throw links around and watch your bank account explode — like any legitimate online business, affiliate marketing takes time to master.
On the bright side… if you're willing to stick with it beyond your first year?
You can legitimately make your savings account or piggy bank very happy (to the tune of millions).
---
Ecommerce
According to Webster's, ecommerce is defined as:
A fancy word for selling sh*t online, dummy.​​
(From the 2021 Vulgar Version.)
But seriously, ecommerce (aka electronic commerce) means the buying or selling of products or services online.
And in case you've been living under a rock, it's now a trillion-dollar industry.
In fact, worldwide ecommerce sales are expected to surpass $6 trillion by 2023 which means very soon we'll be buying anything and everything online.
Some of the most popular ecommerce websites on the planet include:
It's a safe bet that you've already bought or sold something on at least one of those sites in the last 12 months.
That can range from ordering stuff on Amazon, selling t-shirts on Etsy or used items on Craigslist, to even listing inflatable unicorn horns for cats on eBay.
(Mr. Whiskerson is PISSED.)
So what's the point?
Ecommerce can be as simple as selling your old Apple iPhone (on Gazelle.com) or as sophisticated as starting a dropshipping business (on Etsy, Shopify, etc).
Speaking of dropshipping, check out this helpful video for an excellent primer:
In short:
Dropshipping is an ecommerce business model which allows you to sell physical products online without stocking inventory or dealing with shipping.
Which basically means you have zero upfront cost to start a dropshipping biz.
But it can also be a logistical nightmare and there are quite a few downsides to dropshipping you should be aware of before jumping in.
Another ecommerce option is to start an Amazon FBA business.
It's kinda like Amazon's own unique version of dropshipping:
Sounds amazing, right?
Except that it's not as simple and easy as that happy Amazon video would like you to believe.
But wait, there's more!
Etsy is another popular ecommerce website specializing in handmade or vintage products, arts, and crafts.
So if you're more of a do-it-yourselfer and want to sell your custom jewelry or Field of F*cks pillow cover, you're in luck:

Or maybe you're an eccentric artist looking to sell your awesomely weird Jeff Goldblum Dinosaur painting: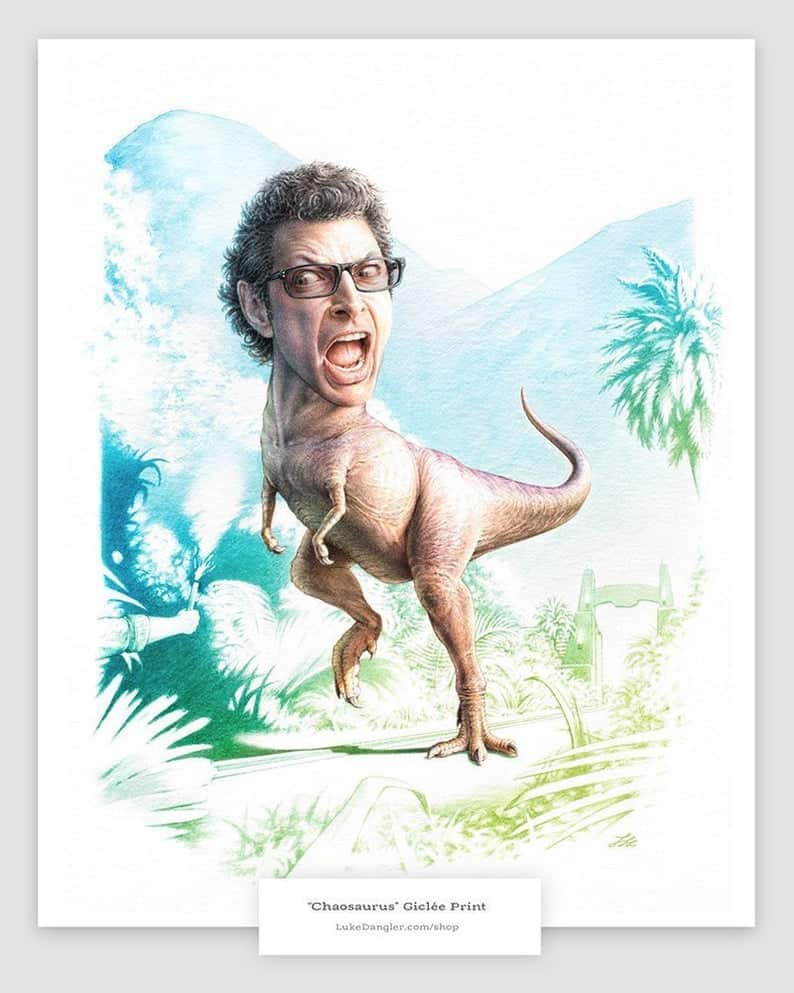 Not a fan?
Perhaps you'd prefer Nicolas Cage's head on a cute lil' duckling:
Or a mug: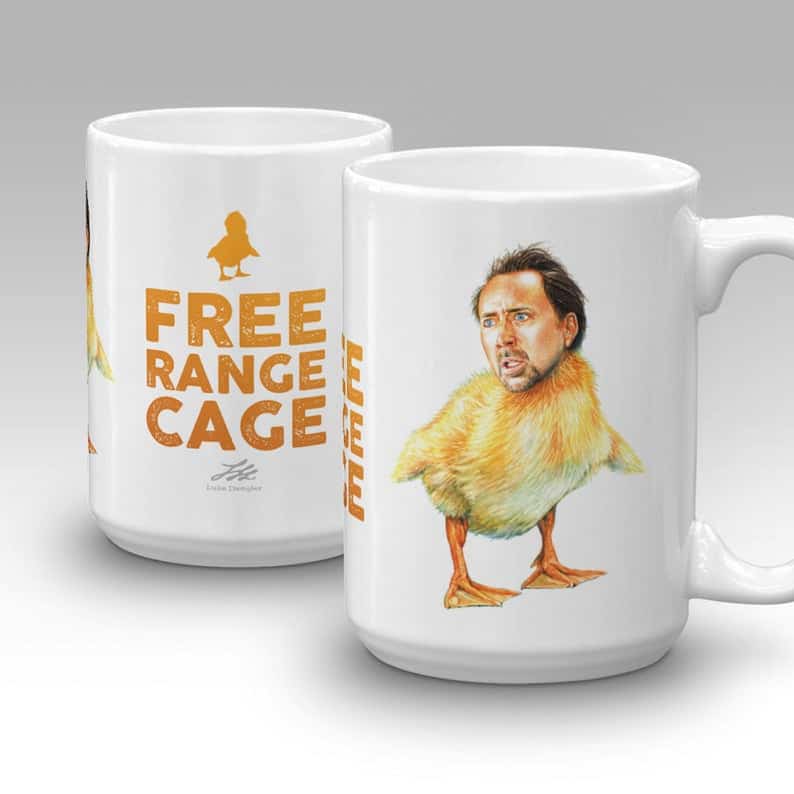 (Soooo tempted to buy that lol.)
Whatever the case may be, the big question is:
How do you choose what type of ecommerce business to start?
Well, it really depends on how serious you are.
Cuz like everything else, you need to skill up before you make the big bucks from your startup.
Ecommerce skills include:
Finding or creating your own products to sell
Choosing where to build your online store
Doing market research on your competitors
Promoting and driving traffic to your website
Shipping, customer service, returns, etc.
As you can see, there's a lot to learn if you wanna make a lot of money.
And I hate to sound like a broken record here, but if you're serious about building your own business online?
Ecommerce is for serious entrepreneurs only.
---
Multi-Level Marketing (MLM)
Before we go any further — quick confession:
I hate bugs.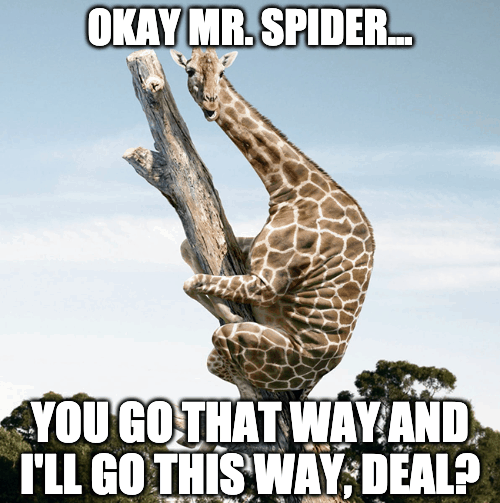 But you know what else bugs me?
MLMs.
From personal experience, I think the business model blows.
But there are millions of folks out there who absolutely love multi-level marketing (aka network marketing) so it's only fair to include it in my list.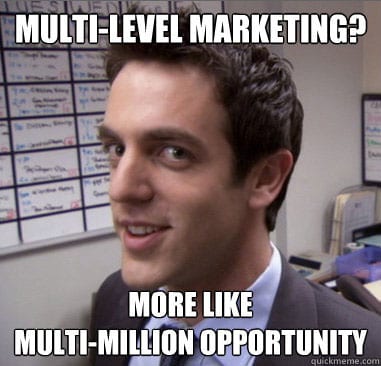 You might even know someone who's already involved in an MLM company like Amway, Avon, Herbalife, or Mary Kay to name just a few.
But if you're new to the MLM world, it's based on the idea of selling everyday products directly to your friends and family and receiving a commission for it.
As long as they keep buying the products every month, over time you can build a healthy passive income.
Sounds great, right?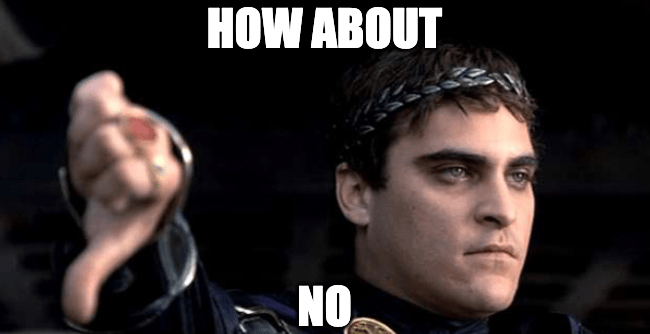 Besides selling products, MLM companies encourage their distributors to build a team below them (called a "downline") so that you can get paid an override commission for helping your team sell products to their friends and family.
Then if your team builds a downline below them, you can receive an override commission for those sales. And so on.
Now you know why it's called "multi-level" or "network" marketing since it's all about building multiple levels or a huge network of distributors.
Unfortunately, it's also why this business model is often accused of being a pyramid scheme since that's what it looks like.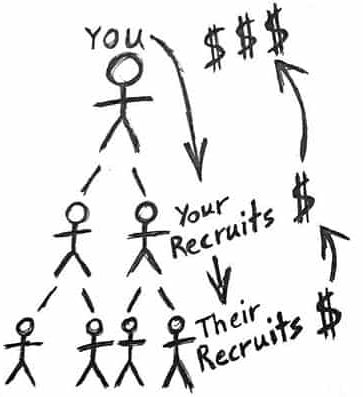 Look:
I'm not saying all MLMs are illegal scams or unethical companies.
In fact, the business sounds amazing… at first.
But in reality, it often leads to pissing off all your friends and family because you're hounding them to buy products from you (at a higher price) or join your team.
And even if they do join your business, get ready for a ton of Zoom meetings, late-night pep talks, and adult babysitting.
Like the old saying goes: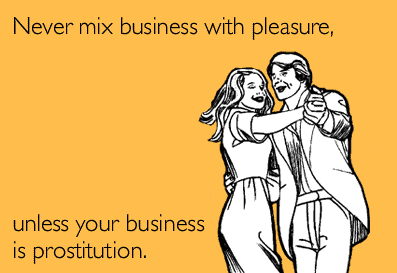 (Calm down social justice warriors, it's a joke. I'm a big fan of prostitution.)
Back to my point:
Multi-level marketing isn't for everyone but the business model has been around for more than a century and does nearly $200 billion per year in sales.
And many people believe MLM is the best way to build a home-based business.
Just a heads up, though:
If your friends get involved with an MLM company, they can start to get a lil' aggressive on social media.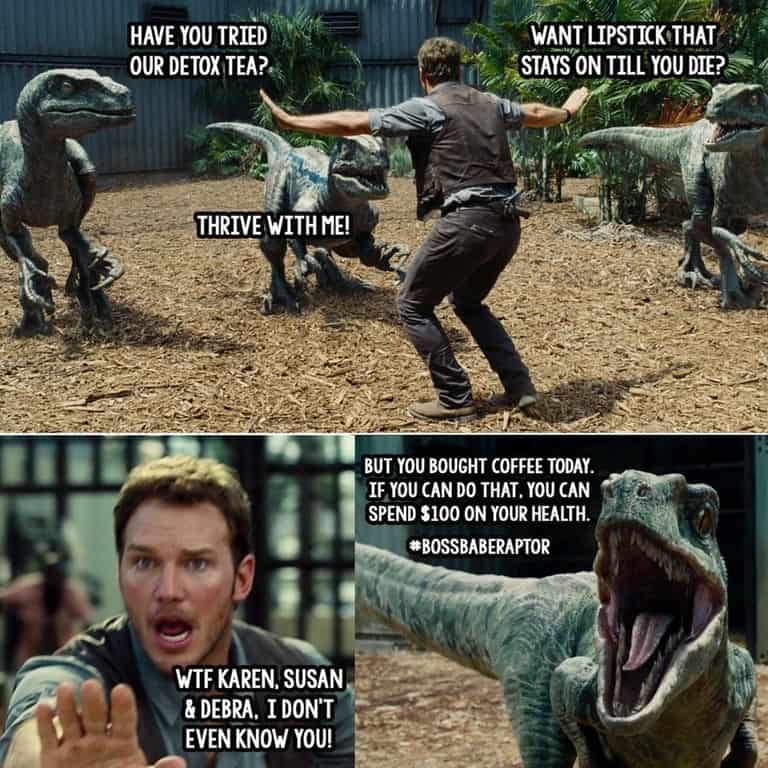 You've been warned.
That's part of the reason why network marketing has such a poor reputation and insanely high dropout rates.
But if you're still interested, check out my in-depth MLM review here.
---
Bottom Line: Make Money Fast?
Let's be real:
In 2023, every age group from 10-year-old Gen Z'ers…
To 35-year-old Millennials…
To 70-year-old Baby Boomers want to learn how to make money online.
As long as it's easy and promises fast cash.
But if wishes were chickens, beggars would ride.

(Or something like that.)
What's the point?
Wishful thinking never made anyone successful.
The iconic writer Ayn Rand said it best:
We can ignore reality, but we cannot ignore the consequences of ignoring reality.​
Translation:
The words "easy" and "fast" mean "bullsh*t" and "scam" when you pursue making money online or offline.
C'mon, you know it's true.
But that's not what we wanna hear or believe, is it?
Here's the thing:
If you ask anyone who's truly built a successful online business, the vast majority will tell you it took a ton of blood, sweat, and years of hard work.
Be wary of those who say otherwise.
The good news?
Anyone can build an online income stream if they're willing to bust their butt and think long-term.
Even if you have no experience, no skills, and are starting from rock bottom.
For what it's worth (and in my completely biased opinion):
Learning SEO is the best thing you can do when it comes to starting an online business in 2023.
Like anything, it takes a LOT of hard work but can also give you the time and financial freedom you're ultimately looking for.
Whatever you choose, NEVER give up on your dream of working from home — millions of ordinary folks are doing it and so can you!
That's coming from a guy who never graduated from high school and now makes a comfortable 6-figures per year online.
Just don't wish it were easier.
Wish you were better.
Cuz it's never too late to get up off your ass and finish the damn race:
I wish you all the best.