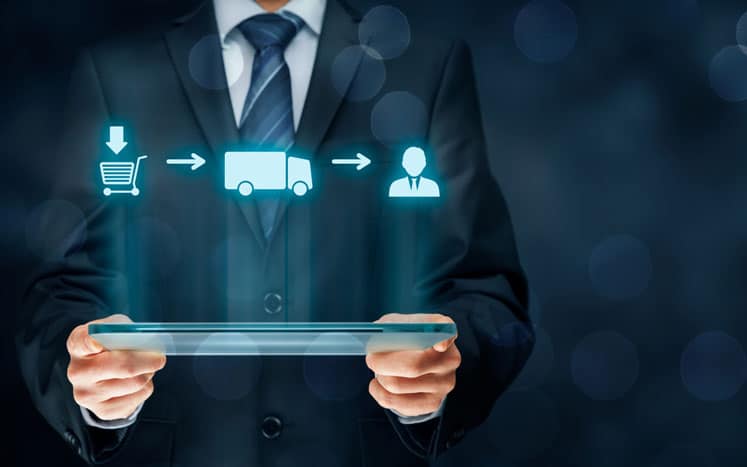 ---
Table of Contents
---
Introduction
Nearly nine in ten business owners in the United States believe they could cut their inventory by over twenty percent if they better understood their supply chains, according to independent research commissioned by business intelligence behemoth, Oracle.
A reliable supply chain is a critical foundational element in any effective online retail strategy.
After all, retailers shift product, and the process of "shifting" can't be done until you have your supply chain nailed down.
An inadequate supply chain frustrates your customers, increases your overheads, and lowers your competitive advantage.
It also exposes you to a swathe of additional cybersecurity threats.
The bottom line is, the role of supply chain management in your business is a critical one.
So why does supply chain uncertainty impact so many business owners?
In this guide, we'll address this question by examining the essential ingredients of a strong ecommerce supply chain strategy.
By the end of this article, you'll be better equipped to build a reliable, efficient, and scalable supply chain approach into your operations management.
More importantly, you'll be on your way to building a stronger connection between your customers and your finished product.
---
Importance of Supply Chain Management (SCM) for Online Retailers
First, let's quickly flesh out why SCM is so important to online business models and should be a mainstay in your sales and operations planning (S&OP).
Whatever your preferred methods of making money online are, you're going to need your customer to trust you.
Your competitors are only a Google search away.
The same crucial moment of trust applies to everyone — from independent online retailers to Amazon sellers, to merchants traversing the tricky waters of selling across multiple platforms.
To get a prospect to click the buy button, they need to believe that the product they want will arrive safely at their front door.
And if you need to convince your customers of that, your success hinges on being confident of it as well.
And here's where it becomes problematic (and here's why so many business owners hit a smooshy wall of uncertainty when assessing their supply chain strategy).
Your extended supply chain lies right at the epicenter of product design, strategy, marketing, and logistics.
Before being able to move a product efficiently from A to B, you need to know what you should be selling and when (product design and strategy) and how your customers think about your product (marketing).
As Chron also points out in How to Develop a Supply Chain Management Plan:
Your supply chain strategy will also likely be informed by "technical improvements the company plans to initiate, an analysis of the competition, what customers need and want and what trends may affect the supply chain in the future."
All these variables have a few overlapping implications for supply management:
• No two supply chain strategies are going to be alike.
• There's no simple "For Dummies" approach to building an agile supply chain.
• You'll likely have to change your plan as your ecommerce business matures and changes over time.
---
Benefits of Effective Supply Chain Management
The positive flip side of all that mildly intimidating importance, of course, is that a well-developed and responsive supply chain strategy can bring deep and lasting benefits to your online retail business.
You'll see these benefits in your short to medium-term profitability.
Your business will also have the raw materials it needs to remain competitive and viable for the long haul.
Operationally, robust SCM will help you:
Lower your costs – Whether you work through a third-party or directly manage warehousing and freight costs, an optimized supply chain means a smoother flow of materials and improved unit costs.
And this, in turn, can also position you to deliver low cost products and great customer value.
Introduce lasting efficiencies – The easier your processes of order fulfillment and shipping, the better positioned you are to grow your business.
Improve your reputation – Customers talk!
If your product arrives swiftly, accurately, and intact to the end user, you position yourself for repeat business and the equally coveted prize of enhanced lead generation.
Strategically, these operational benefits chunk up to the mutually reinforcing strengths of scalability and agility.
See new opportunities in a different corner of the market?
Leverage your supply chain to grab it.
Notice new buying habits or emerging competitor strategies eating into your slice of the pie?
Pivot your strategy swiftly, confident in the knowledge your supply chain can offer a smooth logistical backstop to your operations.
---
Ecommerce Supply Chain Best Practices
Considering the ever-evolving role of ecommerce alongside the nuances described above, it's hopefully already crystal clear that formulaic prescriptions (or for that matter, products) for building effective ecommerce SCM are unlikely to tick all your boxes.
A more informed approach is to build the foundations of your supply chain activities around a handful of tried and true best practices.
Establish these conditions in your online retail business, and you'll be well-positioned to earn and retain customer confidence that your product will arrive as planned.
Invest in the Right Tools
According to the Council of Supply Chain Management Professionals (CSCMP), technology is a "vitally important" ingredient for delivering a good customer experience, particularly in the wake of the COVID-19 pandemic.
An obstacle most fledgling online retail business owners will hit early on in their journey is a misplaced reliance on generic or poorly-designed tools for managing product supply and order fulfillment.
It's such an understandable and relatable problem.
No novice carpenter in the history of wood embarked on a project without realizing that a more custom-designed handsaw or vice would make their task so much easier.
The same applies here.
Recognizing the need for more precise tools is a natural byproduct of growth.
The challenge is knowing when to take the leap and make the investment in better supply chain management software.
Here are a few key information technology upgrade points most online retailers encounter:
• Using a dedicated inventory control solution: New ecommerce businesses manage supply and order fulfillment using generic accounting solutions. Migrating across to specialized warehouse management software (WMS) means you're not burdening your business with the task of fitting a square peg into a round hole, and you gain real-time insight into how effectively your inventory supports your business models.
• Streamlining your product tracking approach: If you manage your own inventory, that scary moment of losing track of stock hits far sooner than most business owners expect. Shifting to barcoding or blockchain inventory handling technology allows you to streamline inventory management. Just as importantly, it introduces greater accuracy and faster order management. Used in conjunction with enterprise resource planning (ERP) software, barcodes help ensure that business processes for handling inventory remain streamlined regardless of scale.
• Sharing data with other businesses: An early challenge many online retailers face is finding a way to smooth the flow of business-to-business data, particularly information moving between suppliers and vendors across a global supply chain. Electronic data interchange (EDI) software can help businesses go paperless by electronically handling purchase orders, invoices, and freight. Finding the right product to bolster data interchange is therefore an important early step in standardizing the B2B ecommerce side of your supply chain strategy, and maintaining a robust approach to risk management while improving information flow.
Assess Product Life Cycle
For most online companies, the age-old 80/20 rule of retail still holds.
Eighty percent of your sales are likely to derive from around 20 percent of your product line.
This is a reflection of how customer demand tends to work.
Whether impacted by time of year, planned obsolescence through subsequent product development, or even the unpredictable waxing and waning of buying trends, most businesses are going to experience "runs" on certain products.
Effective supply chain management processes will react swiftly to these product life cycles.
Here are some applicable case studies:
• Seasonal warehouse reconfiguration: Holidays, shifts in climate, and other seasonal factors are likely to significantly impact which of your product line sells most frequently. We know that as much as 75 percent of the time required to fulfill an order is taken up by human movement, so reconfiguring your inventory slotting to cater to seasonal changes can significantly lower packaging costs per unit.
• Managing inventory items collectively: Through giving you a "big data" perspective on your sales, WMS queries frequently reveal patterns of purchasing where two or more products are ordered together as a bundle. Gaining a better understanding of your collective product life cycle will equip you for more granular demand planning and a smoother flow of goods to your customers
Increase Your Inventory Storage Efficiency and Capacity
Any storage facility is expensive to operate.
In recent years, it's common for facility and inventory handling costs to eat up to twenty-five percent of a purchase order.
Maintaining efficient supply chain operations reduces those costs considerably.
Moreover, a continuous improvement approach better positions you to make sure your popular items remain in stock and readily available to your customers.
Efficient inventory handling requires:
• Routine identification of pain points in supply chain planning: A robust supply chain strategy learns from its mistakes, and this is as true for enterprises who outsource their inventory to a third-party supply chain network as it is for larger retailers striving to manage a cost-effective warehouse. Codifying and analyzing pain points better positions your business to find an effective strategy to address these problems. Critical analysis points include low inventory levels, supply back orders, stock shrinkage, damage, or customer delivery delays.
• Periodical space-use studies: The spatial layout of your facility has a critical impact on your product flow, your order fulfillment efficiency, and overall handling costs. Moreover, how you organize space can directly impact staff safety and employee morale. Frequent reappraisals of your inventory layout can help ensure continued storage efficiency and capacity – and flowing from that, reduced costs. As your operations scale-up, you may even consider contracting a supply chain professional to optimize your space and product-handling costs.
• Delayed acquisition of new storage facilities: A critical end-goal of efficient storage is to delay the addition of new storage facilities for as long as possible. Efficient asset utilization is almost always considerably less expensive than investing in more storage space.
Limit How Many Suppliers You Work With
There are two main reasons why it makes sense to limit your suppliers.
The first is simplicity.
The fewer moving parts your supply process and manufacturing operations entails, the easier it is to standardize ecommerce logistics.
The second relates to data.
With a focused set of suppliers, you'll find it easier to analyze supplier efficiency, ensure a smooth product flow with minimal handling errors, and make smart choices about how to refine your business strategy.
Here are a few examples of how supplier limiting can lead to strategic supply chain management:
• Supplier consolidation: As your product line grows, you may recognize the potential for consolidating your supplier relationships. Even if the process entails some degree of compromise — such as longer waiting times on specific products or materials with slightly different specifications — the efficiency-gains, improved information sharing, and cost savings of reducing your supply chain partners may more than offset the downsides.
• Ongoing audits of supplier performance: Scale also affords a certain degree of purchasing power. As your business expands, you may be in a position to expect a higher level of quality and reduced order lead times from your suppliers. A mature supply chain strategy will incorporate a process for identifying and replacing vendors that cause delays and generate cost problems across your entire supply chain.
Manage Customer Expectations
Amazon now has distribution centers and shippers in every state of the US.
CEO Jeff Bezos is on record saying that over 100 million Prime members can expect two-hour delivery times on selected products.
Speed of ecommerce fulfillment has become one of the more critical key performance indicators (KPIs) ecommerce companies must now measure.
Customers have never had higher expectations for fulfillment times, shipping costs and no-questions-asked reverse logistics.
The challenge all online retailers face is building supply chain processes that let them compete with market leaders in supply chain logistics.
Here are some examples of best practice in tailoring your current supply chain to meet or exceed customer expectations:
• Using multiple fulfillment centers: For online retailers who manage their inventory warehousing, the decision to ship through multiple distribution channels usually occurs relatively late in the process of standardizing operations. The choice typically makes the most sense as part of a broader strategy to scale up operations to a larger geographical area, when revamping network design, or when developing omnichannel customer fulfillment. Companies involved in drop-shipping or similar third-party logistics are often at liberty to consider the decision quite early in the piece. Some companies shift to a hybrid of in-house and third-party customer order fulfillment to cover all their customer satisfaction bases.
• Conduct a freight logistics efficiency study: Regularly reappraise supply chain logistics to identify and resolve both waste and delivery errors. Examples of waste may include non-compliance with distribution network delivery requirements, inefficient packaging, and non-competitive carrier selection. Delivery error encompasses all the usual suspects of incorrect addresses, non-deliverable packages, or incorrectly identified residential and commercial addresses. Building a logistics efficiency study into your operations planning and decision-making heightens your chances of maintaining satisfied repeat customers.
---
Creating an Ecommerce Supply Chain Management Plan
By this point, you'll likely have identified one of the defining features of an ecommerce supply chain management plan.
A strong plan will have many interdependent moving parts, and will mesh seamlessly with your strategic business goals, corporate strategy and management systems.
Depending on your unique business requirements, your supply chain planning processes may incorporate a host of factors and trade-offs – including a schedule for upgrading your information systems, criteria for adequate product sourcing, a process for reviewing dropshipping arrangements, and systems for regularly analyzing customer satisfaction.
Moreover, each of those components will need to communicate effectively with the whole.
Your electronic commerce supply chain management plan is a living document that your supply chain managers will need to carefully refine as your business grows and changes.
The design process for refining a plan of this scope might seem a little intimidating at first glance.
However, the good news is that building an effective supply chain management plan ultimately boils down to a few practical principles of best practice: equipping yourself with the right tools, thinking carefully about efficiency, and always keeping the customer experience in the equation.
The benefits of your final product will be significant and lasting.
Reducing supply-chain costs while keeping your customers happy delivers obvious short to medium term benefits, but a commitment to finding the best value chain, supply network and sourcing strategy does more than that.
Effective logistics management positions you to scale.
It ensures you can make strategic decisions across all your service levels.
Most importantly, good supply chain design helps you maintain a critical competitive advantage.