Real, Unbiased Damsel In Defense Review from an Ex-MLMer
---
Table of Contents
---
You Too, #MeToo?
There's no denying it:
It's 2023 and despite the recent Me Too movement, too many women are still facing a ton of harassment in our society.
And while fighting back with hash tags (#metoo) is a great tool for promoting awareness…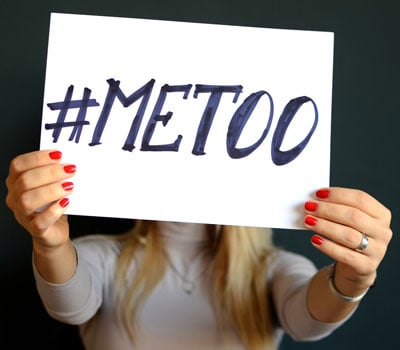 It's not always enough.
The sad truth?
According to the National Sexual Violence Resource Center, 1 in 5 women are survivors of rape.
(Read that again.)
So it's no surprise that many women are looking for a way to fight back…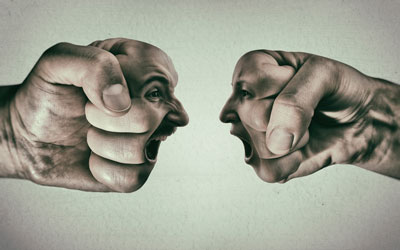 … in person.
This new and serious concern for personal safety has created a huge demand for self-defense products specifically designed for women.
And like many products that can be sold to a mass market…
They often get picked up by MLM companies.
Enter Damsel In Defense:
This network marketing company offers a wide array of products to help women defend themselves against potential attackers.
What makes them different?
Damsel In Defense is the first MLM company to sell self-defense products.
Ladies who are looking for some legit personal protection can now get their hands on some seriously stylish weapons.
Okay, maybe not that stylish.
Or extreme.
But if you're looking for security-on-the-go like pepper spray that can fit on your keychain…
Or better yet:
How 'bout a stun gun that's disguised to look like a camera?
Say cheese:
As you can see, when it comes to self-protection:
Damsel In Defense has got you covered.
So let's take a closer look at this unique company and discover why it's becoming so popular these days…
---
What Is Damsel In Defense?
For starters, Damsel In Defense is a personal defense company that was co-founded back in 2011 by two strong-minded entrepreneurial women:
Mindy Lin and Bethany Hughes.
Based in Boise, Idaho, this one-of-a-kind network marketing company offers self-protection devices that are sold primarily through hosted parties.
And I'm sure you'd agree:
Stun guns are a heckuva lot more entertaining than Tupperware.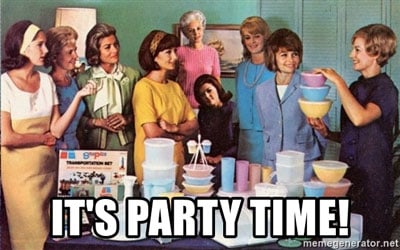 But you know what's even more shocking than being tasered?
Damsel In Distress has an A+ rating from the Better Business Bureau – a rare feat for an MLM company.
More:
With a salesforce of over 10,000 women in the United States, Damsel In Defense has done over $21 million in sales.
But what's more impressive than their revenue numbers…
Is their company mission statement:
Our mission is to equip, empower and educate women to protect themselves and their families. Our Independent Damsel Pros are not only arming others and experiencing financial freedom, but also offering empowerment and healing to those affected by assault #becauseofdamsel.
Think about it this way:
Given that 20% of women are survivors of rape (including co-founder Bethany Hughes), it only makes sense to help women avoid becoming another statistic.
And in this niche market, Damsel has made a name for themselves by focusing on equipping women with self-defense tools.
Here's how it all started:
---
When Was Damsel In Defense Founded?
Mindy Lin and Bethany Hughes started Damsel In Defense back in September 2011.
But we need to rewind the clock a lil' further to understand why that happened:
Back in 2006, Bethany Hughes created her own security business called Hughes Security Solutions.

Not exactly the best company name of all-time, but it gets better:
Her idea was to combine online self-defense information with a security-related retail business.
The result?
It wasn't long before Bethany's young company grew to a staff of 10 and eventually reached $1 million in annual revenue.
Fast-forward to 2009:
Bethany Hughes met Mindy Lin at a mom's group.
Mindy had previously been a sales rep for Mary Kay Cosmetics and since both moms were from California and shared a mutual interest in self-protection, they quickly became friends.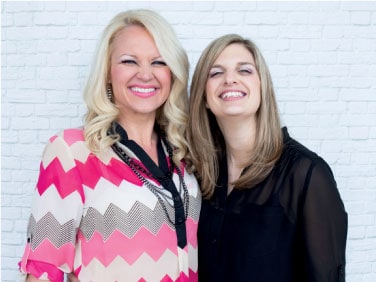 (You can see where this is going, right?)
In 2011, Mindy was experiencing some financial trouble and Bethany suggested that the two of them start a business together.
And guess what?
Bethany proposed taking some of the self-defense products from her successful security business, and offering them to women at local swap meets.
Lin loved the idea but with one small change:
Instead of going to swap meets, why not market the products directly to women via home parties and multi-level marketing?
Damsel In Defense was born.
With Bethany Hughes' background in security sales and Mindy Lim's MLM experience, they quickly found success hosting events in Idaho.
But here's the kicker:
While the two entrepreneurs had initially hoped to recruit 100 sales reps within their first year…
They ended up recruiting around 1,000!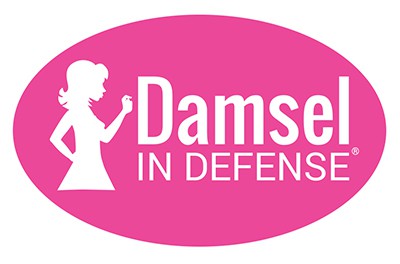 In fact:
Business was so good that both of their husbands ended up quitting their day jobs to come work at Damsel In Defense.
(How's that for a refreshing change?)
Then things really started to heat up:
In 2013, Hughes and Lin were named Business Women of the Year by the National Association of Women Business Owners (NAWBO).
In 2014, they promoted Bob Hipple — a direct-selling guru that originally helped craft Damsel's compensation plan — to CEO.
In 2015, they founded the Damsel House Project, supporting safe houses in Cambodia and India to help girls rescued from sex trafficking.
As if that's not impressive enough…
Bethany Hughes and Damsel in Defense have continued to win awards from the Direct Selling Association:
Like the old saying goes:
Winners win.
But if you think it's starting to sound a lil' too good to be true…
You should keep reading cuz it's not all roses.
For now, let's take a closer look at the actual products that has made Damsel in Distress so successful:
---
Stunningly Effective Products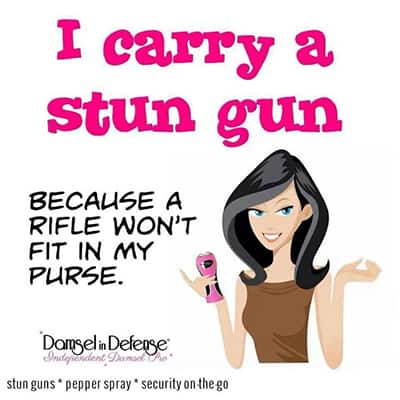 Just to recap:
Damsel In Defense is all about self-protection — specializing in security products designed for women.
But if there's one thing this MLM loves more than women's self-defense…
It's cute product names and slogans: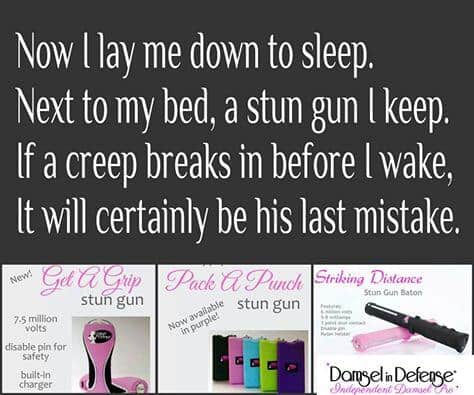 Damsel In Defense even offers a line of protection called…
Wait for it…
Hermergency.
You read that right.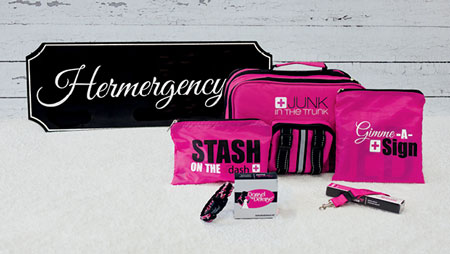 According to Damsel's brochure:
Your Hermergency kit contains the essentials to handle anything from a broken nail to a dead car battery. Don't find yourself in a Hermergency ill-prepared. This product line is meant to lend a hand in any Hermergency, big or small.
I guess it's better than:
FEMALERT!
In any case…
Damsel also offers their "Pearl of Wisdom" and "Leaf Me Alone" whistle necklaces which act like personal alarms and allow you to "wear your warning":
The company also sells t-shirts that send a clear message to would-be attackers: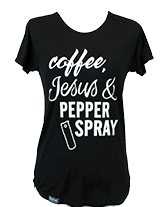 You are NOT an easy target.
(And are powered by caffeine and the Holy Spirit.)
Of course, we can't forget about Damsel's main product line, which is based on the old adage:
The best defense is a good offense.
That's exactly why Damsel In Defense offers a series of personal protection products including:
Various types of stun guns, pepper sprays, striking tools and even tactical pens.
Y'know, just in case you need to stab someone in style while taking notes!
But seriously:
It's prob'ly better to have it and not need it, than need it and not have it.
It just seems a lil' crazy that we're now living in a world where you can order stun guns and pepper spray over the web and now at home parties.
But that also depends on where you live.
It's actually against the law for you to own a stun gun and/or pepper spray in a few states.
(Even if you use a "disable pin" which prevents your stun gun from being used against you.)
Pepper Spray & Stun Gun Restrictions
Pepper Spray & Stun Gun Restrictions

| LOCATION | STUN GUNS | PEPPER SPRAY |
| --- | --- | --- |
| Mobile, AL | None Restricted | Take It & Leave It |
| Connecticut | All Prohibited | None Restricted |
| Newark, New Castle County, Wilmington, DE | All Prohibited | None Restricted |
| Hawaii | All Prohibited | Take It & Leave It |
| Illinois | All Prohibited | None Restricted |
| Indiana | None Restricted | Take It & Leave It |
| Maryland | All Prohibited | None Restricted |
| Massachusetts | All Prohibited | All Prohibited |
| Michigan | All Prohibited | Take It & Leave It |
| New Jersey | None Restricted | Take It & Leave It |
| New York | All Prohibited | All Prohibited |
| North Carolina | None Restricted | Take It & Leave It |
| Rhode Island | All Prohibited | None Restricted |
| Virgin Island | All Prohibited | All Prohibited |
| Ruston, WA | All Prohibited | None Restricted |
| Washington, D.C. | All Prohibited | None Restricted |
| Wisconsin | All Prohibited | All Prohibited |
Moral of the story?
Roughly a third of all U.S. states have laws in place that prohibit these self-defense items or require concealed carry licenses.
But restrictions aside…
Damsel's products are surprisingly affordable compared to similar items you can find elsewhere.
Which is pretty rare for a direct sales company.
Other security devices include:
A door and window alarm with a movement sensor which activates an ear-piercing 120-decibel alarm — almost certainly waking you up and scaring the bejeezus outta any intruders.
Sock It To Me striking tools which apparently: "increases the power of any defensive strike and are made of durable molded aluminum and keep you equipped while easily attaching anywhere."

There's even a backpack with a bulletproof panel, just in case you want protection against firearms in a mass-shooting scenario. Sad but true.
Some areas will even offer "Warrior Workshops" where women can "learn the latest in self-defense moves with the Damsel in Defense items and develop a Warrior Mindset. Hands-on training, see the new Damsel items and learn about situational awareness" presumably taught by qualified instructors.
Finally:
Digital Damsel offers online protection against identity theft and online harassment for $30 a month (or $60 for your whole family).
This isn't really anything special when compared to the
many other online options
for identity theft protection and social media monitoring.
But once again…
Digital Damsel is competitively priced, which pretty much applies to Damsel's offerings on the whole:
They seem to be good quality compared to similar products on the market.
They don't cost a lot more either.
And for an MLM, that's actually pretty good.
---
Pros: Is Damsel In Defense a Good Company?
✓
Timely and non-saturated products.
Every MLM and their dog is trying to sell face creams and protein shakes, but only ONE company can claim to offer stuns guns and whistle necklaces:
Damsel In Defense.
And since they're the only game in town, their product offerings are both unique and becoming more popular these days.
Which means that your potential customers probably don't own what you're offering — a very good scenario for you.
✓
A female-empowered company.
Despite their CEO being a guy named Bob, Damsel In Defense was founded by women, is run primarily by women, and offers products specifically created to empower and protect modern women.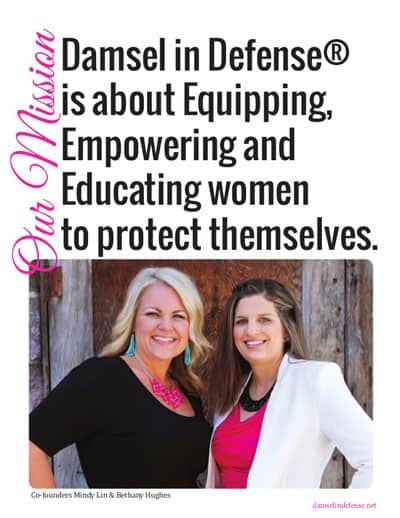 So, if you're a woman selling to other women…
Knowing the company has strong female-centered values cannot only help you feel better about selling their products, but also help to encourage other women to join your team.
✓
Outstanding charitable outreach.
Like most MLM companies:
Damsel In Defense donates money to various charitable causes.
Unlike many MLMs:
Damsel seems to put a lotta thought and care towards the specific charities they pick.
In other words, they're not just doing it for the PR and attention.
As a compliment to their mission of empowering women, they donate to:
Destiny Rescue (which helps rescue girls from sex trafficking and offers counseling)
Women's and Children's Alliance (helping those who have experienced domestic and sexual abuse)
Wipe Every Tear (helping girls rescued from the sex trade)
The Damsel House Project (supporting safe houses in Cambodia and India)
The founders of Damsel In Defense hope that their charitable contributions will help those (especially young girls) where stun guns cannot.
Much respect.
✓
Excellent sales training.
It's no coincidence that in 2018, Damsel In Defense won an award from the Direct Selling Association for their sales training program.
Rather than just throwing you into the deep end…
Damsel In Defense offers a 30-day plan for helping you jump-start your business.
✓
No major red flags (yet).
As of this writing:
Damsel In Defense has been operating since 2011 and have no major lawsuits against them, a good BBB rating, and very few complaints online.
Now don't get me wrong:
Damsel definitely has its share of haters.
But look:
Pick any of the big-name MLMs, Google them with the word "lawsuit" and you're bound to get some hits.
We're talking about:
Everyone from Mary Kay to Amway have lawsuits coming out the wazoo.
Not to mention the countless online forums filled with folks complaining how the whole business is a scam.
On the other hand:
Damsel In Defense has operated for years without lawsuits like that.
Okay… so maybe that's not exactly something to brag about.
But tell that to this guy: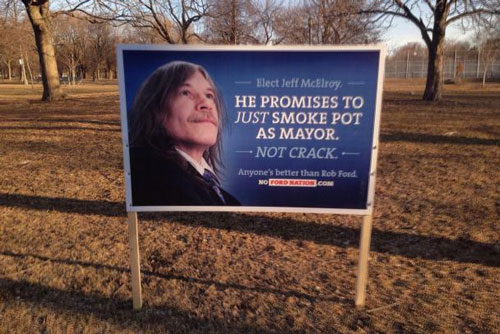 The point is, Damsel's lack of legal issues and few negative reviews is still a big plus.
I realize that seems like sort of a low bar, but keep in mind this is a network marketing company.
Speaking of which, here's a question that often comes up:
---
Cons: Is Damsel In Defense a Pyramid Scheme?
No. Damsel is NOT an illegal pyramid scheme.
But they ARE an MLM and use the network marketing business model which has its flaws.
Some other downsides you need to be aware of:
✗
Niche product with limited audience.
Although Damsel does have some "Products For Him" that contain much less pink…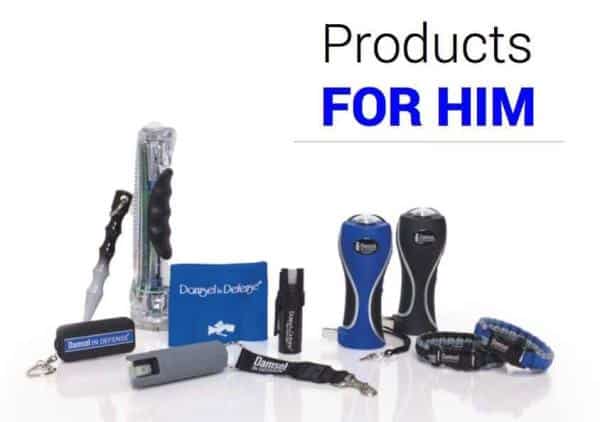 Damsel In Defense's target market is obviously women.
So that eliminates half of your potential customers right from the start.
And while it's great that very few companies are selling similar products, the downside is that very few people are buying similar products.
Even on Amazon.
Don't forget that many of these self-defense items are illegal in a dozen states, so that shrinks down your potential customer base even more.
✗

Selling is primarily done via home parties.

Can you say…

Tupperware?

The main way Damsel In Defense suggests selling their products is through home parties.

Also known as hosting an "Empower Hour":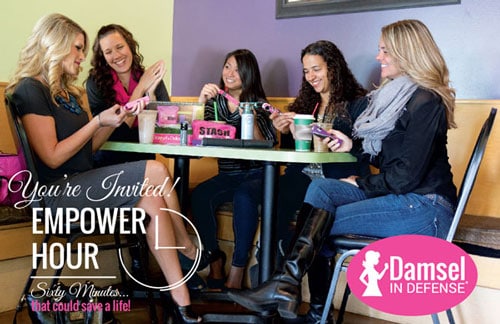 According to the company:
A Damsel in Defense Empower Hour is 60 minutes that could save a life. This is your opportunity to share our mission and safety solutions with others through an unlimited number of activities. Every activity and every person you interact with is another life that you have the opportunity to impact in a huge way.
An Empower Hour can be:
A personal protection home party
Setting up a booth at a local event e.g. chamber of commerce
Early morning coffee shop with girlfriends
A "lunch n' learn" in the breakroom of a local business
Sharing an after-hours bite with co-workers
A one-on-one meetup with someone who is interested in joining your team
Hosting a webinar or Zoom meeting
Once again, this is where having excellent sales skills is essential to your success as an MLMer.
After all:
Having coffee with a girlfriend to introduce them to your new Damsel business is one thing.
But to host a party in your own home and convince a bunch of your friends to actually show up and buy cute-looking stun guns is another.
That kind of selling is not for everyone.
Just sayin'.
✗
No repeat business.
A big reason why many MLMs sell products like face creams and nutritional supplements is simple:
Customers who like the product will use it regularly and therefore have to keep coming back to buy more.
And you know what?
It's a great business model.
Unfortunately:
This is very much not the case with stun guns and pepper spray, which you generally hope to never use.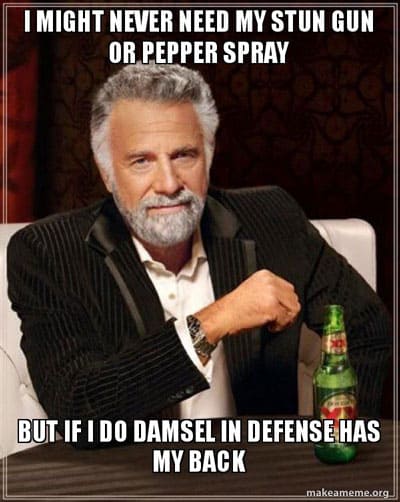 Not even once.
In other words:
None of your Damsel customers will be buying pepper spray refills from you every single month.
Which mean very little repeat business.
Which also means that you'll constantly be needing to find NEW customers.
Which brings us to the final downside:
✗
Constant sales requirement… or else!
Damsel In Defense has a pretty strict policy about making consistent sales:
To be considered an active member, you need to sell $150 worth of products every 3 months.
Which is not unusual for a network marketing outfit.
Many MLM companies will take away your bonuses or commissions if you fail to make quota.
But Damsel In Defense takes it a step further:
If you fail to meet your $150 quota, the company will take away your entire downline.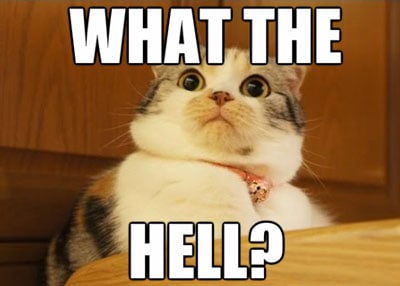 Now get this:
Your Damsel membership will still remain "active", but your downline will be passed to your immediate upline.
So you'll have to begin building an entirely new downline all over again.
While that kind of pressure definitely encourages Independent Damsel Pros to keep hosting parties and selling like crazy…
It's a lil' much, no?
But now that we're talking about it, let's just dive right into the compensation plan:
---
Compensation Plan: How Much Does It Cost To Join Damsel In Defense?
First of all, you can purchase a Damsel Starter Kit for a perfectly reasonable $99.
Which includes a lot of marketing and training materials, a concealed carry purse, tactical pen, striking tool, and much more.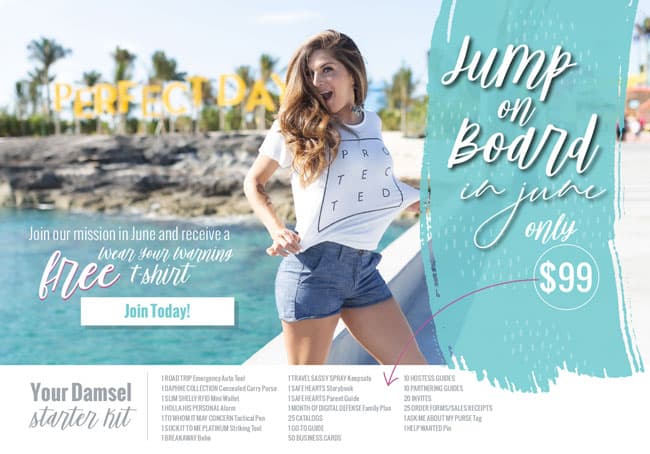 Signing up with Damsel basically gets you something from every category of their catalog except for the stun guns and pepper sprays.
But to be fair:
Those are also the products that have the most restrictions in certain states, so it makes sense not to include them in a starter kit.
So $99 gets you started — but for another $60, you'll get the Booster Kit with 2 pepper sprays and a stun gun.
How Does Damsel In Defense Work?
Below is the full chart of the Damsel In Defense compensation plan:
Stunning, isn't it?
(I couldn't resist.)
Here's the deal:
If you wanna become an Independent Damsel Pro, there are nine levels — Recruit, Protege, Junior Mentor, Mentor, Senior Mentor, Director, Crystal Director, Pearl Director, and finally Diamond Director.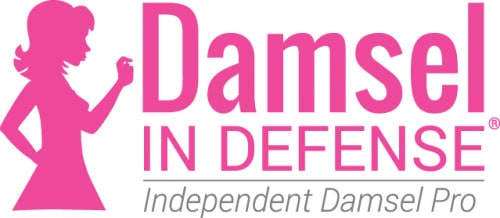 But let's start off with the easy part:
As a new Recruit, your baseline retail commission is 25% — that's what you earn for signing up, buying some inventory, and selling it to a customer at a markup.
For example, if you sell a $35 Leaf Me Alone whistle necklace, you'll earn about $9.
If you manage to sell $1000 worth of Damsel products, you'll move up to Protege level and earn 30% commission.
Keep in mind:
Most of your sales will be coming from hosting various types of Empower Hour parties.
Which can also qualify you for some additional bonuses.
Damsel In Defense Party Bonuses
Damsel In Defense Party Bonuses

| PARTY SALES | HOSTESS CREDIT | ½ PRICE ITEMS |
| --- | --- | --- |
| $1000 | 20% ($200+) | 6 |
| $800-$999 | 15% ($120-$149.85) | 5 |
| $600-$799 | 15% ($90-$119.85) | 4 |
| $400-$599 | 15% ($60-$89.85) | 3 |
| $200-$399 | 10% ($20-$39.90) | 2 |
| $100-$199 | -- | 1 |
As you can see from the chart above:
If you sell $100 of product, you can buy 1 item at half price.
Sell $200 and you get 10% of your sales in credit, plus 2 items at half price.
At $400, your cut goes up to 15% of your sales in credit, plus 3 items at half price.
And so on all the way up to $1000+, where you can earn 20% in credit and 6 half price items.
Of course, you'll still have to pay tax and shipping costs.
And your credits cannot be used towards the half-price items themselves.
But if you're serious about building your Damsel business — and throw half a dozen keychain stun guns on your credit card — getting them at half-price is a big deal.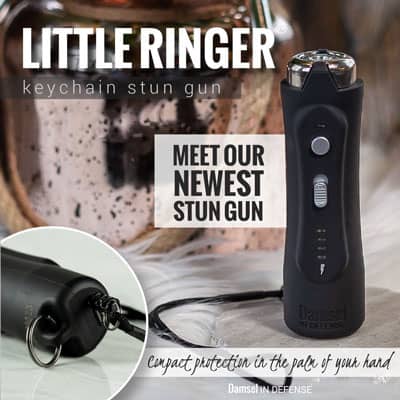 Here's the thing:
Just like with most MLMs, you're not gonna make any real money without building a downline.
Which means:
The rank of Junior Mentor comes from selling $150 personal volume per month, and having 1 active frontline recruit. This gives you a 30% cut of your own retail sales, as well as a 4% cut of sales made by your direct recruits.
The next level is Mentor, which requires that you've recruited a qualified Junior Mentor (as explained above). It also requires you to sell $500 in personal volume — as well as $2,000 from your downline — per month.
The good news is:
If you accomplish all that, you basically get the same 4% of the Junior Mentor level, but you also get a 3% cut from your 2nd level downline.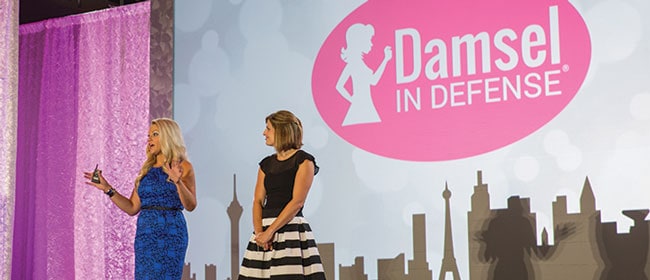 There's more:
The next few ranks continue pretty much the same, each requiring increasingly more monthly sales and more directly recruited qualifying sellers.
Which adds on a 2% cut for 3rd level, and 1% cut for 4th level downlines.
The upper echelons in Damsel start with Director, which requires $7500 in monthly sales and 4 qualifying frontline recruits.
Accomplishing that will add a 2% team bonus cut so you can make money from your whole downline.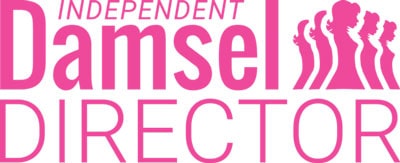 But there's a catch:
Any of your recruits that reach Director level will then "breakaway" from your team, and you'll lose their entire downline which do not count as part of your $7500 monthly requirement.
To reach any rank higher than Director will require you to have some Directors in your downline – not to mention tens of thousands of dollars in monthly group volume.
Lastly, there are just a couple more things you should know:
Digital (online) sales can never account for more than half of your volume requirements, and are paid out only at a 20% commission instead of 25% or 30%.
And don't forget that if you ever go 3 months without selling $150 of personal sales, you'll lose your current downline forever.
Want more details?
You can access Damsel's complete compensation plan right here.
---
Damsel In Defense: Quick Summary
Damsel In Defense Summary

| PROS | CONS |
| --- | --- |
| Damsel In Defense is a well-run, charitable company with solid values and an admirable mission statement | Limited market audience, products are not "everyday use" items |
| Operating since 2011 with no major red flags (e.g. A+ BBB rating, no lawsuits) | Sales are primarily done through inviting friends to home parties |
| Working in an unsaturated product market, the first MLM to offer self-defense items | Self-protection products offer little opportunity for repeat business |
| Affordable start-up costs ($99 Starter Kit and $60 Booster Kit) | Harsh sales quotas: need to sell $150 every 3 months or entire downline is taken away |
| Excellent sales training and support for Independent Damsel Pros | It's an MLM which means a major focus on recruiting others to join your team |
| Product quality and prices are similar to comparable items on the market | Some products are highly restricted or prohibited in a dozen U.S. states |
Bottom Line: So Is Damsel In Defense Worth Joining?
Well, that depends…
On you.
Are there things to like about Damsel In Defense?
Absolutely.
Their products are unique, in demand, and there's virtually no competition to speak of.
Not to mention the company really seems to back up their mission to equip, empower and educate women to protect themselves.
All good stuff.
However:
Selling via the MLM home-party model isn't for everyone.
Obviously, it works for some outgoing Independent Damsel Pros.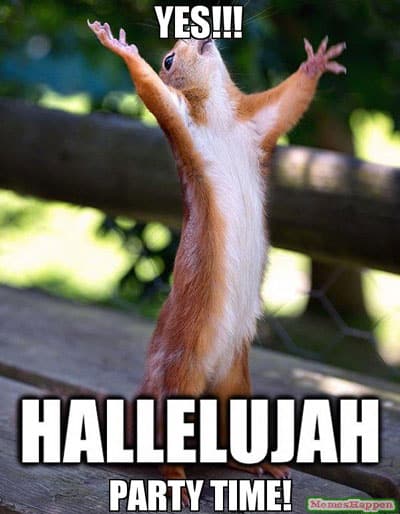 But let's be honest:
For many women, the thought of hosting a party and inviting all their friends is downright terrifying.
Also can't forget that like most MLMs, you're never going to earn a big passive income unless you recruit a big active downline.
Which very few folks ever accomplish.
I'm also not a huge fan of their harsh sales quota requirements.
Listen, I get the point of encouraging your reps to sell! sell! sell!
But fail to sell $150 worth of products every 3 months and they'll give your entire downline to your upline?
Permanently??
Talk about putting a gun to your head.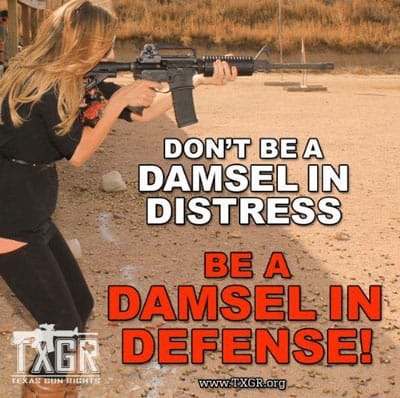 That's all the people you've worked hard to recruit, train, and develop — now given to someone else.
You're allowed to keep getting new recruits to try to build a new downline, though.
Gee, thanks.
The bottom line is:
If you love Damsel's products, mission, and think you can handle the MLM business opportunity — it might be a great fit.
But if you don't like the idea of recruiting your friends, hosting parties at your home, and high pressure sales…
Better holster your stun gun cuz Damsel In Defense prob'ly ain't for you.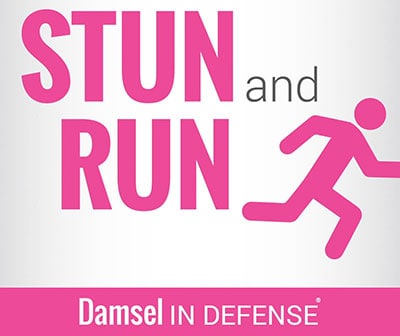 For my money:
If I'm going to invest in starting a home business, I'd rather be the one calling the shots.
And instead of hosting parties, I'd rather make money online.
---
Shameless Plug: Realistic Passive Income Without MLM?
Imagine this:
No recruiting, no selling products, no rah-rah meetings, no bullsh*t.
Don't believe me?
Don't blame you.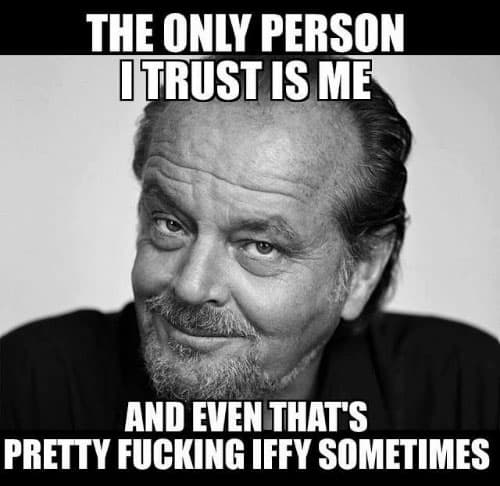 But before you scream "SCAM!" and scram, do yourself a favor.
Put down the Hatorade and click here to discover more realistic ways to make passive income from home.